How to Protect Your Warehouse Racking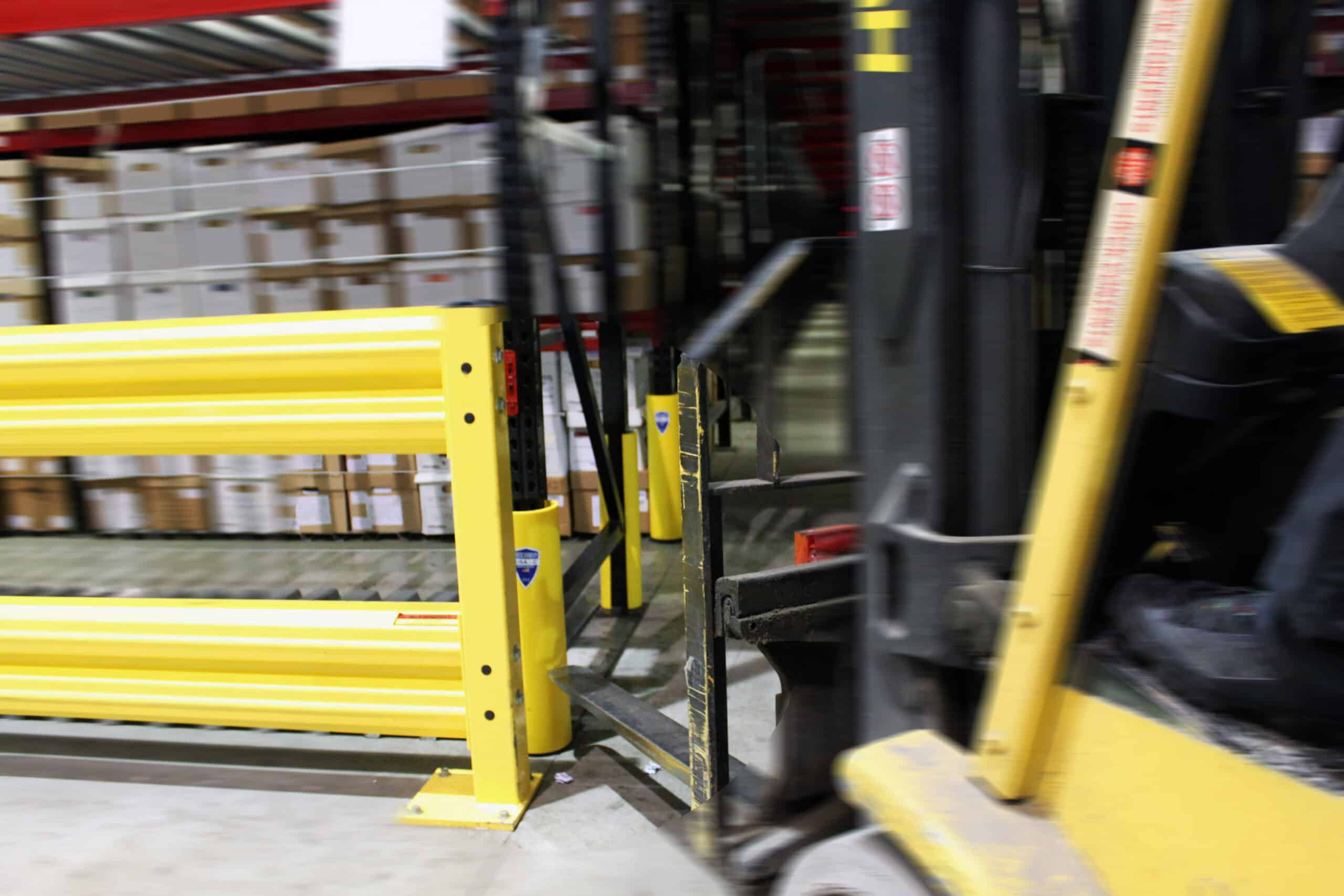 You've invested in a customized storage system that perfectly suits the needs of your company and paid to have it installed. Your company is starting to benefit from the improved efficiency that your new layout provides, and your material handling operations are running much more smoothly. You've checked everything off of your to-do list and you think you're done with racking components. However, you're missing a key ingredient to your storage system: warehouse racking protection. The racks in your system are key to the continued success of your operations, so why wouldn't you protect them?
Next to engineering your space to optimize efficiency, installing warehouse racking protection should be a top priority. Not all warehouse rack protectors are designed to do the same job, so asking a storage professional for guidance is a recommendation you should take seriously.
Column Protection
The most commonly recommended form of warehouse rack protection are column guards. Column protection is a preventive way to avoid damaged columns and possibly a rack collapse.
It's easier than you think to run into a column with a fork truck or pallet jack. Oversized products, narrow aisles, inexperienced or careless drivers, or a simple distance miscalculation can all be the cause of column damage. Even the smallest bump to your racking system can lead to a collapse. Column guards are your first defense against damage and they are extremely easy to install.
One available option is plastic column protectors. Plastic column protectors are designed to snap on to the column and require no anchoring; this makes for easy install and dismantle, without damaging the floor or requiring special tools.
Another available option is steel column protectors. These protectors are constructed from heavy-duty steel and designed to withstand impact. Steel column protectors are coated with enamel paint for high visibility and are available in multiple styles and sizes. Steel column protectors are designed to be anchored to the warehouse floor for an extra layer of security.
Down Aisle Protection
Pallet rack protectors down each aisle help guide equipment through your system, protecting racking, pallets, and inventory. Down aisle protectors are especially helpful with smaller aisles that might have a tight turning radius for pallet jacks or fork trucks.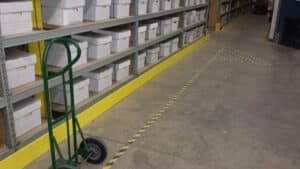 End-of-Row Protection
One final style of warehouse rack protectors to consider is end-of-row protectors. Protection should be present at all row ends to keep equipment from running directly into frames. End-of-row protectors cover the exposed end of the racking, helping to prevent costly damage.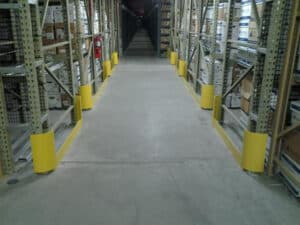 Accidents can happen no matter how conscientious your material handling team is on a daily basis. Since you can't completely prevent accidents from occurring in your warehouse, taking steps to ensure that your racks are protected in the case of a collision is the best way to protect the investment you've made in your storage system.
Fill in the contact form or call REB Storage Systems International at 800-252-5955 to schedule an appointment with one of our safety and repair specialists who can perform an inspection of your warehouse and provide safety product recommendations.
If you have any indication that your racking is at risk, it's time for a professional inspection.