Storage and Material Handling Solutions for 3PL Companies
3PL companies are often considered a 'one-stop shop' for their customers. Between providing a storage solution for their operation, preparing materials for transport, and getting products picked and shipped on-time, you've got a lot to do to help your customer's operation succeed.
That's why we've put together this page that contains all resources relevant to you, a 3PL company. Consider this your one-stop for answers to all your material handling and storage questions.
If you don't find the exact answer you're looking for, or have questions regarding specific content you read, fill out the contact form or give us a call at 800-252-5955. One of our material handling specialists will be happy to help you.
More About REB's Solutions for 3PL Companies
REB Storage Systems is considered in the material handling industry as an integrator, meaning we manage your project from conception to completion. First, we present you and your customers with various storage solutions to advance the efficiency of your customer's operation. Once this is finalized, we make it all come together by arranging all deliveries, providing a professional installation, and conducting a final walk through with your team and, if required, the Village Inspector.
Trying to close a deal? REB can work with your sales team to help close it by presenting with you to your prospect a storage layout specific to their operation. Presenting an optimal design has a proven ability to help your prospect visualize themselves and the success of their operation in your building, increasing the chances of them deciding on your company.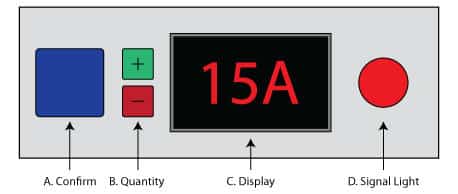 Lighted picking systems use pick to light and put to light technology in conjunction with carton flow systems in order to improve order accuracy and picking speeds. Pick to light and put to light systems are best for settings operations requiring order fulfillment with a high pick speed and low error rate, such as general merchandise retailers or apparel companies. Due to the basic visual aids used to fulfill each order, lighted picking technology is able to improve both order accuracy and picking speeds.