Racking Products
Durable, Well-Made Racking Solutions That Will Fit Your Unique Needs.
The racking system in your industrial space serves as the entire framework for your material handling operation. When you're installing a new system or replacing an old one, you need racking solutions that are built to last and ideal for your space.
REB Storage Systems International carries a full range of industrial racking solutions. We work with many pallet rack manufacturers, which gives us the flexibility to choose suppliers based on the demands of your racking system project including pricing and lead time. Whatever your line of business or the needs of your facility, we have a durable, well-made racking solution that will work perfectly.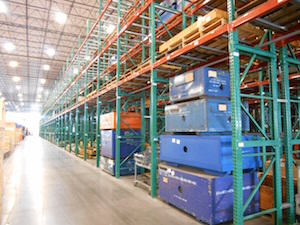 Complete Rack System Products and Services
REB Storage Systems International can provide you with products to complete your material handling system, including decking, shelving, and mezzanines.
At REB Storage Systems International, we combine our superior selection of quality products with professional, first-rate service. We will gladly assist you with selecting the right options for your particular needs and can provide additional support to help you complete your project. From rack system engineering to rack installation, we can help with all of the needs of your material handling operations.

To learn more or get help with a project, fill in the contact form or call (800) 252-5955
Whether your project is large or small, we have the expertise to ensure your next project is a success.