Warehouse Catwalk Racking Systems
Warehouse catwalk systems are engineered, multi-level systems that offer high density storage and allow for many personnel to be involved in the picking process at all levels.
Read below to learn how catwalk racking systems work, key features, advantages, and if it's right for your operation.
Warehouse catwalk systems integrate pallet rack with decking, bar grating, stairs, and other components to help expedite the picking process.
Employees access the upper levels of the system via stairs. Cartons are stored on the upper levels typically on either selective rack or carton flow rack and are picked by hand.
There are a few material handling component options available for getting cartons to the ground level for distribution.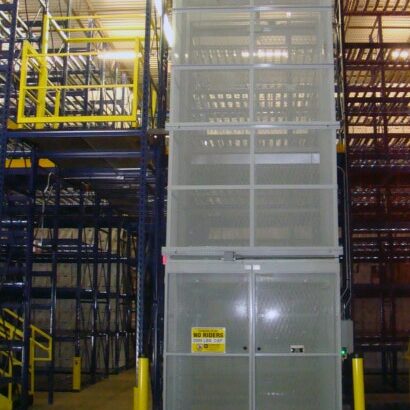 Vertical reciprocating conveyor (VRC): VRCs are 'elevator-like' systems designed specifically to bring pallets or cartons of material to and from the upper levels of the catwalk system.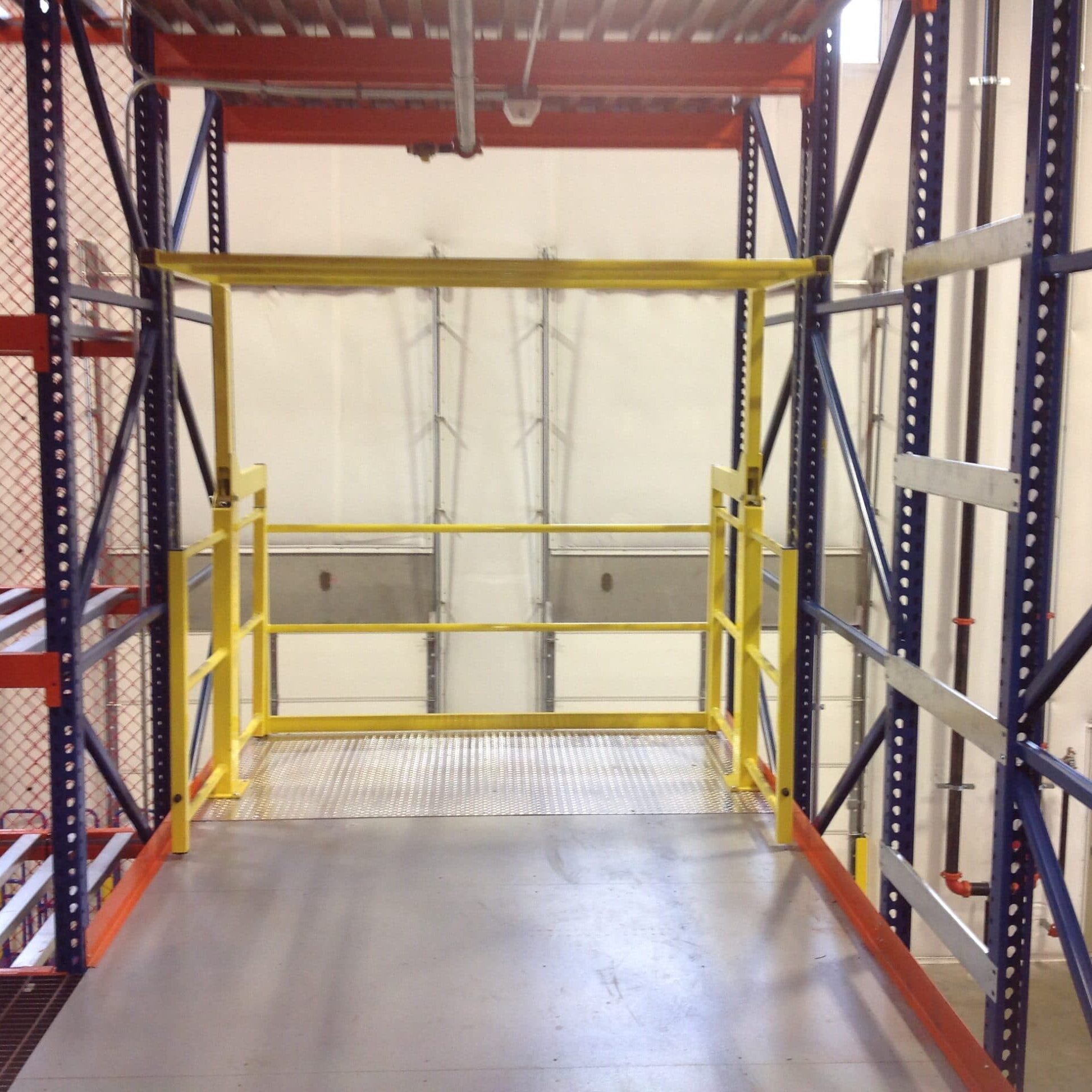 Pallet drops: pallet drops are platforms located on each level of the catwalk system. Pallets are placed on this platform by a lift truck so that employees can load products on that level of the system from the pallet. The picking process works the same: products are loaded onto a pallet from the upper levels of the system and then retrieved by a forklift for distribution. The pallet drop typically has a safety gate to ensure employees can't fall from the pallet drop area.
Conveyor system: a conveyor system can be integrated into the catwalk system to transport products to and from the upper levels of the system.
Typical Plan and Elevation
Typical specifications of a catwalk system are shown below. Keep in mind that systems can also be designed so that it's initially one level but can be expanded vertically in the future.
Minimum service aisle widths can vary by local building authorities, typically 30" or 36".
Egress aisles are 44".
Pallet aisles vary based on customer needs, typically between 60" and 96".
Number of catwalk levels varies, can be up to 5 or 6 levels.
Integrated Components
Products can be integrated into a catwalk system for transportation and safety of employees and products. These can include:
Handrail
Safety Netting
Pallet Drop Areas
FlueKeepers
Vertical Reciprocating Conveyor
Stairs
Chutes
Kickplates
Additionally, it should be considered that catwalk systems will require lighting and in-rack sprinklers.
Advantages of a Warehouse Catwalk System
A warehouse catwalk system offers many important advantages to a distribution center's operation, including:
High selectivity. Can be accessed by multiple employees at once. This can often eliminate 'downtime' during the picking process.
High density. Utilizes the full vertical storage space of your facility.
High throughput. A catwalk system can be integrated with conveyors
Reduces lift equipment costs. Lift equipment is often not needed, or not needed to the extent of an operation using a one-level rack system.
Is a Warehouse Catwalk System Right For Your Operation?
A warehouse catwalk system is typically a good solution for operation that:
Have unused vertical warehouse space.
Stores cartons.
Have bottlenecks in the picking process where pickers are waiting on other pickers to pick from certain locations.
Your Next Step for a Warehouse Catwalk System
Whether your next step is to gather more information or request a quote, consider REB Storage Systems. REB is a highly experienced systems integrator, in business since 1962. REB has 17 in-house project managers and engineers, all highly experienced in the material handling industry. These people know this industry inside and out.
REB is highly knowledgeable and experienced in designing, engineering, and installing warehouse catwalk systems and will make sure your system is the best fit for your space. We work with you to provide a turnkey system. From engineering, design, products procurement, subcontractor management, install, and permitting support, REB handles it all for you.
We'd appreciate the opportunity to help you further, whether that be more information or a quote. Fill in the contact form on this page or call us at (800) 252-5955 to get in touch with a REB representative.
More Racking Product Options: