Push back rack is a high density, high selectivity rack system. It has a number of options to suit special applications and can be a beneficial storage solution for many types of products. REB material handling specialists can assess your space and products to help you understand if push back rack is your ideal storage solution, and ultimately provide you with your ideal material handling solution and layout.
REB Storage Systems International is a material handling systems integrator that provides full project management of push back rack systems. Our services include design, permitting support, subcontractor management, procurement of materials, and installation.
Read below to learn more about REB's push back rack systems.
REB's Turnkey Services for Push Back Rack Systems
REB provides full project management of your push back rack system. A REB project manager will be your point of contact throughout the project. Our project managers prioritize communication and will make sure that all applicable parties have a firm understanding of timelines and progression of the project.
Read below to better understand our push back rack system project management services.
Design Services
Your REB account executive will speak with you to make sure we thoroughly understand the scope of your project. If necessary, we'll conduct an onsite assessment. We want to make sure we understand your goals and current pain points so that we provide you with a solution that is optimized to your operation.
During the design process, we'll obtain information such as your SKU profiles, space restrictions, and picking processes.We'll determine the required pitch based on your system's length and height and pallet weight. This ensures that your pallets will seamlessly flow from the front to the back of the racking. If needed, we can conduct a test of the system to make sure that pallets will flow as desired.
Once all information is obtained, REB engineers will create a CADD drawing of your push back rack system that suits all space and picking process requirements.
Permitting Support
If necessary, we'll evaluate if permitting for your push back rack system is required. If permits are required, we'll put together and submit all drawings and other documentation needed for permit approval. This often includes a high pile storage report.
Subcontractor Management
Once your push back rack system design is finalized, your REB project manager will secure all suppliers and subcontractors. We'll manage their involvement through the project. This includes freight and installation.
Our project managers prioritize communication and will make sure that all applicable parties have a firm understanding of timelines and progression of the project.
System Installation
REB Storage Systems has more than 60 years of professional experience installing push back rack systems in warehouses nationwide. We'll ensure that your operation's push back rack system is safely installed and compliant with MHI & OSHA standards while it optimizes your storage space and improves efficiency.
How Push Back Racks Work
In push back rack, the rack uses carts that move along inclined rails. Each pallet is loaded from the front of the system on to a cart. Using the next pallet, the first is slowly pushed until it is aligned with the next available cart. When the front pallet is unloaded, the next pallet glides to the front for picking.
Key Features of Push Back Racks
Designed for last-in, first-out inventory
Utilizes the warehouse cube to reduce required aisle space
High density
Ranges from 2-6 pallets
Can be has high as needed 
Variable bay widths are available to accommodate single-wide or double-wide pallet rows
Is a Push Back Racking System Right For Your Operation?
Push back racks can offer many benefits to the right operation. Find out what operations push back racks are best for.

Companies that store multiple pallets of the same SKU are a good candidate for push back racking systems. Each lane can hold a particular SKU, making picking more efficient.

Because of this high density, it is ideal for use in expensive real estate storage areas such as cooler or freezer environments.

Additionally, companies utilizing high quality pallets will find this system to work for them. High-quality pallets must be used in order for a this rack system to work properly.
Advantages of Push Back Rack
If you need a high density storage option, push back rack may be an advantage to your operation.
High selectivity, decreasing pick time and cost of labor
High density within each bay
Requires one aisle for loading and unloading, increasing overall warehouse density
Less truck and product damage versus drive-in since lift trucks do not need to drive into the system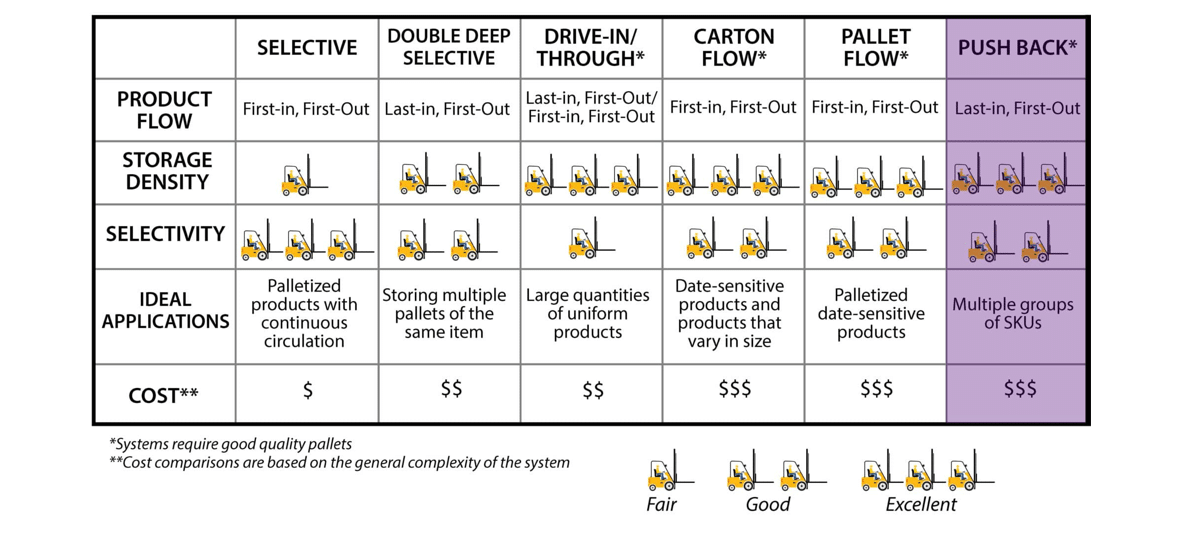 Your Next Step for a Push Back Racking System
Whether your next step is to gather more information or request a quote, consider REB Storage Systems. REB is a highly experienced systems integrator, in business since 1962. REB has 17 in-house project managers and engineers, all highly experienced in the material handling industry. These people know this industry inside and out.
REB is highly knowledgeable and experienced in designing, engineering, and installing push back racking systems and will make sure your system is the best fit for your space. We work with you to provide a turnkey system. From engineering, design, products procurement, subcontractor management, install, and permitting support, REB handles it all for you.
We'd appreciate the opportunity to help you further, whether that be more information or a quote. Fill in the contact form on this page or call us at (800) 252-5955 to get in touch with a REB representative.
More Racking Product Options: