If you're looking for an overall more efficient and organized property, REB Storage Systems International can help.

REB is a leading provider of commercial residential storage solutions and can help you easily add cages to your building
to get your storage operations started.
Tenant and Backroom Storage
Wire mesh cages and lockers
Offering residential storage inside of your apartment building or condominium complex allows you to provide additional services to your tenants that can help you compete with other properties in your area. In addition, you can assess a fee for the convenience of having on-site storage and reap the benefits of a continuous stream of revenue in addition to the standard rents that you collect each month.
REB Storage Systems International offers durable, secure residential storage cages for use in your facility. Each of our cage options is made from the finest quality wire mesh to ensure its durability and strength. We provide a number of different cage options, including single tier, double tier and ceiling supported. We can also provide custom options to suit your specific needs. We have an ideal solution for every budget and every space.
Shelving
Shelving is an economical option for commercial storage applications. REB Storage Systems International offers industrial shelving solutions for light, medium, and heavy duty applications that are available in several sizes, shelf adjustments, and decking options.
Options include boltless rivet shelving, gravity flow shelving, mobile shelving, steel shelving, and wire shelving.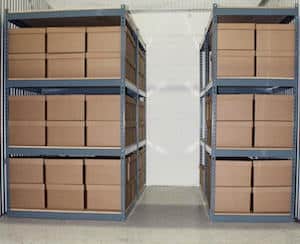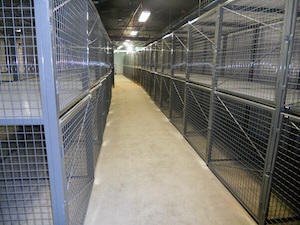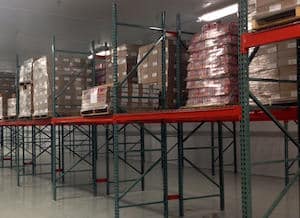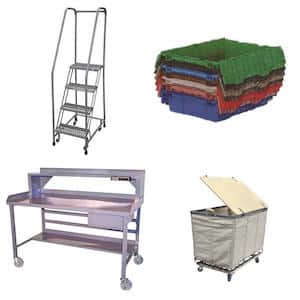 Racking
REB Storage Systems International carries a full range of racking solutions for light duty to heavy duty applications. Decking options include solid particle board, wire mesh, and solid steel.
Material Handling
Providing the right material handling product to your staff helps expedite daily processes as well as keeps employees and products safe. REB offers a large variety of material handling products, including:
Carts and trucks
Containers, bins, and trays
Hampers
Ladders
Pallet trucks
Fans
Workbenches and workstations
To contact REB for storage and material handling solutions for your property management requirements, fill in the contact form or call (800) 252-5955.
Our team of storage experts are available to guide you through the purchasing process. We'll discuss the layout and features of your space, the needs of your tenants, and your overall budget and will supply you with recommendations that are tailored specifically to your apartment building or condominium complex. This makes shopping for commercial residential storage solutions simple and ensures that you and your tenants will be satisfied with your new residential storage cages.