How Automotive Parts Storage Can Help Your Dealership Run More Efficiently
Automotive technician and service departments are fast-paced and include countless parts and pieces, all of which need to be stored and transported efficiently. Unfortunately, proper automotive parts storage can be particularly challenging due to the numerous shapes and sizes of parts that exist.
Automotive Parts Storage Tips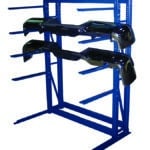 Pro Tip #1: Choose an automotive parts storage solution that are specific to saving space and creating a more efficient storage and retrieval system. Racking created specifically for automotive parts storage include:
Pro Tip #2: Use mobile tire racks to increase your storage capacity OR reduce the required floor space.
Pro Tip #3: Parts needed for scheduled service appointments can be identified from your dealership's computer system and pre-picked during slower periods. Set them aside in labeled totes to have them ready when the techs are.
Pro Tip #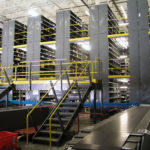 4: Take advantage of unused overhead space to double or even triple the existing storage capacity in your automotive dealership by using shelving supported mezzanines.
Pro Tip #5: Small parts associated with technician and service areas are often mixed together in one drawer or are separated among multiple drawers creating wasted space. Solution? Use shelving that is designed for small parts storage.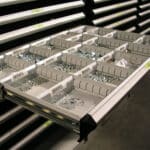 Drawers with adjustable partitions and dividers allow for multiple items of various sizes to be located in the same drawer, effectively separating them while eliminating retrieval downtime.
At REB Storage Systems International, we look at each project as unique. While many have similarities for which we are able to leverage our experience and knowledge, each client has unique needs that must be met.
REB Storage Systems International provides turn-key material
handling and storage solutions tailored to your automotive
dealership's space and workflow.
As a systems integrator for more than 50 years, our options and
expertise are endless when it comes to choosing the right
products at the best prices for your system.
With a full array of products and services to support your
automotive dealership, we can help you find the solutions you require. Call us at (800) 252-5955 or email us at
info@rebstorage.com to find out how REB can be the missing piece to your puzzle!