Solution at a Glance
Services Provided: Design, Engineering, and Installation
Products Provided: Custom Stainless-Steel Workstations and High-Density Shelving
Location: Barrington, IL
---
Concern:

An automotive parts department was struggling to keep up with the growing demands of the dealership.
The company's parts room was inefficient and needed to be better utilized.
The issues they were encountering in the parts department included: 
The storage of parts was not well organized. As a result, repair technicians had to wait on the parts department employees as they located the parts needed.

 

The storage setup in the parts department did not utilize the full available storage space. 

 

The inefficient layout and location of products made it difficult for multiple employees to search for products simultaneously.

 
Turnaround time for car repairs lagged due to the above, resulting in fewer car repairs per week and therefore less income. 
Based on these issues, REB designed a layout that includes two solutions: workstations and high-density shelving. 
Solution:

Custom Steel Workstations
To ensure that all their space was utilized, two different styles of workstations were designed: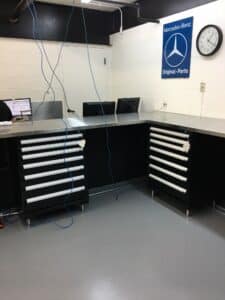 Straight design with five modular cabinets

 

"L" shaped design with four modular cabinets.

 
Both styles of the workstations include the following features: 
Custom stainless steel work surface and legs.

 

Seven drawers with 110% extension and 400lb capacity.

 

Custom compartmentalization of each drawer: 

 

One drawer with eight compartments

 

Three drawers with nine compartments 

 

Three drawers with twelve compartments

 

 

Multiple drawer access.

 

Four CPU holders mounted on the underside of the top and keyed alike to secure all drawers.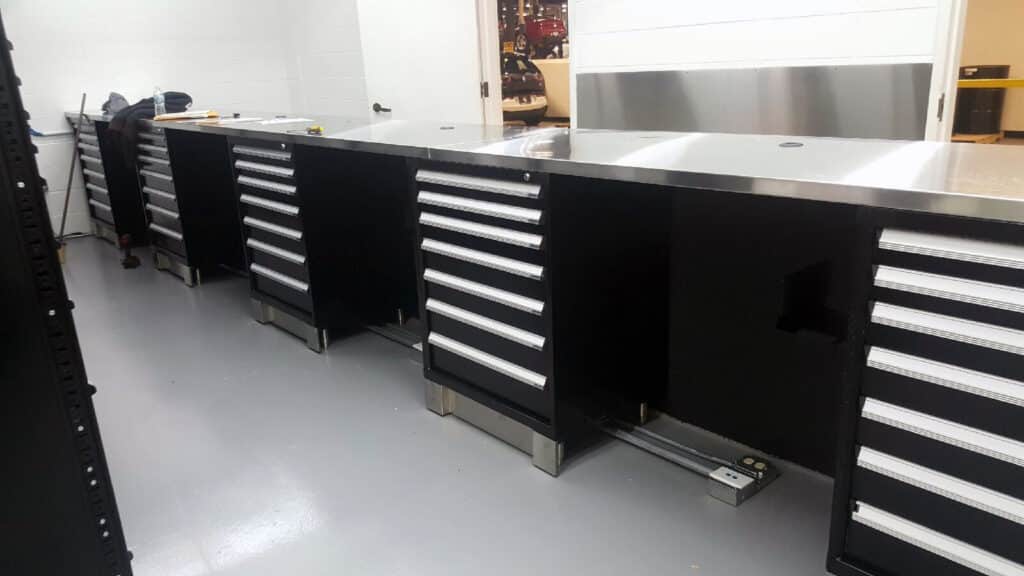 Solution:

High-Density Shelving Units
In addition to the custom workstations, REB installed high-density shelving units with built-in drawers. All drawers are compartmentalized. This additional storage helps the parts department stay organized and cuts down time to find and retrieve components that they need.  
The shelving includes the following features:
One rollout base shelf

 

Four drawers at 3″ high

 

Two drawers with 32 compartments

 

Two drawers with 18 compartments

 

 

Two drawers at 6″ high

 

One drawer with 18 compartments

 

One drawer with 15 compartments

 

Two drawers at 9″ high

One drawer with 12 compartments

One drawer with 6 compartments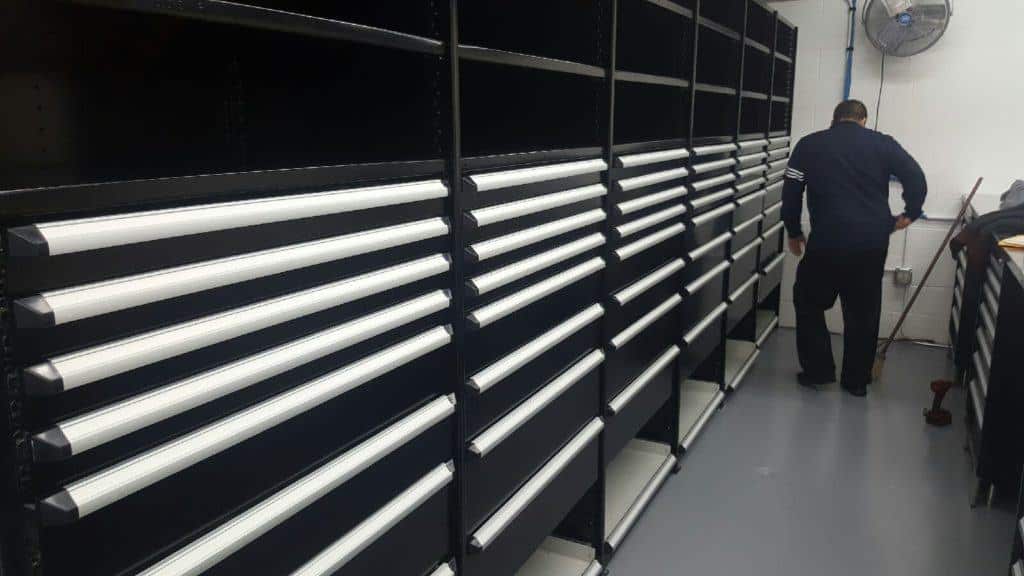 Outcome:

More Efficient Workspace
The parts department employees can assist the mechanics with an immediate response for each part of the mechanic's needs to service the vehicles. This allows the dealership to service more cars per week, resulting in higher profits. 
Since there was an immediate need for these storage solutions, REB's installation team accommodated the dealership's employees so they were able to continue their daily work schedule before it was 100% installed.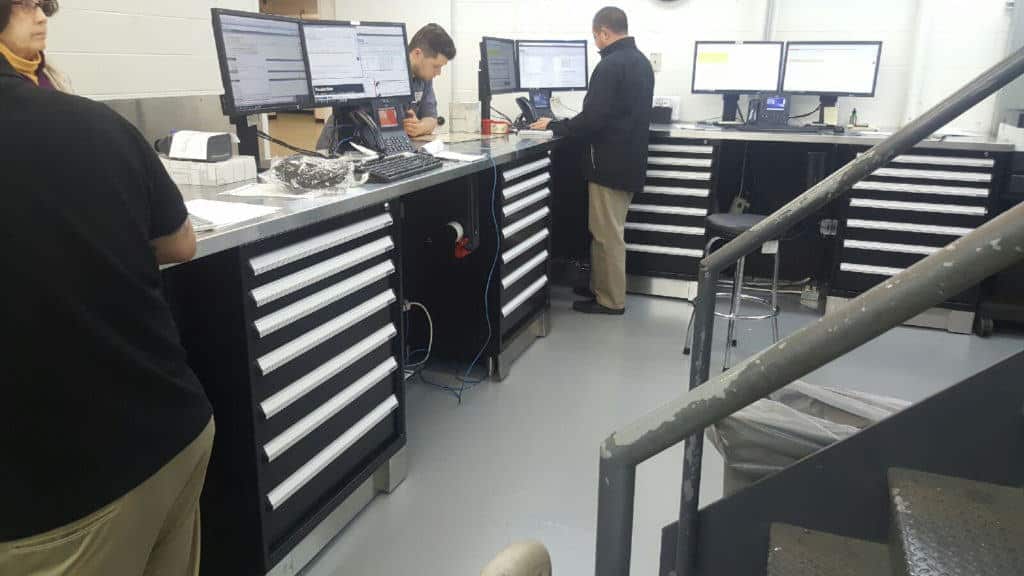 ---
How You Can Improve
Productivity
in Your
Facility
If you feel like you need a unique storage system, contact REB today.  
Our dedicated team of material handling experts can work with you to provide you with a solution that will optimize your picking operations. We are highly experienced in identifying inefficiencies and implementing improved systems. 
We'd appreciate the opportunity to help you further, whether that be more information or a quote. Fill in the contact form on this page or call us at (800) 252-5955 to get in touch with a REB representative.