Location: Wabash, IN
Services: Rack system design, freight, rack installation
Products: Push back rack, carton flow rack, selective rack
Scope
A manufacturer of insulation and fiberglass composites needed to add storage to their 34,000 sq. ft. warehouse. The warehouse was a working facility with much of their products being stored on the floor. Racking was required to maximize and differentiate the storage area and production area.
The design had to accommodate storage for pallets of insulation and odd size products, as well as small parts.
Solution
1,500 sq. ft. of their available space was designated for storage. All new racking was installed. Three-deep push back rack was installed to storage pallets. Carton flow rack installation was completed to store maintenance parts and tools, with selective rack above to store additional pallets, totaling 20 feet high.
Outcome
Areas for storage and production are now distinguished, maximizing operations in each area. Palletized items and small parts are stored on various rack system that optimize product flow.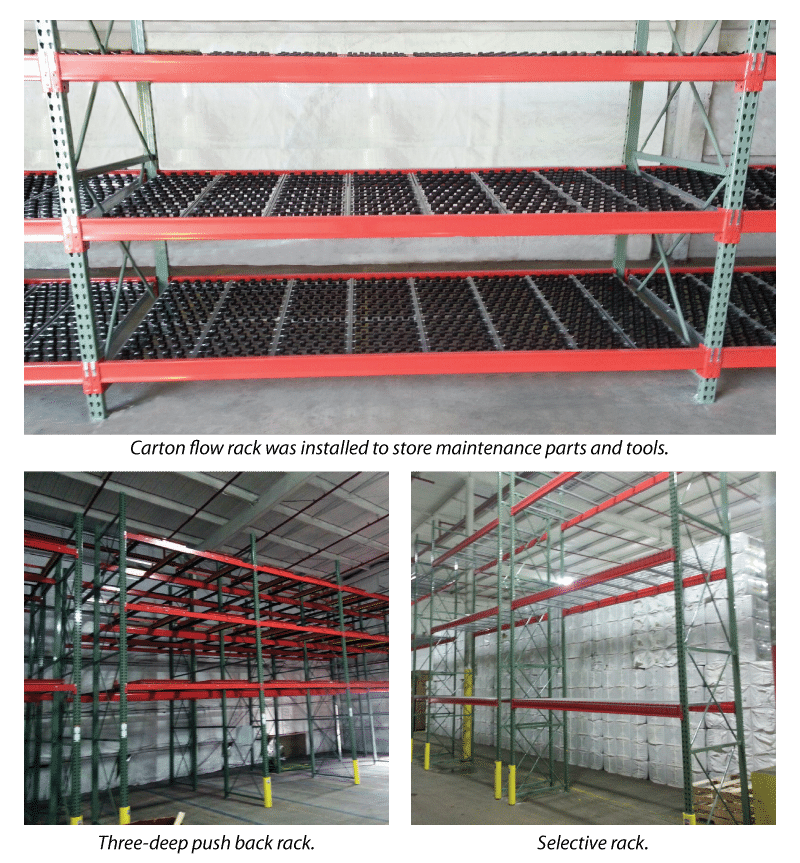 ---
Are you considering rack installation?
At REB Storage Systems International, we look at each project as unique. While many have similarities for which we are able to leverage our experience and knowledge, each client has unique needs that must be met.
REB has the flexibility to integrate products from multiple manufacturers based on the requirements of your rack system including pricing and lead time. This combined with in-house engineering and project management expertise allows us to provide you with your specific storage solution.
To receive a storage solution that optimizes your unique requirements, fill in the contact form or call (800) 252-5955.