Services Provided: Design & Engineering, Project Management, Installation

 

Products Provided: Push Back Rack, Carton Flow Rack, Selective Rack

 

Location: Wabash, IN

 
---
Concern: Lack of Material Handling System
A manufacturer of insulation and fiberglass composites needed a storage solution for their 34,000 sq. ft. warehouse. The company's SKUs range in size and shape and they stored many of their products on the floor. This caused a lot of wasted vertical space as well as wasted time trying to locate items for picking. They wanted to eliminate this issue by building a new material handling system that is customized to their range of products. Additionally, the company wanted to optimize their layout by differentiating the storage area and production area. 
Solution: Integrating Racking System Types
REB engineers designed a layout that optimized the flow of traffic to and from the storage and production areas. The storage area included a material handling system to house their varied products.
The material handling system integrated three types of racking. A 3-deep push back system was installed to store products that were shipped palletized. Carton flow rack was included to store smaller parts, including maintenance parts and tools. Selective rack was integrated above the carton flow rack to store pallets to replenish the carton flow. 
Outcome: Defined Material Handling System
Areas for storage and production are now distinguished, maximizing operations in each area. Additionally, palletized items and small parts are stored on a material handling system that integrates multiple rack types to optimize product flow.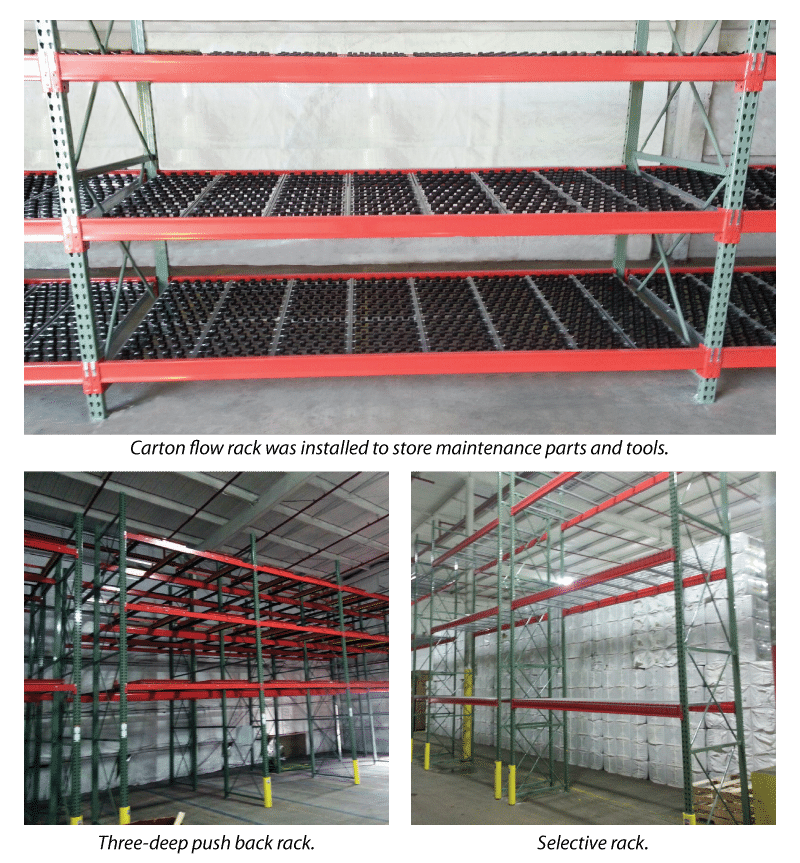 ---
Do You Need Higher Productivity in Your Facility? 
If you need to update your storage facility to increase your storage density and throughput, contact REB today.    
Our dedicated team of material handling experts will work with you to provide a solution that optimizes your storage and distribution operation. We are highly experienced in identifying inefficiencies and implementing improved systems.   
We'd appreciate the opportunity to help you further, whether that be more information or a quote. Fill in the contact form on this page or call us at (800) 252-5955 to get in touch with a REB representative.