Push Back Rack
First-In/Last-Out Storage Racking Systems.

Push back rack is designed for last-in, first-out (LIFO) inventory management. Rack supports carts that move along inclined rails. Push back systems utilize the warehouse cube to reduce required aisle space and maximize product storage, making it a high-density pallet storage solution. A variety of layout configurations are available with variable bay widths to accommodate single-wide or double-wide pallet rows.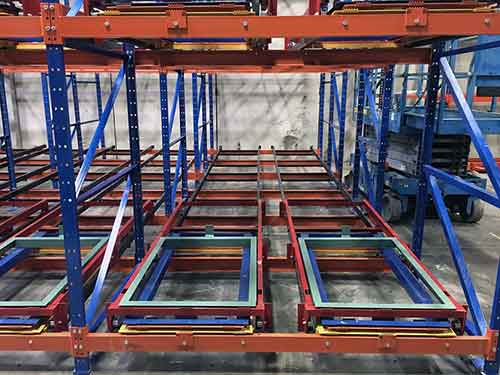 Push back rack is ideal for warehouses and distribution centers that require access to multiple groups of SKUs simultaneously, as well as freezer and cooler environments.
Push Back Product Flow
Each pallet is loaded from the front of the system on to a cart. Using the next pallet, the first is slowly pushed until it is aligned with the next available cart. When the front pallet is unloaded, the next pallet glides to the front for picking.
Specifications and Options
Rack Support Structure Types:
Roll formed frames and beams
Structural channel frames and beams
System Depth:
2 pallets to 6 pallets deep
System Height:
Commonly up to 4 levels high, more depending on retrieval method
Assembly:
Floor-mounted for maximum vertical storage
Cart Assemblies:
Low profile stack height for maximized vertical storage
Channel track assembly for high strength and durability
Sealed bearings for all wheels to maintain flow performance
Accessory Options:
Cart covers
Welded Struts to accept wire decks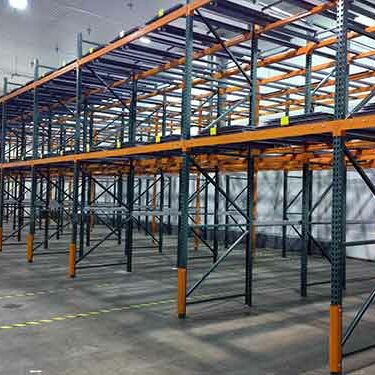 Complete Rack System Products and Services
REB Storage Systems International can provide you with products to complete your material handling system, including decking, shelving, and mezzanines.
At REB Storage Systems International, we combine our superior selection of quality products with professional, first-rate service. We will gladly assist you with selecting the right options for your particular needs and can provide additional support to help you complete your project. From rack system engineering to rack installation, we can help with all of the needs of your material handling operations.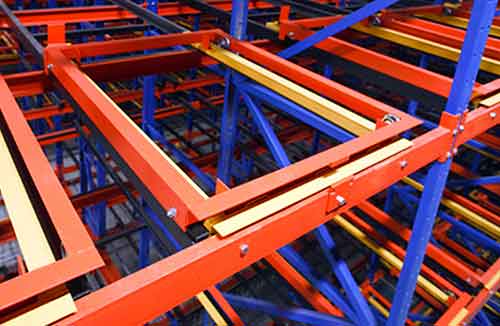 More Racking Product Options: