For companies that handle many small parts, such as nuts and bolts, a solution created specifically for small parts storage is a crucial element for organization and to help keep parts easily accessible for employees. Shelving and bins are both excellent options for small parts storage applications and can be utilized in a variety of environments including warehouses, offices, and retail stores.
Shelving for Small Parts Storage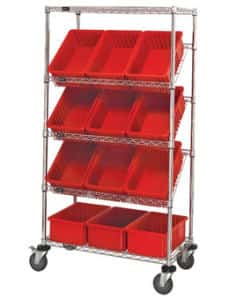 Gravity flow shelving features inclined shelves, allowing parts to be easily located and accessed. Gravity flow shelving is optimal for small parts storage because it can be integrated with bins for organization and allows for high product visibility. Gravity flow shelving options include solid steel and wire.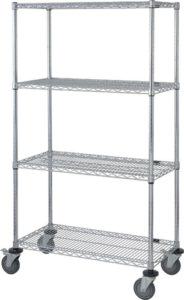 Wire shelving is designed to minimize dust and allow air circulation and grater visibility of stored items. Easier visibility speeds upstocking and picking making wire shelving a durable storage option for small parts applications. Wire shelving options include chrome, stainless steel, and epoxy-coated.
Steel Shelving is available in a variety of sizes and load capacities, making them a durable storage option for a variety of applications including industrial small parts storage. Units can be customized to accommodate a variety of small parts with features such as bins, drawers, or dividers.
Bins for Small Parts Storage 
Another option to help organize and expand small parts storage areas are material handling bins. Bins are typically made of durable industrial-grade plastic and can be added to shelving.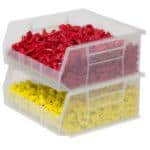 Hang and stack bins stack together or hang from racks, panels or storage cabinets for high-density storage. Dividers, lids and labeling options help provide thorough organization of small parts.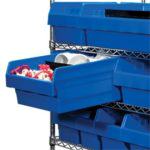 Stack-to-shelf bins sit neatly on shelving or other areas to provide high visibility and organization of small parts. Multiple divider slots are available to allow for further storage options within a single bin.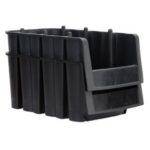 The only small parts storage bin that can nest and stack is the economy shelf bin. These bins are designed for use in multiple areas. Because of their unique stacking ability, economy shelf bins can expand vertical storage space without adding shelving.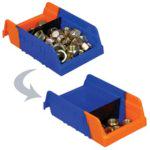 The two-toned inventory indicator bins are a single-bin system featuring a colored trigger side to indicate low inventory to prevent items from going out of stock. The indicator bin is stocked using the divider to designate volume for the inventory reserve. Small parts are picked from the blue side of the bin until the divider is reached. The bin is to be flipped, revealing the orange side to indicate low stock.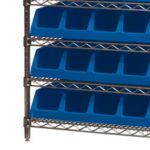 Multi-compartment bins are another great option for small parts storage. These are a sturdy, one-piece design that nest when empty and can be stacked using a dowel rod for vertical space utilization. These multi-compartment bins are perfect for work-in-process operations.
At REB Storage Systems International, we provide shelving and material handling bins for a variety of small parts storage applications. Our team will work with you to design a storage solution that utilizes your space and optimizes your operation.
To learn more or get help with a project, fill in the Request A Quote form or call (800) 252-5955. Whether your project is large or small, we have the expertise to ensure your next project is a success.