For decades, the standard method of order fulfillment has been man-to-goods. A worker gathers the product(s) and assembles the product(s) into a complete order. This "older style man-to-goods methods [is] characterized by serious labor costs, heavy turnover, high cost shelving, conveyors, lifts, and transport and other systems to get targeted materials to a picker/packer or palletizing operation." (1)
In the age of efficiency and consumerism, the standard method wasn't going to cut it anymore. Enter goods to man picking systems. Instead of the employee retrieving the goods, the product is instead brought directly to the worker, who then can pull the items needed to complete the order. With goods to person picking, both the accuracy and the efficiency of the order picking process is increased. Goods to man picking systems are typically split into two categories, robotics and carousels.
Robotics
With robotics, a "worker's reach, mobility and lifting" is altered. One robotics option utilizes multi-level racking and shelving systems integrated with robots such that workers don't need to enter the racking or shelving system. Instead, robots controlled by complex software on each level pull the necessary product and place the product on an elevator or gravity flow chute that's integrated with a conveyor. The conveyor delivers the goods to the necessary picking/packing station and the worker completes their tasks from that station. In addition to conveyors, gravity flow systems have been paired with the new robotic goods to man picking systems, which "approach blends the advantages of first-in-first-out, pick facing, stationary employees, and carton flow."(1)
A second type of robotics goods to man system is that which does not utilize conveyors, but rather robots that bring storage units directly to the picker. This is seen in such facilities as Amazon, which implemented the Kiva system.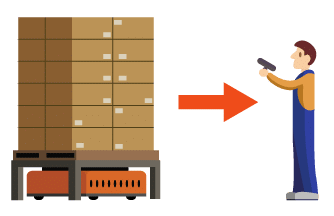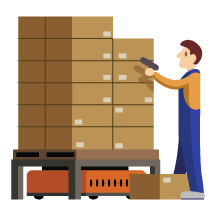 Carousels
Carousels are an ideal choice for operations that require speedy fulfillment, increased storage density, and high throughput of component or item level picking. Carousels can be operated via computer or manually and are often integrated with pick to voice or pick to light systems for maximum efficiency. Carousels are more expensive than standard systems, but are far less expensive than similar automated systems.
Conclusion
Goods to man picking systems are quickly becoming the preferred order fulfillment method. They do require an initial investment to upgrade a current system, but cost can be recouped with increased order fulfillment, a potential drop in transportation costs, and increased inventory, thanks to more available floor space. Distribution centers can thrive using goods to person systems because they provide ergonomic picking options, are easily scalable to the required size of the operation, and require a smaller footprint on the DC floor.
---
About REB Storage Systems International
REB Storage Systems International was incorporated in 1962. REB specializes in the design, engineering, sales, and installation of storage systems and material handling products for warehouses, distribution centers, manufacturing facilities, records storage environments and other companies with storage needs.
To find out more about how REB can help you on your next project, visit our About REB page.