Article Updated: 07/13/2022     Back to Blog
Using gravity flow racks for your inventory management is a cost-effective option. This is because gravity is used to move the products into picking position, as opposed to the product being moved via electricity.  
Gravity flow racks also provide high density and high selectivity, making operations more efficient. 
Read below to understand how gravity flow racks work, ideal uses, benefits, and options. 
How Do Gravity Flow Racks Work?
In gravity flow rack products are placed in the loading side of the system. When the front item is picked, the following item glides forward so that the next product is in the front position.  
This movement of the inventory to the front position is accomplished by gravity. This makes it a cost-effective option for automatic replenishment of the front picking position.   
Gravity flow systems include options for first-in, first-out (FIFO) and last-in, first-out (LIFO) inventory management. The goal of both FIFO and LIFO is to ensure the efficient flow of products while maximizing space.  
What Types of Operations are Gravity Flow Racks Good for?
There are gravity flow rack system options to accommodate many operations. In general, operations that have one or more of the following features are an ideal candidate. 
Operations that have cooler or freezer storage. 
Operations that have multiple pallets of the same SKU. 
Operations that store date sensitive products (for FIFO options). 
Operations that use high quality pallets. 
Here are further explanations of why gravity flow racks are ideal for operations with these features: 
Cooler and Freezer Storage
Coolers and freezers are typically more expensive to build and maintain operations in versus a typical dry storage area. To make the most of this space, a racking system that utilizes the full space of the cooler and freezer should be used. Gravity flow rack options provide high density and make picking faster since the products become available in the picking aisle automatically.  
Operations that Have Multiple Pallets of the Same SKU
Gravity flow rack options are best utilized when each lane contains the same SKU. Therefore, having multiple pallets of the same SKU to fill each lane is ideal.  
For example, push back rack allows for up to six pallets deep. Pallet flow rack can range from 2 to 12 (or sometimes more) pallets deep per lane. A system should be designed around how many pallets per SKU there are to properly fill each lane. 
If an operation has multiple SKUs with varying amounts of pallets per SKU, the system should be designed to avoid horizontal honeycombing. Horizontal honeycombing is when there are blank, unused pallet positions. This can occur in gravity flow rack, specifically pallet flow rack and push back rack, when the system is designed with more pallet positions deep than needed.
To avoid this, the gravity flow system should be designed to accommodate the SKU with the lowest number of SKUs. A one-deep selective system should then be used to store overflow of pallets to replenish each SKU as needed. 
Operations that Store Date-Sensitive Products (for FIFO Options)
There are two FIFO gravity flow rack options: pallet flow and carton flow. Both require a loading aisle and a picking aisle. This setup allows for products that go into the system first to be picked first.  
Therefore, products that expire, have warranties, or can become outdated in any other way benefit from this type of rack system. 
Operations that Use High Quality Products
Because pallets need to glide forward in gravity flow systems, there cannot be anything sticking out from the pallets. Also, pallets cannot be sagging. Both will interfere with gravity being able to glide the pallet down so the system can work properly. 
Benefits of Using Gravity Flow Racks
Typically, less expensive than using an electric-powered option. 
High selectivity, increasing warehouse productivity. 
High density, improving warehouse space optimization. 
Allows for easier tracking of inventory.  
Can be integrated with other rack systems to create a pick module. 
Here are these benefits in more detail: 
Typically, Less Expensive than Using an Electric-Powered Option
Since gravity is free for all, moving inventory to the front position via gravity is less expensive compared to using an electric-powered option such as pallet shuttles. 
Gravity flow can even be more cost effective to maintain operations compared to using a static racking option, such as selective rack. This is because more forklifts are typically required to accommodate the additional aisles needed in a selective rack system. 
High Selectivity, Increasing Warehouse Productivity
These types of systems provide increased selectivity, saving time versus static racking systems. This is because the products don't have to be manually brought forward to the picking position. This saves valuable seconds or minutes per pick, which quickly adds up. 
High Density, Improving Warehouse Space Optimization.
Gravity flow rack offers higher density than static systems such as selective rack. This is because not as many aisles are needed.  
For example, push back rack can be up to 6 pallets deep. It only requires one aisle for loading and unloading for these bays of six pallets, making it very high density in the overall footprint of the warehouse.  
Pallet flow can be up to 12, or sometimes more, pallets deep. This system only requires two aisles for bays of 12 pallets, one for loading and one for unloading.  
Selective rack, on the other hand, is typically one to two pallets deep. Therefore, it requires an aisle per bays of one or two pallets. This results in more aisles than required with push back and pallet flow for the same number of pallets. 
Allows for Easier Tracking of Inventory.
Each lane in a gravity flow rack system should be dedicated to one SKU. This allows for each SKU to be highly visible. Therefore, tracking stock levels is a simpler process than with static racking, which can contain the same SKU throughout multiple bays. 
Can be Integrated with Other Rack Systems to Create a Pick Module.
One or more types of gravity flow rack can be integrated into a pick module. A pick module combines several types of material handling solutions into one efficient system. Each integrated solution satisfies a specific picking requirement. 
For example, the picture here shows two types of gravity flow racks, pallet flow and carton flow, integrated with selective rack, which is a static racking system. Each of these types of systems come together to provide efficient storage and handling for different requirements. 
In this example, 2-deep pallet flow was included on the ground level for faster-moving products. Two levels of carton flow were integrated above pallet flow for efficient case picking of items that needed replenishment closer to the 1-month range. Lastly, five levels of selective rack were included for the immediate product replenishment of the carton and pallet flow.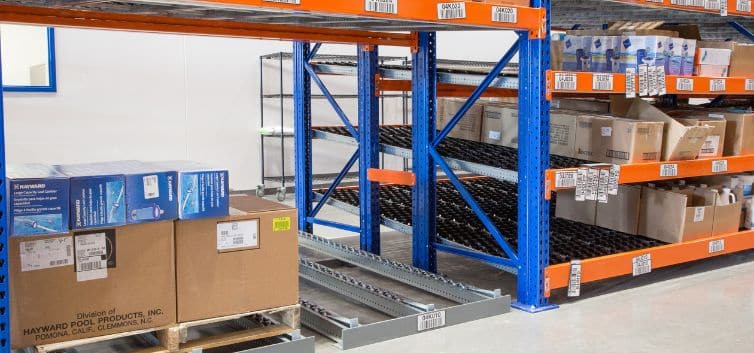 Gravity Flow Rack Options
There are three types of gravity flow racks: carton flow, pallet flow, and push back. Read on to learn more about each type. 
Carton Flow Rack
Carton flow racking is a FIFO rack system that provides excellent volume utilization for high volume case pick or piece pick applications. Customers can integrate carton flow roller tracks into various size racks, whether that be a stand-alone system or integrated with various pallet rack types. 
Carton flow rack is made up of uprights, beams, and inclined lanes of rollers or wheels that allow cartons to glide from the back loading aisle to the front picking aisle. When the front carton is unloaded, the next automatically glides into picking position. 
Carton flow rack systems can be configured with three styles of rollers based on the size of the cartons being stored: full bed polycarbonate wheels, full width steel rollers, and full width polycarbonate wheels. 
Full bed polycarbonate wheels are best varying carton widths, since there are no fixed lanes. 
Full width steel rollers and polycarbonate wheels are ideal for storing consistent carton widths, since they do have fixed lanes. Keep in mind, though, 
Accessory options for carton flow rack include guides to create individual lanes, and tilt trays located at the discharge end to allow for easy access into the top of a case or tote for piece-picking.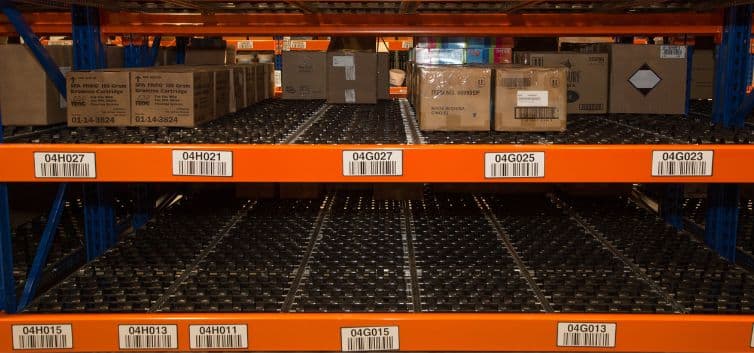 Pallet Flow Rack
Pallet flow racking systems are a FIFO rack options that provide superb volume utilization for pallet storage applications. It is made up of uprights, beams, and inclined lanes of rollers or wheels that allow pallets to glide from the back loading aisle to the front picking aisle. When the front pallet is unloaded, the next automatically glides into picking position. 
Pallet flow rails are available in three styles: polycarbonate wheels, and full or split steel rollers. 
Polycarbonate wheels are ideal for loads over 3,000 lbs and would be the best choice for freezer storage applications. 
Full and split steel rollers are ideal for all light or medium weight pallet types, as they allow for easily changing pallet configurations. 
Accessory options for pallet flow rack include entry guides, ramp stops, and "brakes" that provide speed control.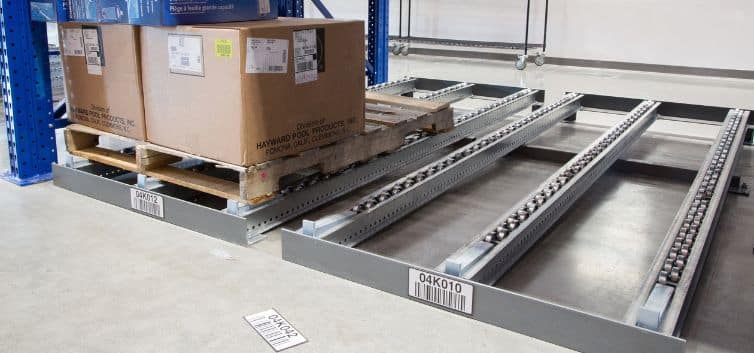 Push Back Rack
Push back rack is a gravity flow pallet rack that is last-in, first-out. This gravity storage system uses carts that are pushed along inclined rails. 
Each pallet is loaded from the front of the system on to a cart. To load the next pallet, you must push the first placed pallet position with the pallet you are attempting to store next. 
When the next pallet is loaded, it slowly pushes the previous pallet back to allow for the new pallet to align with the next available cart. When the front pallet is unloaded, the pallet behind glides to the front for picking. 
This rack system provides high-density storage as it only requires one aisle for picking (versus pallet flow and carton flow) and allows access to multiple groups of SKUs.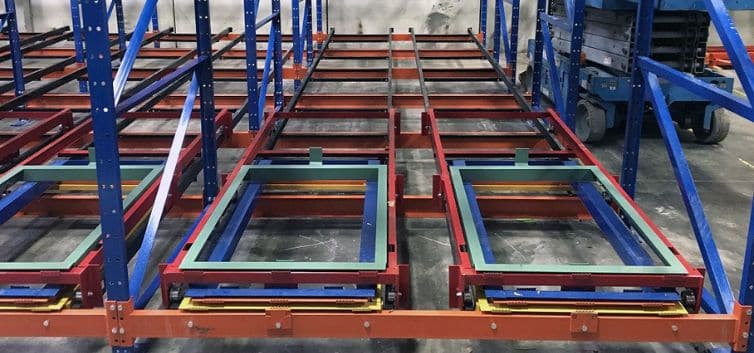 Gravity Flow Racks for your Distribution
Now that you have a better understanding of gravity flow racks, we'd appreciate the opportunity to help you further, whether that be more information or a quote request.  
REB Storage Systems offers pallet racking and automation solutions. We know your options and will make sure your system is the best fit for your SKU profiles, space, and growth projections. We work with you to provide a turnkey system. From engineering, design, products procurement, subcontractor management, install, and permitting support, REB handles it all for you. 
Fill in the contact form on this page or call (800) 252-5955 to get in touch with one of REB's material handling specialists. 
Share this post:
Facebook Twitter Twitter Linkedin
Brian Dubin
All Products Automotive, Inc.
"We have been a customer for over 15 years. REB offers a good selection of products at great prices. They are an excellent source of materials along with suggestions and information on a variety of storage issues."
Bruce Moulton
Harrington Industrial Plastics
"REB is by far my favorite vendor, the customer service and dedication to making sure every order is complete and on time. Fantastic communication, and an absolute pleasure to work with."
Gary Rothschild
Epko Industries
"First time customer and REB provided excellent service and competitive pricing. Would use them again."
Elliot Sneen
Cabernet Corporation
"Great customer service with an accurate storage system!"
Richard Steed
Pacific Storage Company
"We have used REB Storage Systems for a number of years and will continue to do so in the years to come. Their entire staff are wonderful to work with and provide a seamless installation from beginning to end. Their focus to detail and quality installation has been a valuable resource to our company."
Tom Beckermann
Felling Trailers Inc.
"REB Storage Systems provides a high quality product with the best customer service in the industry, no matter the volume of products we buy."
Blog Topics By Category
Blog Topics By Industry