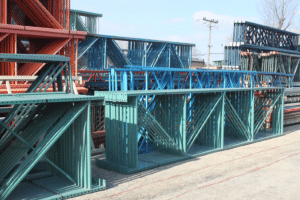 Used warehouse racking can be a great option for cutting down costs for a facility upgrade, renovation or a new warehouse. Whether you are putting together an entire system of used rack or are incorporating used pallet racking into your current system, make sure it will fit without any problems.
Things to Consider When Choosing Used Warehouse Racking
To get the best value for your money, be sure to factor in two key components: rack size and compatibility.
Not all racking will fit together. For instance, there are seventeen common styles of manufactured pallet rack which are not interchangeable.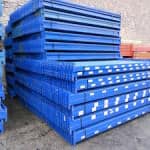 Even a common style of rack, such as Teardrop or Keystone, may have differences from manufacturer to manufacturer.
Bay size is critical compared to product size when selecting used pallet racking to maintain high-density storage. If upright frames are the improper depth or if horizontal beams are too long or too short, the result may be wasted space on each shelf. If a beam profile or gauge is not considered, loading capacity may not be sufficient and excessive deflection and/or collapse may occur. Additionally, if a beam profile is too thick, the vertical space between beams may need to be increased, resulting in loss of capacity.
Used Warehouse Racking Buying Process
Just like any big purchase, there are several steps to take into account before you buy used racking. First, you will need to determine your storage and material handling requirements. Questions to ask yourself during this stage are:
-How much can you spend?
-What are your storage needs?
-How much volume will the warehouse have?

Answering these questions first will allow you to focus on the type of racking that is specific to your needs. Companies that sell the racking can assist you with warehouse design and what will work best for your application.
The next step in the process is to find a company near you that is selling used warehouse racking. Using a local company will result in lower freight and transportation costs. To find the best deal, create a list of companies in your area and compare pricing.
If possible, inspect the racking to make sure it will fit your needs. You also want to be sure the racking is in the condition it's being advertised. If you are unable to inspect the rack, request high-resolution images of the rack from various angles.
Finalizing the purchase can require two negotiations. You will want to negotiate the best deal possible for the used racking and negotiate the delivery. Negotiating the material will include payment methods and terms. The delivery negotiation will involve setting a delivery date. If feasible, picking up the used racking is an option that will save money.
A professional racking company can help make sure that you're getting the best value on used racking equipment. REB is qualified to help customers incorporate used material in their storage systems. We can also reconfigure your used material and combine it with new, where necessary, to produce a stronger, more efficient facility.
REB has used pallet racking for sale. To learn more or get help with a project, fill in the Request A Quote form or call (800) 252-5955. Whether your project is large or small, we have the expertise to ensure your next project is a success.