Warehouse picking carts can be integrated into any warehouse or backroom operation to serve as a faster method for picking, stocking or transporting inventory. They are also a great way to utilize unused space and make maneuvering in confined spaces, like aisles, easier.
Important Factors to Assess When Selecting A Warehouse Picking Cart
When looking to utilize carts in your operation, you need to evaluate your inventory characteristics and picking processes. Analyzing these will help determine what type of cart will be best for your application.
Inventory Characteristics to Evaluate
What items are you storing? What is their weight, shape, and size?
It's very important that your warehouse picking carts can adequately house and transport your products. Most picking carts have a capacity between 1,200 lbs. and 3,600 lbs. and, depending on the number of shelves, have an average clearance between 11" and 17". It's important to keep this in mind while searching for a picking cart if your products are heavier and/or larger.
If you require carts to transport multiple SKUs at once, consider ones with multiple shelf levels. These are often used in retail and food and beverage operations. This will add more storage density per cart and provide for faster product accessibility.
How do you want to store and pick these items? How will your inventory need to be accessed? Do you have high or low product circulation?
In addition to having the ability to transport your items, carts must also provide the proper accessibility for your application. This is an important element to consider because it can speed up the rate of which things are shipped.
Open frame picking carts allow access to products from all four sides. This option provides the best product accessibility and can benefit operations with high product circulation. Two-sided carts allow access from both long sides of the cart. Three-sided carts only allow products to enter and exit from one side, providing the least accessibility but safeguards inventory to prevent damage or spillage.
As you'll read about further in this article, warehouse picking carts can also be outfitted with compartments, typically via bins, to organize SKUs or distinguish between shipments.
Common Types of Warehouse Picking Carts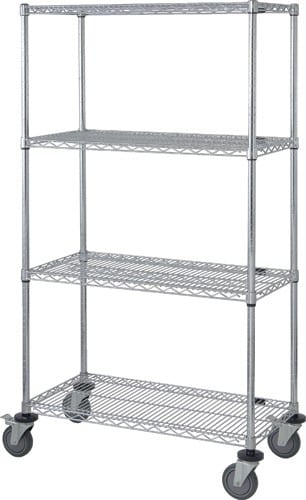 Common warehouse picking cart options can include wire shelving or steel shelving. Both options have unique features that give them advantages for certain applications.
Wire shelving carts are designed to minimize dust and dirt build-up and increase air circulation and visibility. This design element is perfect for an inventory that needs to stay clean and dry. Wire carts are ideally suited for industrial, warehousing and retail applications because of their durability and customization.
Stainless steel carts are easy to clean and unaffected by frequent temperature changes or being exposed to humidity which makes them ideal for food service and health care operations. Stainless steel is also non-corrosive that will not contaminate inventory.
Choose Picking Cart Features That Will Accelerate Your Operation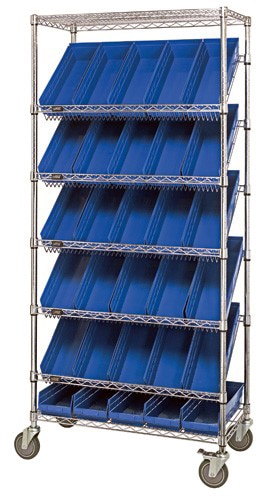 Picking carts are a versatile material handling product that can be customized for warehousing and distribution center applications spanning multiple industries like food service, retail, and health care.
For example, shelf levels can be angled to provide an ergonomic design to help deliver increased picking visibility and flexibility. Trays or bins can be added to shelf levels to provide more organization for small parts inventory storage.
Because of this versatility, warehouse picking carts can be customized to fit many specific applications.
For instance, in this case study, the standard cart that a large retail company was using in their distribution centers were proving to be inefficient. The shelf levels of each cart were horizontal and too close to be able to see directly into boxes on the bottom two levels. This was also causing employees to have some difficulty placing items swiftly into each box.
After an examination of their operation, a new type of cart was designed and implemented. The new carts can fit 10 of the company's standard shipping boxes on each of the three levels of the cart. Each shelf level is built at an angle, making placing items in each box a smoother process, as well as easier viewing of box contents.
These simple changes in their picking carts resulted in faster, more accurate picking in their distribution centers.
Need More Information?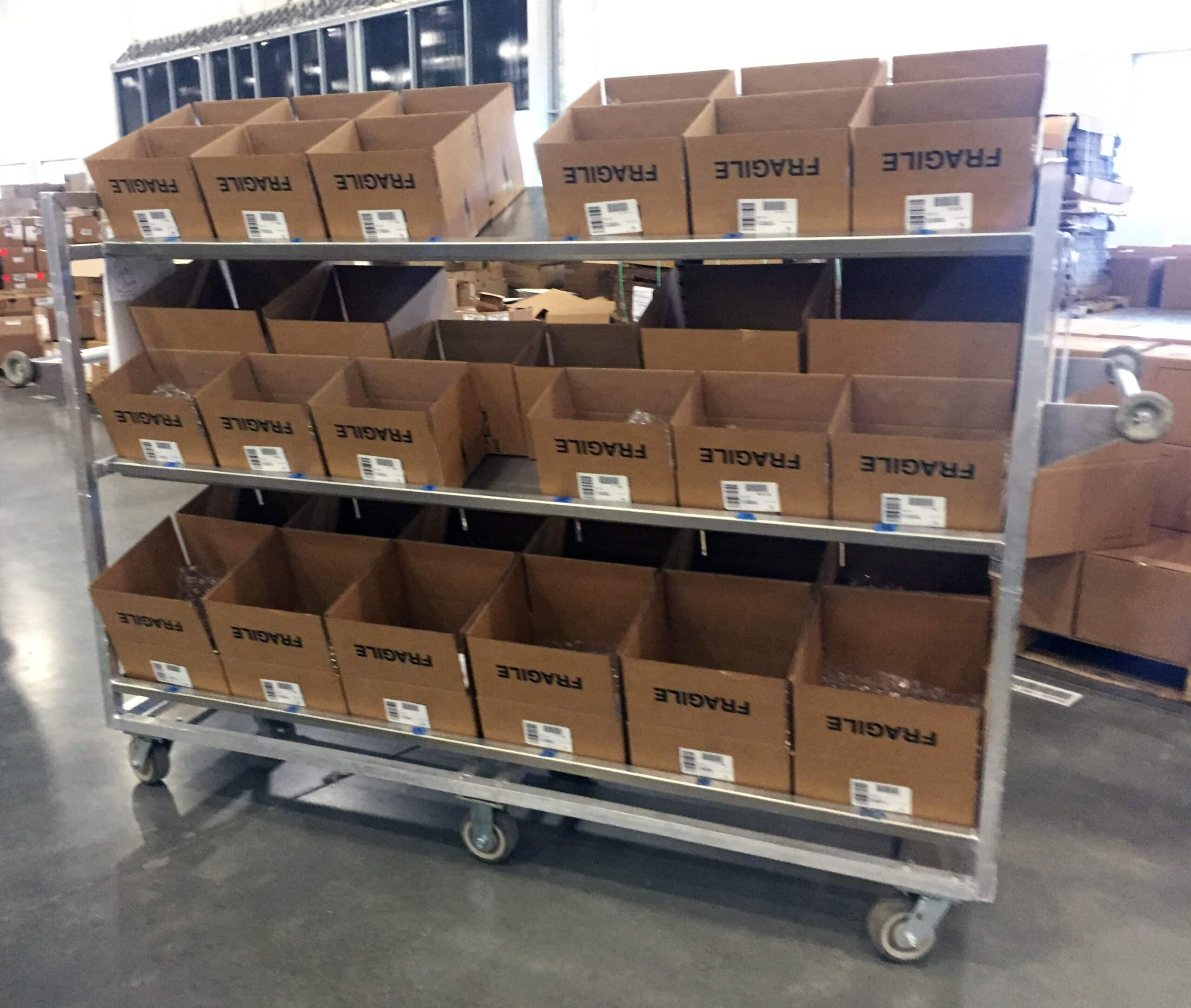 REB provides both standard and customized warehouse picking carts for companies across the US. Our well-established manufacturer relationships allow us to source the right cart for your operation.
Unsure if you're using the ideal picking cart for your operation? Our experts can assess your needs to identify which cart will fit you best. With so many options out there, our knowledge can help avoid the headache of searching through them and ensure you end up with the right one for your operation.
Let's Connect!
Fill out the 'Submit Your Inquiry' Form to get in touch with our industry experts, who can help answer questions you may have about picking carts and how to design them to best fit your inventory.