Drive-in or selective racking systems can be converted into a push back racking system to increase storage density and eliminate the problem of having too many SKU's and not enough slots to store the product. Push back retrofit can also save time and money over replacing the existing system.
Drive-in push back retrofit systems will fit into most existing drive-in racking systems resulting in a significant increase in selectivity and storage density. The push back retrofit system rests on top of the existing drive-in rails and is either bolted or welded to the system at the front position. Reconfiguration of the existing system is rarely needed.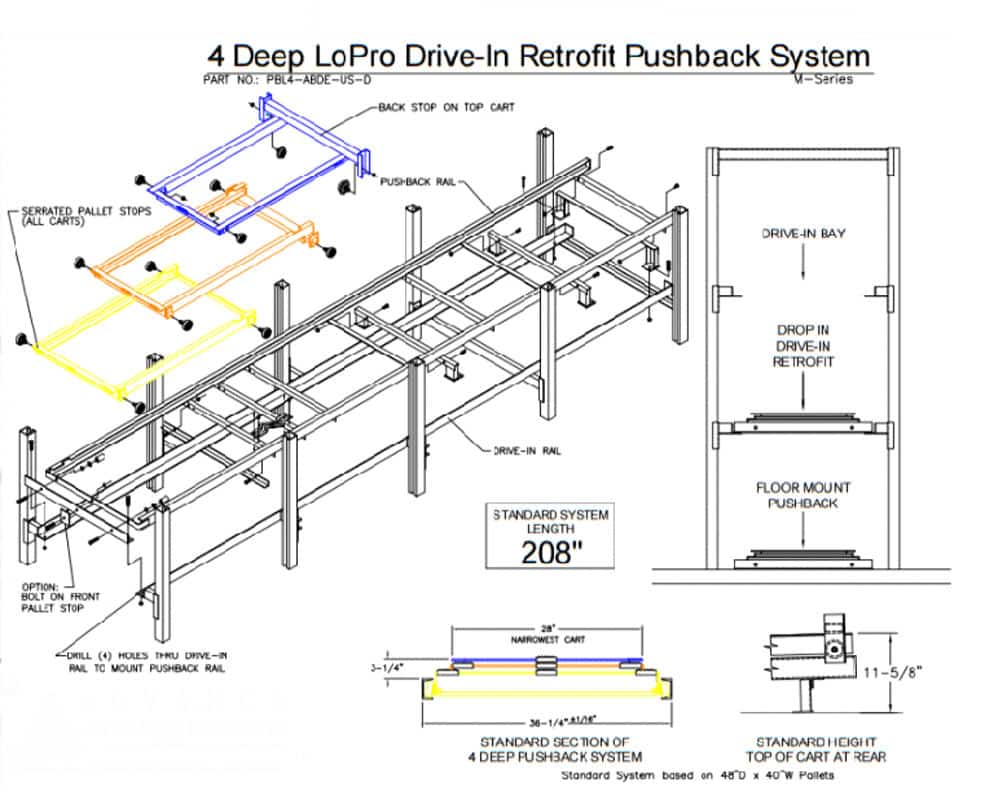 With a push back retrofit system, you can access each level of the system individually, increasing your SKU selectivity by up to five times. One of the main benefits of converting a drive-in push back retrofit is there are far fewer bent rack uprights, less chance of taking down an entire rack system because of a collision within the racking. This means fewer injury claims and less ruined inventory.
Converting your drive-in rack into a push back system also reduces load/unload time by 75% simply by not spending time driving in and out of the rack space. Additionally, this will increase the productivity of your forklift crews.
Single deep selective rack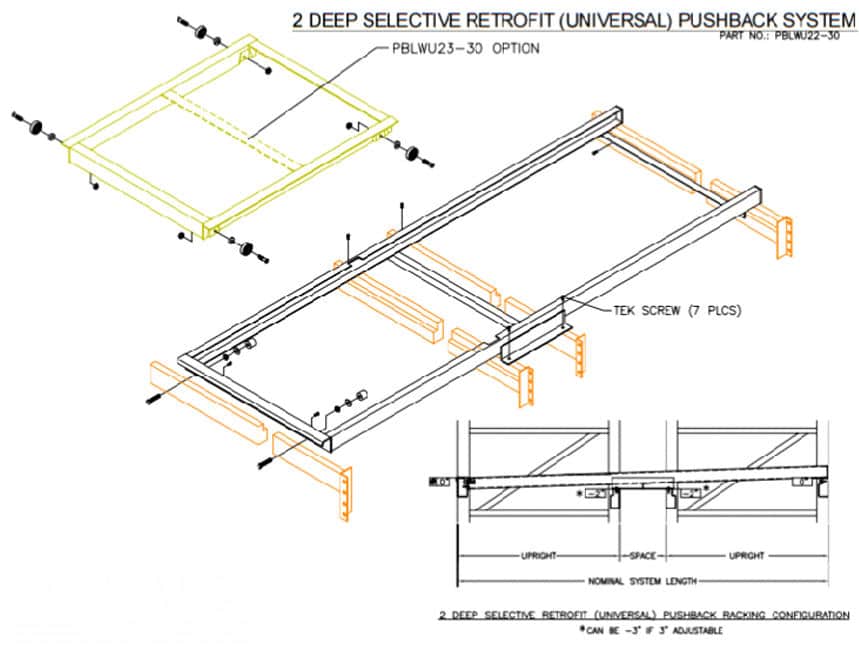 can also be converted into high density push back storage. Much like converting a drive-in rack, this allows 2 and 3 deep selective push back retrofit system to be mounted on the existing selective frames and beams.
With retrofit push back rack, there is a triple benefit – improved safety, improved storage density and significant time savings. Up to 20% more storage slots are filled simply because you don't have to hold bays open in order to access upper levels.
At REB Storage Systems International, we look at each project as unique. While many have similarities for which we are able to leverage our experience and knowledge, each client has unique needs that must be met.
REB has the flexibility to integrate products from multiple manufacturers based on the requirements of your rack system including pricing and lead time. This combined with in-house engineering, planning, and permitting support expertise allows us to provide you with your specific storage solution.
To receive a storage solution that optimizes your unique requirements, fill in the contact form or call (800) 252-5955.