Understanding Warehouse Rack Safety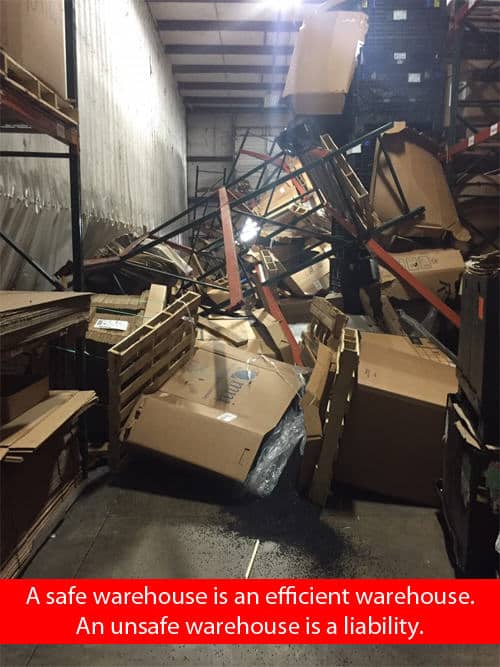 Rack uprights are bumped and pushed by material handling equipment, beam elevations or pallet loads are readjusted to fit loaded pallets, and components are modified or aisles narrowed to accommodate inventory. All of these actions happen as a matter of running a warehouse, but what warehouse rack safety measures are taken to ensure that these actions have not compromised the integrity of your rack system?
Warehouse Rack Safety Regulations
When discussing what safety measures to incorporate in your warehouse, it's important to research pallet rack safety regulations specific to your equipment and your location.
ANSI/RMI MH16.1 sets forth standards for identifying, repairing or replacing damaged rack. Among these include:
ANSI/RMI MH16.1 - OWNER MAINTENANCE: The owner shall maintain the structural integrity of the installed rack system assuring proper operational and maintenance procedures. Regularly inspect for damage and immediately unload the affected area and replace or repair the damaged column(s), beam(s), and other structural components.
What does this mean for you? As the owner of a rack system, you are responsible to ensure that the safety of your racking is monitored. In addition to frequent in-house safety assessments, it is also good practice to periodically hire a company that specializes in rack safety assessments. If damage is found, steps must be immediately taken to fix the damage.
There are many types of damage that can exist in a rack system, here are some of the most common to look for: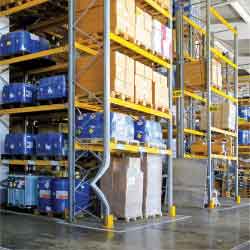 Column Damage
Rips, tears or deflection beyond acceptable limits. This deflection is greater than ½" or damage that no longer can carry the original rated load.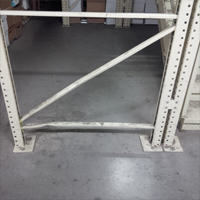 Horizontal & Diagonal Strut Damage
Broken welds, missing braces, or braces with rips, tears or deflection beyond acceptable limits. Deflection greater than ½" bent either horizontally or diagonally.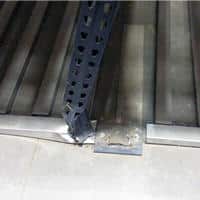 Footplate Damage
Sheared or twisted past ½". Resides in earthquake region that require seismic risk modified footplates.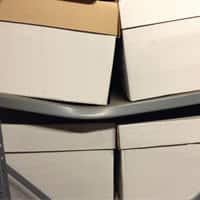 Overloaded Beams or Frames
Using the RMI description, review the manufacturer's frame capacity charts. Remember that rated loads refer to an evenly distributed load along the length of the rated member.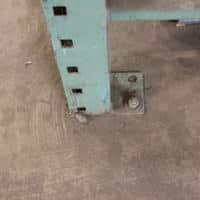 Anchor Damage
Missing, broken or loose anchors are problematic because each upright footplate, both the front and back, must be anchored to the floor.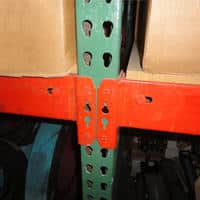 Missing or Damaged Components
Often, various accessories are missing or damaged, but were originally installed to protect the rack structure or enhance safety. Typically includes: wall ties, crossbars, cross-aisle ties, wire mesh decks or pallet stops.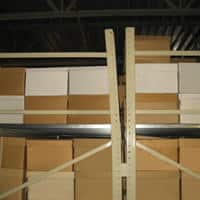 Leaning Frames
When loaded, the minimum plumbness and straightness (both cross and down aisle) of the frame should be less than ½" per 10' of height.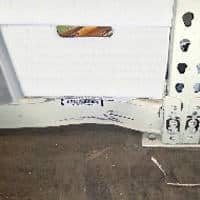 Beam Damage
Missing or damaged beams, loose, damaged or missing fasteners. Deficiencies in load locks and snap locks are common and will fail to hold beam end plates in place. Load beams secured to withstand 1,000 lbs. of uplift force.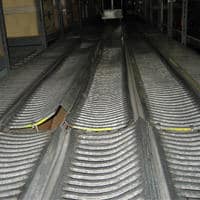 Damaged Decking
Decking with exposed jagged edges, dips, or missing pieces can cause serious harm to employees or materials and should be replaced immediately.
ANSI/RMI MH16.1 - RACK DAMAGE: Upon any visible damage, the pertinent portions of the rack should be unloaded immediately by the user until the damaged portion is repaired or replaced.
What does this mean for you? Any time the previously mentioned damage is found, action must be taken immediately to prevent injury. That section of racking should not continue to be utilized until it is repaired or replaced.
ANSI/RMI MH16.1 - REPAIR & REPLACEMENT OF DAMAGED COMPONENTS: These shall be replaced by qualified persons following recommended and documented procedures. Repair components must be at least as strong as undamaged components.
What does this mean for you? After you discontinue use of the damaged section of rack, the next step is to hire a professional rack company to assess the damage and move ahead with the appropriate repair and/or replacement.
ANSI/RMI MH16.1 - ADDITIONS, ALTERATIONS & RECONFIGURATIONS: All additions, alterations and reconfigurations should meet the same requirements as the original installation.
What does this mean for you? It is important to not attempt a 'makeshift' repair in-house, as a professional will be able to repair or replace components that ensure your rack system is structurally sound and safe for use.
If you have any indication that your warehouse rack safety is compromised, it's time for a professional pallet rack safety inspection.
Fill in the contact form or call REB Storage Systems International at 800-252-5955 to schedule an appointment with one of our safety and repair specialists who can perform an inspection of your warehouse. You'll be provided with repair and ongoing protection recommendations. At your request, you'll receive a proposal and a corresponding scope drawing for these services.
To learn how the rack repair process works, visit our rack repair page.