When to Utilize a Pallet Rack Repair Kit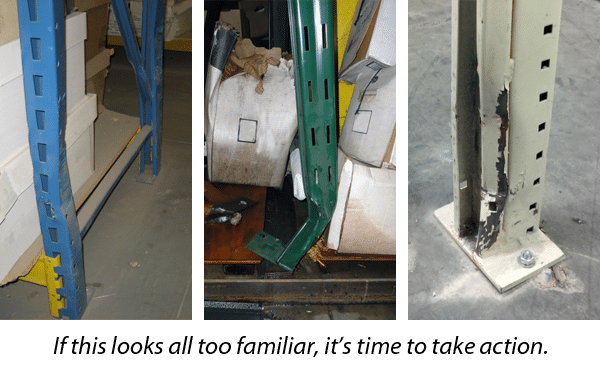 If you've noticed damage in your warehouse, but haven't fix it yet for a number of reasons, it's time to start thinking about utilizing a pallet rack repair kit. Some misconceptions to installing pallet rack repair kits over replacing the damaged section of rack are:
- It's too expensive.
- I'll have to replace the entire rack.
- It will slow down my operations.
In reality, it can be less expensive in the long run, you only have to replace the damaged section of rack, and your operations do not have to slow down.
Rack systems are highly engineered, high performance structures that are designed to carry more than ten times the self-weight of the structure. Daily abuse, neglect, adding new rack, modifying, or reconfiguring old rack can compromise the integrity of those systems in ways that goes beyond dents, rust, or chipped paint.
Repair vs Replace
Replacing damaged rack tends to be a very labor-intensive project. All inventory has to be removed from the damaged rack, the bay has to be dismantled, and a new upright or beam has to be installed. This takes time and money.
Repairing damaged rack is a much smoother process. Racks are repaired in place with manufacturer-engineered pallet repair systems. A lifting jack stabilizes the rack while the damaged portion is removed and replaced with a heavier, abuse-resistant upright. By using a pallet rack repair kit, inventory unloading and business disruption are minimized, and the job-completion time is greatly reduced.
Rack Repair Kit Features
REB Storage System International's pallet rack repair kits are made in the USA and comply with the ANSI/RMI Standards 16.1. These pallet repair systems offer the highest protection against impact. Features include:
• Reinforced post section
• Can be configured with most beam types
• Extended footplate with ½" anchors for added impact and twist resistance
• Manufactured using 50,000 PSI minimum yield high strength 12 gauge or heavier steel
• Powder coat painted to the customers color choice
• Can be bolted or welded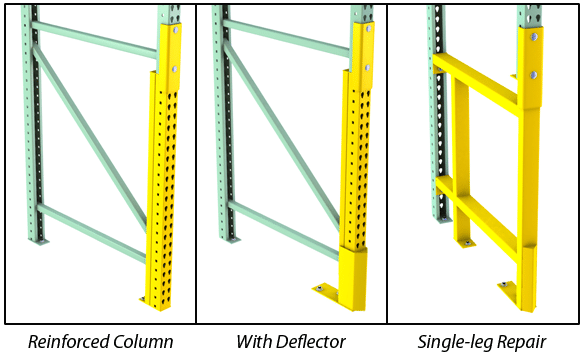 If you have damage in your warehouse, you shouldn't put off fixing it any longer. Even slight damage can lead to a collapse.
Fill in the contact form or call REB Storage Systems International at 800-252-5955 to schedule an appointment with one of our safety and repair specialists who can perform an inspection of your warehouse. You'll be provided with repair and ongoing protection recommendations. At your request, you'll receive a proposal and a corresponding scope drawing for these services.
To learn more about how to identify unsafe racking conditions, visit our rack safety inspections page.