Solutions at a Glance
Services Provided: Design & Engineering, Permitting Support
Products Provided: 2-Deep Drive-In Racking System
Location: Phoenix, AZ
---
Concern: Not Enough Storage Space
A mattress manufacturer needed to downsize from a 270,000 sq. ft. facility to a 130,000 sq. ft. facility while maintaining the
same volume of products.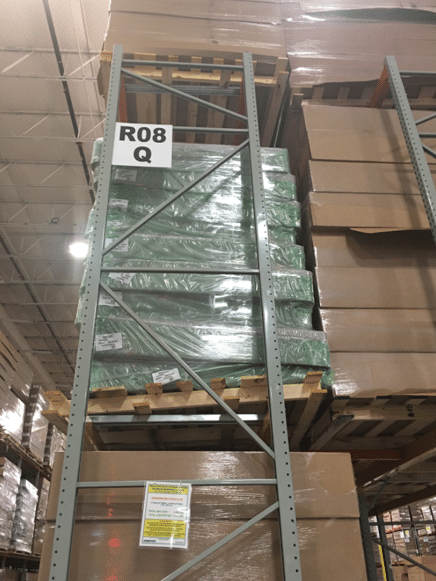 With this move came the question of how they can store the same stock levels from their existing facility in their new facility, which is approximately half the size.
The company's existing storage system utilized selective pallet rack at three pallets high with 18' aisles. Because the company wanted to utilize existing lift equipment, the aisle widths could not be significantly reduced from 18'. Therefore, a denser very narrow aisle selective rack layout would not be feasible. 
Solution: Custom Drive-In Rack Design 
The company hired REB Storage Systems to design a new material handling system for their smaller warehouse. To increase storage capacity in the new facility, REB suggested a high-density storage solution, such as (2) deep drive in. However, due to the widths of their customized pallets per mattress size (86" king mattress pallets, 82" queen mattress pallets, double, and twin), a standard drive-in rack design would not be feasible. 
For that reason, REB developed a customized solution for the company that utilizes the design of a structural two-wide pallet style drive-in pallet rack but engineered to accommodate each of the company's customized pallets widths. The design incorporates longer drive-in support arms by utilizing cantilever rack. This allows for king, queen, double, and twin mattress pallets to be stored. 

Outcome: High-Density Storage Facility
The company now has an optimized facility that can accommodate their unique inventory. The result was a layout that shrunk their footprint by half.  
As an experienced systems integrator, REB offers comprehensive services, including design, engineering subcontractor and product procurement, project management, permitting support, and installation. This allows the company to have one point of contact throughout the process of building the storage system.
---
How You Can Increase Your Storage Density 
If you need a material handling system to increase your storage density, contact REB today.   
Our dedicated team of material handling experts will provide a solution that will optimize your warehouse storage. We are highly experienced in identifying inefficiencies and implementing improved systems.  
We'd appreciate the opportunity to help you further, whether that be more information or a quote. Fill in the contact form on this page or call us at (800) 252-5955 to get in touch with a REB representative.