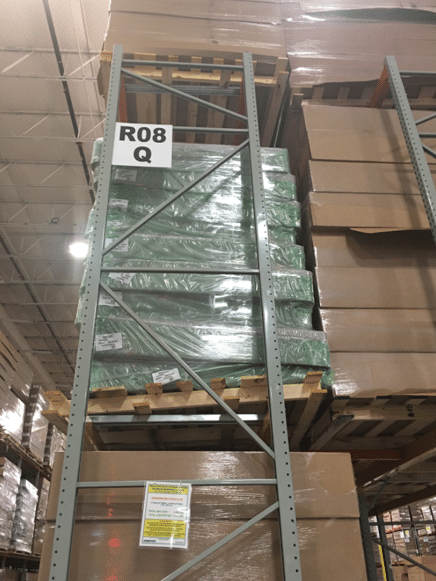 PRODUCTS: 2-Deep Drive-In Racking System
SERVICES: Design and Engineering, Permitting Support
LOCATION: Phoenix, AZ
---
SCOPE A mattress manufacturer needed to move from an existing 270,000 sq. ft. facility to a 130,000 sq. ft. facility. It was assumed that an additional second facility would be required to maintain current inventory levels. The existing storage method was selective pallet racking, (3) pallets high, with approximately 18' aisles.
---
SOLUTION After analyzing the manufacturer's SKUs, it was determined that a significant percentage of items were stored at multiple pallet quantities. This allowed the mattresses to be stored in a 2-deep configuration.

Because the pallets were customized, a standard drive-in system would not be applicable. We proposed a 2-deep drive-in racking system which increased storage density while allowing the manufacturer to continue using their existing lift equipment. This design incorporates longer drive in support arms which cantilever and will also allow for not only King pallets to be stored in the system, but Queen, Double and Twin pallets as well. The result was a layout that exceeded the current capacity without leasing a second location. Additionally, this solution estimated an annual real estate savings of $840K (based on $8/sq. ft.)

---
Do you have unique storage requirements that need to be met?
At REB Storage Systems International, we look at each project as unique. While many have similarities for which we are able to leverage our experience and knowledge, each client has unique needs that must be met. REB has the flexibility to integrate products from multiple manufacturers based on the requirements of your rack system including pricing and lead time. This combined with in-house engineering, planning, and permitting support expertise allows us to provide you with your specific storage solution.
To receive storage solutions that optimize your unique requirements, fill in the contact form or call (800) 252-5955.