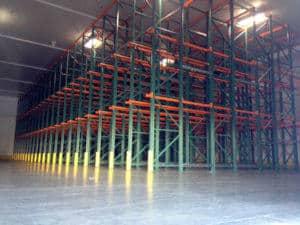 Products: Drive in racking system
Services: Rack system engineering, design, permitting and installation
Location: San Diego, CA
SCOPE
A family-owned tomato producer stacked products on their cooler floor for years. They turned to REB to provide them with a solution for better density and to improve overall operations. The warehouse contains 1800 lb. pallets that are 40″ W x 48″ D x 72 H.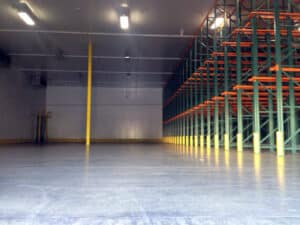 ---
SOLUTION
REB designed a drive in racking system to be installed in two phases.
Phase One:
REB designed and installed drive in rack system with all new material consisting of 21 lanes of storage that are three (3) pallets high and eight (8) pallets deep. This allows for 504 pallet positions. REB also arranged for fire consultants and sprinkler inspections.
Phase Two:
REB is currently designing an additional drive in rack system with 19 lanes of storage that are three (3) pallets high and eight (8) pallets deep with all new material. This will allow for 432 pallet positions.
OUTCOME
The company is now able to better organize products and has doubled their storage density.
Do you have unique storage requirements that need to be met?
Drive in racking systems are designed for last-in, first-out (LIFO) inventory management and provides high selectivity. Drive in rack is ideal for storing large quantities of homogeneous products, products with long life spans and products that require large, one time moves.
At REB Storage Systems International, we look at each project as unique. While many have similarities for which we are able to leverage our experience and knowledge, each client has unique needs that must be met.
REB has the flexibility to integrate products from multiple manufacturers based on the requirements of your rack system including pricing and lead time. This combined with in-house engineering, planning, and permitting support expertise allows us to provide you with your specific storage solution.
To receive storage solutions that optimize your unique requirements, fill in the contact form or call (800) 252-5955.