Industry: eCommerce
Locations: Illinois, New York, California
Products: Selective Rack, Used Rack, Rivet Shelving
Services: Design, Engineering, Installation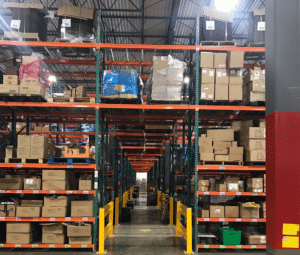 Scope
---
A growing eCommerce company needed a material handling system partner to help them expand their distribution footprint over the next several years. As an established international systems integrator, REB was identified as an ideal strategic partner to help them accomplish this. Over the next few years, REB helped the company implement rack and shelving systems throughout the US.
Solution
---
2016 – 2017
REB initially furnished the eCommerce company's 25,000 sq. ft. headquarter location with 16 bays of used selective rack and 32 sections of used rivet shelving. The company subsequently ordered similar racking and shelving for the same facility in 2016 and 2017.
2018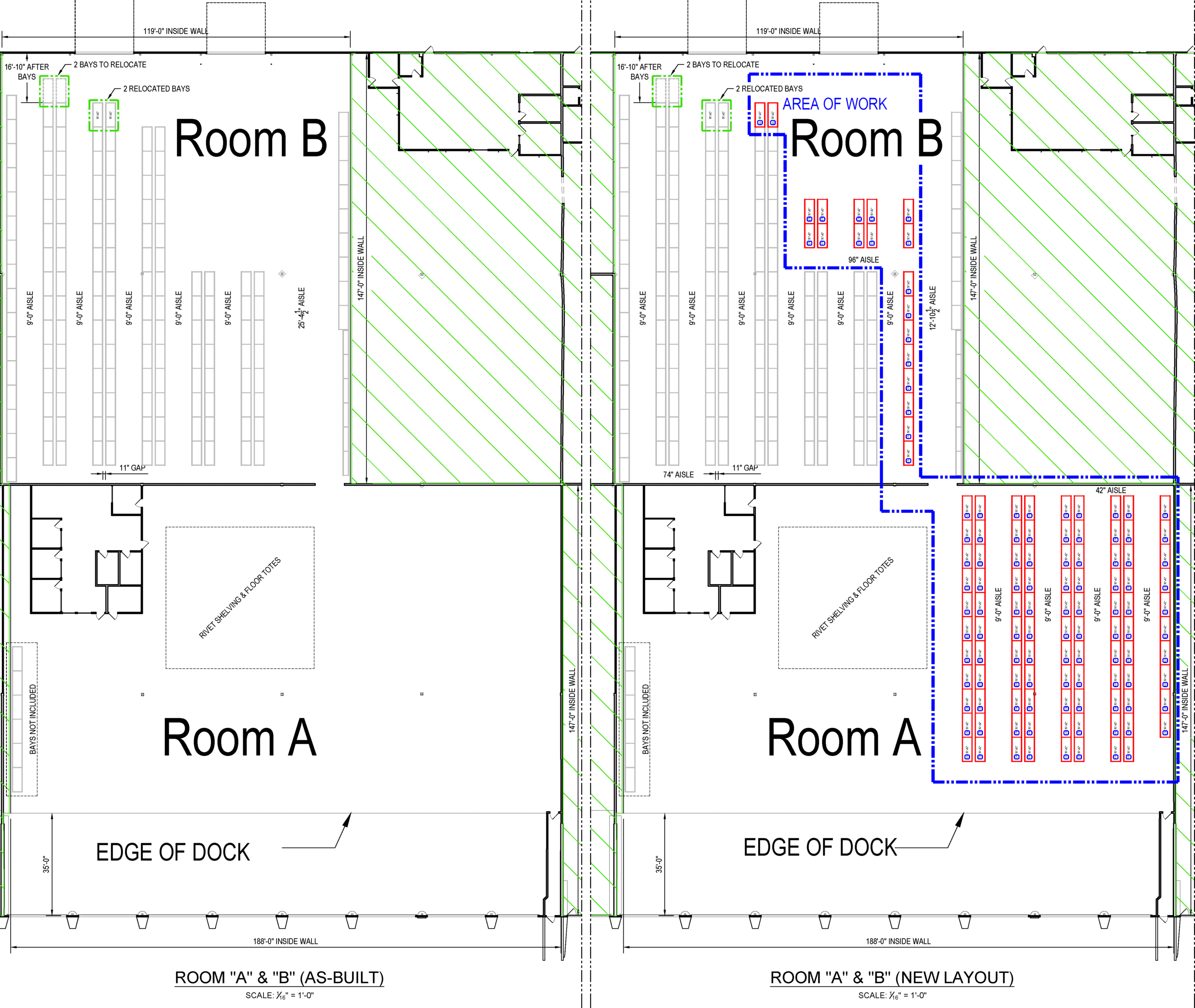 The company expanded their Illinois operations into a new facility and needed over 300 bays of new selective rack installed in their 100,000 sq. ft. facility. The majority of the rivet shelving for the old location was relocated and reinstalled by REB in a new facility located in New York.
REB also was hired to renovate and expand the company's California facility. The expansion will be completed in two phases and includes reconfiguring the aisles to 9' to add more storage. Phase one of the expansion included increasing the number of sections in Room B (shown to the left) from 114 sections to 132 sections. Cumulatively, this increased the number of shelves to 230.
REB will return to complete phase two in March 2019. Phase two will increase Room A (shown to the left) from 52 sections to 92 sections while also adding an additional 20 more sections. This expansion will add 576 more storage shelves.
Outcome
---
REB has built a strong relationship with this eCommerce company and has assisted in numerous projects varying in requirements and location. Because of REB's nationwide project management capabilities and manufacturer relationships, REB is the company's strategic partner in their growing eCommerce business.
Expanding Your Operations?
We know expanding operations can be an overwhelming process. If you are expanding your current operations or looking to expand into a new facility, REB Storage Systems International can help answer any questions you may have regarding the design and implementation of a new material handling system or the installation process.
For more information or to get in touch with one of our industry experts, fill out the 'Submit Your Inquiry' form.