In this case study, REB provided design and engineering services for a customized pallet flow racking system for a manufacturing company. 
SCOPE
---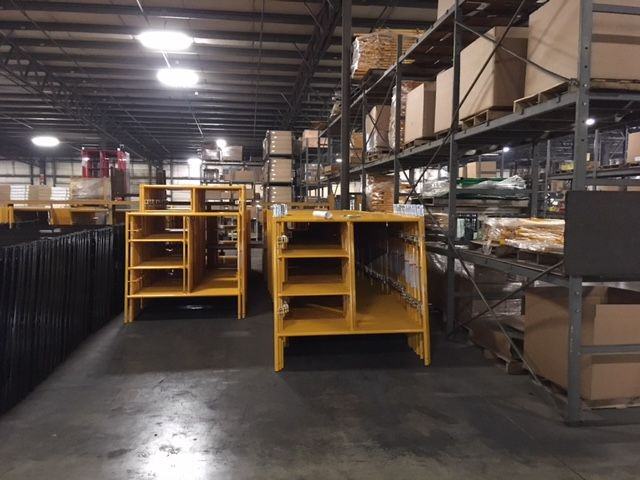 A manufacturer of scaffolding was seeking a new storage method to reduce damage, cycle inventory, and improve storage density.
As shown in the image to the right, the existing storage method was to simply stage the scaffolding in lanes, by leaning the product against each other and storing the product on the ground.
This caused several issues:
Product was being damaged
FILO (first-in, last-out), meaning the product in the back of the lane would rarely cycle causing the product to require repainting
Vertical space within the facility was not being utilized.
SOLUTION
---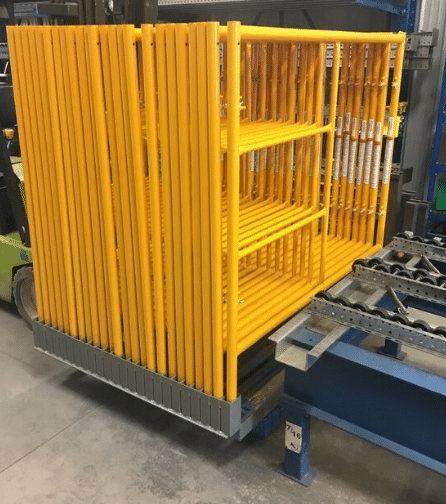 With a relatively large quantity of only a few SKUs, it was determined that pallet flow would be an ideal storage solution. The challenge is that pallet flow requires consistent "good quality" pallets to ensure consistent performance.
The scaffolding was not currently palletized, so a custom holder/pallet was designed to work with a pallet flow system, and reduce damage to the product.
The custom holder/pallet was prototyped and tested to confirm it would flow properly within the system.
The result was (4) consecutive bays of pallet flow, (2) lanes high by (15) pallets deep design which accommodated 24 unites of scaffolding and doubled the storage capacity within the same footprint, provided a FIFO (first-in, first-out) system, and reduced product damage.
REB also included pallet entry guides at the charge end of the system, so that all pallets inputted to the system will flow at the correct angle.
Pallet Flow Solution

Connect With Us!
At REB Storage Systems International, we look at each project as unique. While many have similarities for which we are able to leverage our experience and knowledge, each client has unique needs that must be met.
REB has the flexibility to integrate products from multiple manufacturers based on the requirements of your rack system including pricing and lead time. This combined with in-house engineering, planning, and permitting support expertise allows us to provide you with your specific storage solution.
To receive storage solutions that optimize your unique requirements, fill in the contact form or call (800) 252-5955.