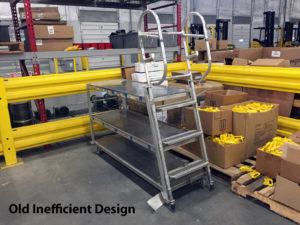 A beauty and personal care products distributor wanted to address picking issues they were having in their 850,000 sq. ft. distribution center. The issues were due to inadequacies with their warehouse picking carts.
Scope
The shelf levels of each cart were horizontal and too close to be able to see directly into boxes on the bottom two levels. This was also causing employees to have some difficulty placing items smoothly into each box at the rapid rate they pick.
Additionally, the large design of the handles were causing the carts to bump into the rack, frequently damaging both.
Solution
REB worked with the company to design warehouse picking carts that are better suited to their operation.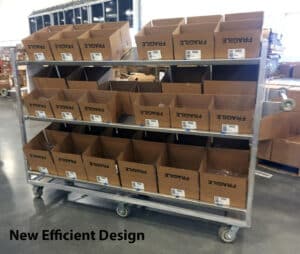 The new carts are larger and able to securely fit 10 of the company's standard shipping boxes on each level of the cart, giving them available space to fit 30 total. Each shelf level is built at an angle, making placing items in each box a smoother process, as well as easier viewing of box contents.
The handles are custom made to be less obtrusive and provide easier maneuverability. Bumpers are added to the handles to help avoid the wear and tear that the original carts were experiencing.
Outcome
As a result, employees are able to pick items faster, raising the number of items the company is able to pick and ship per day.
---
Do you want to increase your pick and ship rate?
Our material handling experts can work with you to provide you with a solution that will optimize your picking operation. Fill in the contact form or call (800) 252-5955 to speak with one of our material handling specialists.