Location: Temecula, CA
Services: Engineering, Design, Installation, Permitting Support
Products:
Pallet Flow Rack, Selective Rack
SCOPE
---
A vaccine distributor was relocating their distribution center to a new building and needed a turnkey storage solution for their cooler and freezer sections.
SOLUTION: RACK SUPPORTED COOLER AND FREEZER
---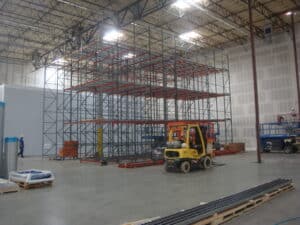 Why'd We Do It? The company originally put out separate RFQs for the building of the cooler and freezer as well as the rack structures. REB suggested they consider constructing the cooler and freezer so that it is supported by the rack structure. After reviewing both scenarios, the company found the rack supported cooler and freezer route saved them money. This route also gave them more storage space since it minimized the need for building columns. How'd We Do it? REB partnered with a cooler and freezer company, who supplied the walls, ceiling panels, and the coils for temperature control for the cooler and freezer. Frames were extended to the height of the ceiling and included ceiling support beams and brace beams above the storage in the cooler structure, as well as added structural mono posts and cross channels in the freezer structure. Since the temperature evaporators in both structures are supported by the pallet rack, cross channel beams were included. What Services Were Involved? A REB project manager was assigned to the project. This project manager was the single point of contact for the company throughout the entire process. REB took care of everything, including: o Sourcing all materials o Freight management o Structural engineering o Seismic engineering o Permitting o Installation – REB worked alongside a cooler and freezer provider to erect rack and walls at same time What Products Were Involved?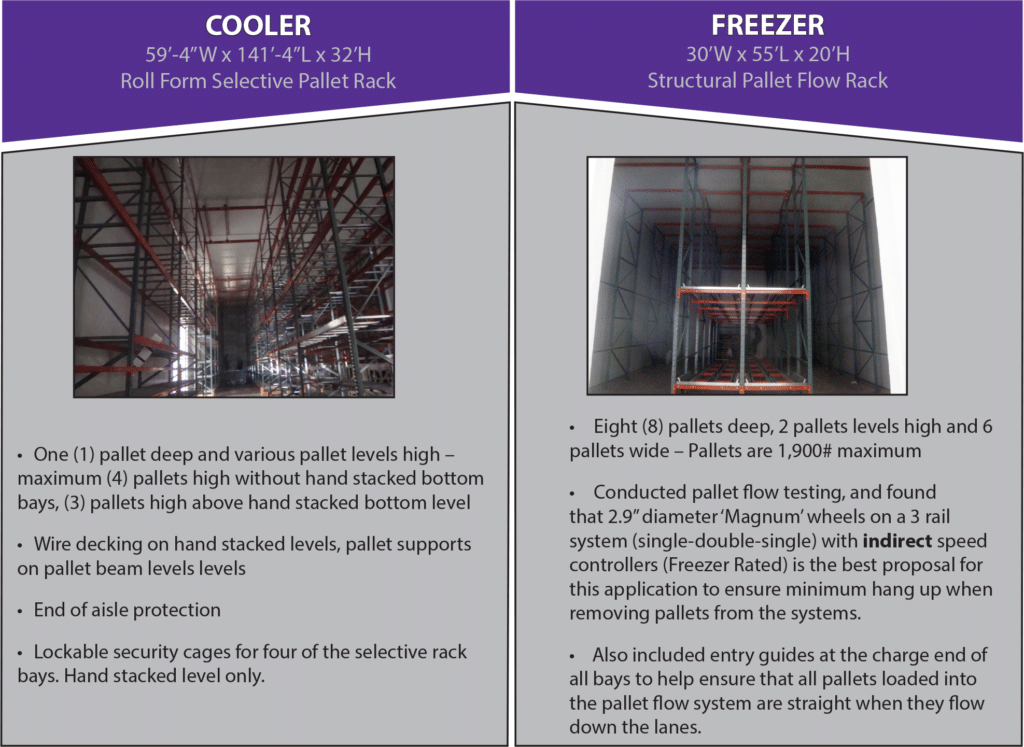 OUTCOME
---
Because the system serves as the structural base, it eliminates columns which optimizes space utilization and offers higher storage density. Additionally, combining the storage systems and framework reduced the cost and building times, saving the company money.
Do you have unique storage requirements that need to be met?
At REB Storage Systems International, we look at each project as unique. While many have similarities for which we are able to leverage our experience and knowledge, each client has unique needs that must be met. REB has the flexibility to integrate products from multiple manufacturers based on the requirements of your rack system including pricing and lead time. This combined with in-house engineering, planning, and permitting support expertise allows us to provide you with your specific storage solution.
To receive storage solutions that optimize your unique requirements, fill in the contact form or call (800) 252-5955.