Services: Rack Inspection, Rack Repair, Rack Safety Maintenance Program
Products: Rack Repair Kits, Row End Guards, Column Protectors
Location: Roanoke, IN
---
Scope
A manufacturer of handbags wanted to address unsafe rack concerns in their approximately 217,320 sq. ft. distribution center.
REB conducted a full on-site rack safety inspection of the distribution center. A significant number of damaged uprights, struts, and beams were found.
Solution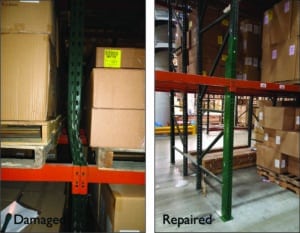 2014
REB returned to the facility to conduct the repairs. In addition to fixing the damaged rack, REB also installed row end guards and column protection in the high-traffic areas of the distribution center.
2015
After completing the initial repairs, the company decided to participate in REB's rack safety maintenance program. Through this program, REB conducted semiannual rack safety inspections in the distribution center, repairing all damage found.
2016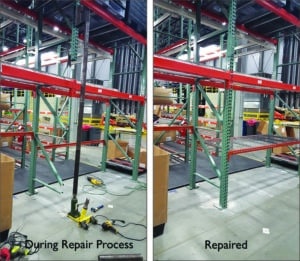 After the first year of the maintenance program, it was determined that damage was now minimal, and that the distribution center only requires one safety inspection per year.
Outcome
The once damaged rack throughout the facility now complies with all ANSI/RMI rack safety regulations, making daily operations safer.
As a result of consistent safety inspections and repairs, the company maintains a safe, compliant facility and their annual cost for rack safety compliance is lower.
---
If you are concerned about the safety of your racking system, the sooner you address it the better. To speak to Joe Malerba, Director of Remediation Services at REB, directly, dial 773-366-8002. Alternatively, you can fill in the contact form on this page and Joe will contact you.