Solution at a Glance
Services Provided: Rack Safety Inspection, Rack Repair, Rack Safety Maintenance Program
Products Provided: Rack Repair Kits, Row End Guards, Column Protectors
Location: Roanoke, IN
---
Concern: Rack Safety
A manufacturer of handbags wanted to address unsafe rack concerns in their 217,320 sq. ft. distribution center.
The company had never had a professional inspection done to assess the safety of their selective rack system.
REB conducted a full onsite rack safety inspection of the company's rack system. A significant number of damaged uprights, struts, and beams were found. The high number of damaged racks was due to an accumulation of damage overt a long period of time.
Solution: Rack Repair
After inspection, it was determined that rack repair was preferable over replacement of the damaged rack. Rack repair provided several benefits to the company over rack replacement. These benefits included:
Less operational downtime in the areas that needed repaired rack. This is due to not having to unload as many pallets of products from the rack system compared to replacing the rack.
Less overall cost. When assessing the cost of the new rack, plus labor to uninstall, reinstall, and reload the larger amount of product and rack needed, rack repair was more cost effective.
More likely to avoid major damage in the future. The rack repair kits installed are a stronger, heavier gauge than a standard roll formed column.
REB returned to the facility to conduct the repairs.
REB repaired each rack according to ANSI/RMI guidelines. The repair processes included:
Pallets on floor and first beam level were removed for the rack repair. All other levels were able to remain loaded.
REB attached the rack-lifting jack, removed anchors, and removed the damaged portion.
The channel was inserted, clamped, and bolted into place.
The rack-lifting jack was removed and the inventory was replaced.
To better understand our rack repair process, click here to be directed to our rack repair service page.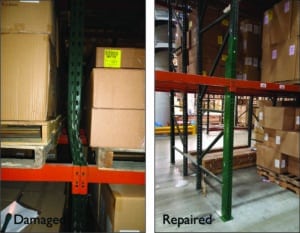 Solution: Ongoing Rack Safety
The company recognized that by not having had a focus on professional rack safety inspections for so long, they had allowed for an unsafe working environment. They knew they had to take steps to ensure the safety of their employees and inventory.
REB offered a two-pronged solution to help the company achieve this.
To help avoid damage to rack moving forward, REB installed rack protection.
End-of-row guards were installed at all row ends to keep equipment from running directly into frames. In addition, column protectors were installed in the high-traffic areas of the distribution center to prevent major damage to columns that may be bumped by forklifts in those areas.
To ensure the rack system was always up to safety regulations, the company participates in REB's rack safety maintenance program.
Through this program, REB conducted semiannual rack safety inspections in the distribution center, repairing all damage found. This program ensures that the company is consistently compliant with all ANSI/RMI rack safety regulations, making daily operations safer.
After the inspection, REB presents the company with a scope drawing. This details the location of each type of damage, along with other safety concerns. As a result, the company is able to clearly assess all safety concerns and identify which repairs they'd like to have completed.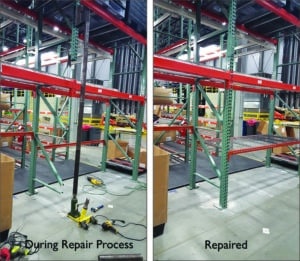 After the first year of the maintenance program, it was determined that damage was now minimal, and that the distribution center only requires one safety inspection per year.
To better understand our rack safety inspection process, click here to be directed to our rack safety inspection service page.
Outcome: A Safe, Compliant Distribution Center
As a result of consistent safety inspections and repairs, the company maintains a safe, compliant distribution center. Their annual cost for rack safety compliance is lower, since they address concerns on an annual basis instead of letting it accumulate over long periods of time.
---
How You Can Achieve a Safe, Compliant Rack System
If you have concerns that your rack system is unsafe, contact REB today.
We have a dedicated team of rack safety professionals who conduct rack safety inspections for our nationwide customer base. We are highly experienced in identifying rack safety concerns and staying up-to-date on all rack safety regulations.  
We'd appreciate the opportunity to help you further, whether that be more information or a quote. Fill in the contact form on this page or call us at (800) 252-5955 to get in touch with a REB representative.