Locations: Numerous throughout the US and Puerto Rico
Services: Rack Satefy Inspection and Remediation
Products: Rack Repair Kits, Rack Protection
A nationwide records storage company conducts internal, routine field audits for each of their locations. To ensure they comply with safety standards, they needed a company that could implement both formal inspections and remediation services.
Upon the conclusion of an internal audit, the company contacts REB to perform a formal rack safety inspection. REB will conduct a formal safety inspection on-site following ANSI/RMI safety standards and provide a report identifying the location and severity of any damage found.
These safety inspections identify any damage or deficiencies within their facility.
Notable Damage Concerns to Identify: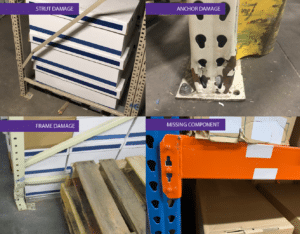 – Column damage
– Horizontal and Diagonal Strut Damage
– Footplate Damage
– Overloaded Beams or Frames
– Beam Damage
– Decking Damage
REB will create a proposal that outlines remediation and protection options for the inspected areas. A dedicated project manager is assigned to the project to manage all sub-contractors. The project manager is the point of contact for the company and oversees all material, freight and rack repair or protection installations to completion.
In addition to acting as the main point of contact, the project manager evaluates bids from all sub-contractors to receive the best pricing and lead times for the company. This allows the damage to be repaired as quickly as possible, minimizing any potential danger to the company's employees or inventory.
REB's capability of leveraging our expansive network of vendors and manufacturers has significantly reduced the company's costs for inspection and repair services. Since 2010, REB has provided inspection and remediation services to 37 states and Puerto Rico.
Get More Information
A program of routine pallet racking safety assessments and safety compliance can help reduce the risk of a costly and potentially dangerous accident such as a rack collapse or employee injury. This article details when you should conduct in-house safety inspections and what specific damage to look out for. If damage is found, action should be taken immediately to prevent injury. Any area where damage is located should be sectioned off and not continue to be utilized. You should then contact a professional to properly repair or replace the damage.
Let's Connect!
If you are concerned about the safety of your racking system, the sooner you address it the better. To speak to REB's Rack Safety and Remediation Account Executive Mike McCue directly, dial 773-366-8002. You can also fill out the 'Submit Your Inquiry' form and Mike can answer any questions you may have regarding your rack safety concerns.