Location: Roselle, IL
Products: Selective Rack
Services: Design, Installation, and Teardown

---
Scope:
A company that sells office furniture was moving operations and required its current system to be removed and reinstalled in the new facility. Since their new facility was larger, the company also needed to add on a new system to accommodate its expansion.
Solution:
The company chose REB for this project because it was ideal for them to work with one provider for both phases of the project: the removal and reinstallation of the current system and installation of the new system.
The first phase included the removal of the current system and relocating to the new facility. REB was tasked with dismantling the system, packaging all components and arranging for safe transportation of the system to the new facility. This rack was then reinstalled at the new facility, but the layout design was modified to incorporate their new selective rack system.
The second phase was REB designing the new selective rack system to accommodate the company's expansion in the new facility. The new system consisted of 440 bays of 42" and 44" deep pallet racking outfitted with wire deck to provide high accessibility of the company's inventory.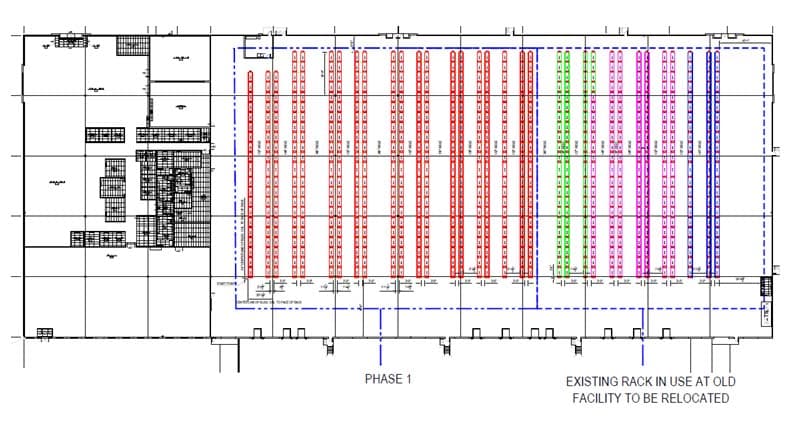 Outcome:
REB engineers assessed the space and SKUs to design the above layout that maximizes product storage and material handling. REB project managers then sourced all materials, arranged freight and reinstallation. New materials used included uprights, beams, and wire decking.
This provided significant cost-savings and allowed for REB to act as the only point of contact throughout the scope of the project. Additionally, the new selective rack expansion in the new facility delivers high selectivity and accessibility to the company's inventory.
Let's Connect!
REB has been providing removal, relocation, and reinstallation services to the warehousing and distribution industry since 1962. We understand that you may outgrow your current facility or need to relocate your operations. We can determine the best option for your company, develop a relocation or removal plan, and then ensure that it is executed without a hitch.
Fill out the 'Submit Your Inquiry' form to get in touch with one of our industry experts who can answer any questions you may have or help you assess your current or future operational requirements.