This article appeared in the PRISM In Focus. (Reprinted with Permission from PRISM International).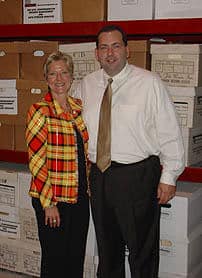 In 1988, our partnership began. A company "interested in getting into the records storage business" called and wanted shelving for four hundred (400) archive cartons. I took the phone call and made the sales call. We sold them five (5) units of 69" x 32" x 7' rivet shelving with four particleboard shelves. They were in the commercial real estate business and had purchased a building on Northwest Highway on the Northwest side of Chicago. "They found the perfect business to offset the cost of the building."
This was the beginning of a friendship and business partnership. It was also the beginning for Chicago Storage Works. In 1990 the company name was changed to its current, Chicago Records Management. This new business would eventually house 30,000 record storage cartons.
As the building began to fill and business was starting to grow, in 1990 Mike Jurczykowski was hired as the Operations Manager. Still today Mike continues to be employed by CRM as their Executive Vice President. Mike handles all the day to day operations including receivables and payables plus HR matters, including benefits and payroll. "Mike was just one of those guys who always wanted more responsibility," says Doug Peterson, Owner and President of CRM.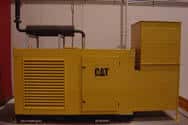 In August of 1991, Tim Heath was hired as a Warehouseman/Driver. Today Tim remains at CRM and has taken on the position of Operations Manager. His daily activities include dispatching all deliveries, processing of work orders and overall warehouse management.
It was time for a move… the perfect business filled the Northwest Highway building! In 1992 CRM moved to 4306 N. United Parkway in Schiller Park, Illinois. This building eventually stored 125,000 cartons including the cartons from Northwest Highway. REB Storage Systems designed the two level Rivet Shelving System. The shelves were particle board and the catwalks were plank grating. And yes it was the ultimate "worker friendly" system, with cartons stored two high x two deep! In 1993, Cindy Peterson entered the business as Doug's partner and Chief Executive Officer.
In 1996 it was time for another expansion! Growing rapidly, CRM moved into 10545 Waveland Avenue in Franklin Park, Illinois. This building would eventually be the home of 400,000 cartons. Their racking system was designed by REB. The first half of the building was designed as a three high x two deep pallet rack system with intermediate catwalk. The balance of the building was erected as a three high x four deep order picker system. Due to the strength of pallet rack and steel corrugated decking, CRM could now store more boxes per shelf level and the capacity of the building increased. August 1997 through September 1998, CRM was also the corporate office site for the NRCC, now known as NRC (National Records Centers).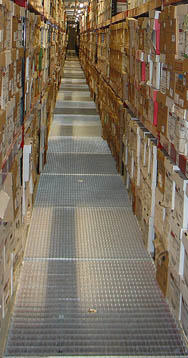 It was during this time period that CRM hired another employee, Rick Hoffman. Rick was hired as summer warehouse help. He continued with CRM upon graduating from high school and subsequently after his graduation from Benedictine College. He is now employed by CRM as the Director of Customer Relations and Sales.
1998-1999 were continued years of growth as CRM added another location, 3750 Acorn Park in Franklin Park, Illinois. This facility would have a capacity of 650,000 cartons. REB designed the record storage sys-tem…. a three high x four deep order picker system with pallet rack and corrugated steel deck.
It was in September 2003, things really took a change and it was time for CRM to plan a Build to Suit High Cube Building. Due to the O'Hare Airport Expansion, CRM was approached to sell their building on Waveland Avenue. The wheels went into motion and in March of 2004, the Waveland facility was sold!
Meetings began between CRM's architects, Doug and Mike, and the REB Team. We started to work on engineering, fire code issues, and ways to minimize any lost time during rack dismantling and relocation of cartons. As in the past, REB worked with CRM to sell some of the existing rack materials and to use what they could to cut down on the expense of the new construction.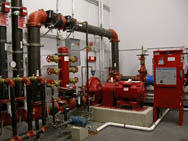 This was an exciting time for CRM. It was time for Mike to really take on those responsibilities he had been looking for earlier. As Doug would say, "Sometimes you need to step aside, someone a little younger, can also be a little wiser and look at things from another perspective. It was Mike's time."
CRM chose to stay in Franklin Park due to the convenience of major roadways and accessibility. Franklin Park also offered great tax incentives and continued to be a "Business Friendly" community. Joe Penar, Chairman of the Economic Development Committee helped locate a potential site for a Build to Suit building, with a 6-B tax incentive. In April of 2004, the existing site of Monarch Lumber Yard was torn down. In May of 2004, construction began on CRM's State of the Art facility.
During the construction process, CRM made a significant effort to increase its business by offering an expanded scope of services to its existing customers. They hired Bob Maiers as their first IT Manager. Bob felt it was the right time to come on board, " I definitely saw the opportunity at CRM as a very unique way to use my skill sets to build new lines of business for a company with a successful 18-year history." He had been asked to join them in building and managing new computerized storage solutions that the company wanted to offer such as digital imaging and electronic "over the- internet" backups. He had a 14 year IT background in building and maintaining larger server and SAN environments.
"I felt the potential for these solutions to become successful profit centers was huge because most everybody sees value in making their workplace more efficient. Why spend time and money waiting for deliveries of documents stored off-site when you can access them from your pc in seconds? And who better to offer electronic document management solutions than a company who has been doing the same for paper for almost two decades? It seemed to be a natural growth opportunity for business and the industry as a whole….," states Bob.
CRM has also been storing their customer's electronic media in their vault for as long as they have been storing their paper. At present time, they have a variety of vans that travel throughout the Chicagoland area supporting customer's tape rotation schedules and delivering backup media when needed for restores – 7 days a week, 24 hours a day. The progression of streaming backup technologies, the relative low-cost involved in maintaining a high speed internet connection, and the decrease in costs required to purchase and maintain a highly available large capacity SAN environments will allow them to offer cost-effective "tape-less" backup solutions to their customers.
Mike Jurczykowski also worked in advance with Scott Bidwell, Vice President of Sales and Marketing for Andrews Software, Inc. Scott worked closely with CRM to configure the new location scheme for the 5 tier racking system REB designed. "Having a state of the art facility without a properly configured location scheme can make or break an operation. Not only can it limit future expansion of the operation, it can also have an adverse effect on the ongoing labor costs to run the operation. With supporting hundreds of records centers worldwide, along with our past experiences in running commercial records centers, we feel an obligation to share our knowledge with our customers, so they can be as efficient as possible," states Scott.
During the new building construction, Tom Lesko (REB's President), Mike Baily, (Senior Vice President) and Lori Palmer (Senior Vice President) worked with Mike Jurczykowski in all facets of planning for the move into their new facility, including.
Design and Layout of the new racking 5 tier racking system.
Worked with Municipality regarding Fire Code issues.
Helped CRM to sell existing rack to help offset the cost of the new racking system.
Helped with moving logistics for CH Coakley Moving and Storage.
Building construction was completed in January 2005 and Rack construction began. REB designed a state of the art Five Tier Records Storage System to accommodate 1.2 cubic foot letter/legal cartons plus additional Radiology files. Phase I consisting of 650,000 cartons was equipped with three 5 tier staircases, a double deep pallet storage lift, plus pallet drop areas at all five levels. REB furnished their new galvanized premium bar grating with narrow openings between bearing bars for easier rolling of carts and ladders.
With Mike Jurczykowski overseeing the daunting task of relocating over 500,000 cartons from two (2) separate facilities (CRM-Waveland & CRM-Acorn Records Center) without interrupting the existing day to day operations of CRM clients was a challenge few companies would undertake. Mike Jurczykowski contracted the moving services of C.H. Coakley & Co., (Coakley Mayflower – Coakley Archives) out of Milwaukee, WI. C.H. Coakley & Co. was selected because of the tremendous moving reputation of Coakley Mayflower, and because Coakley Archives is an expert in record retention relocations. Coakley Archives just happens to be one of the largest records center operations in the state of Wisconsin. To ensure direct access to client sensitive materials throughout the move and to enhance quality control, all cartons were scanned out of each records center, scanned again when arriving into CRM's new Carnation Center and scanned yet again when said cartons were scanned into the shelving unit. A triple carton scan operation ensured accuracy and accountability. C.H. Coakley Mayflower crews averaged 9,200 cartons per day for 11 straight weeks. It was a hot summer and the dedication of Coakley's crews throughout this relocation was unbelievable. CRM's testimonial warranted these comments, "The move was accurate, efficient and well organized…once again, Thank you for a job well done."
As Coakley Mayflower started the massive carton transfer, good communication and coordination between Mike Coakley, CRM and REB was required. This teamwork approach allowed REB the ability to teardown the existing rack at both Waveland and Acorn during the actual carton transfer. CRM's first phase of 650,000 carton positions allows for growth of an additional 150,000 cartons before implementing Phase 2.
Mike expects after the move from both facilities is completed, CRM will see an annual savings of at least 25%. The savings will be accomplished by working out of one warehouse vs. two…..lower real-estate taxes, reduced employee costs, reduced utilities and reduced overhead, all resulting in a lower cost per cubic foot of storage.
Mike states, "Without the advance planning and preparation of three key components in the industry, Andrews Software, C.H. Coakley Moving and Storage, and REB Storage Systems International, an exact carton relocation would never have been accomplished in such a short time span. We were able to function day to day without interrupting our existing business."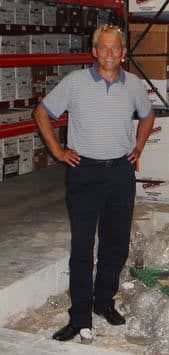 Mike Jurczykowski is new to the PRISM Board and remains on the NRC Board of Directors. "PRISM is the key to relationships and networking in the industry that continues to educate all of us." The combination of great owners, devoted, loyal employees, knowledgeable vendors and a great industry added up and gave CRM the opportunity to grow.
So, what started out as five units of rivet shelving in 1988, continues eighteen years later not only as a business relationship but as a great friendship! "So, when I get those calls and someone says, 'We are interested in getting into the business.' I always think….mmm…this can develop into another great relationship"!
Lori Palmer is Senior Vice President – Sales and Marketing for REB Storage Systems International. Lori has been with REB for almost 25 years. She is active in PRISM, ARMA, Inside Self Storage, Self Storage Assn, and she also sits on the Board of Directors for AMSA (American Moving and Storage Association). She has done presentations and articles for the above organizations along with Marketing and Direct Sales for REB. Lori resides in Massachusetts where she works out of REB's Massachusetts location. Lori's contact information is as follows: REB, 55 Domino Drive, Concord, MA 01742, 1-800-252-5955
SOURCE: Originally printed in the PRISM In Focus