Article Updated: 01/04/2022     Back to Blog
The most commonly used type of pallet rack system in distribution centers is selective rack. This is a versatile system that suites a wide variety of operational features.
There are options within selective rack to make this type of system best suite your space, SKUs, and picking processes. One of these options is a very narrow aisle racking system, commonly referred to as a VNA racking system. Read below to understand the differences versus standard selective rack and which may suite your operation.
VNA Racking Aisle Width
Selective rack with very narrow aisles will lessen your aisles from the standard 12′ to typically around 6′ to 6′-6″. This system still provides first-in, first-out storage and retrieval.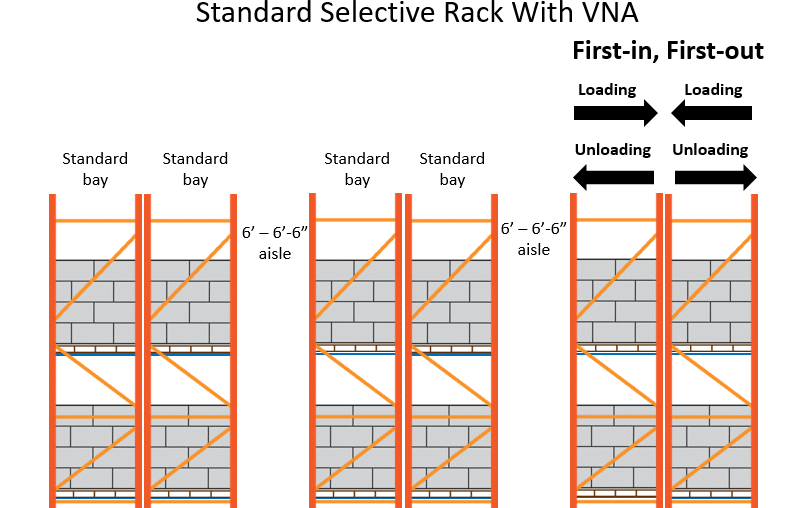 To compare, a standard selective rack system is also a 1-deep rack system but with 12′ or so aisles. This rack configuration also provides first-in, first-out selectivity. This is a highly selective system with low density.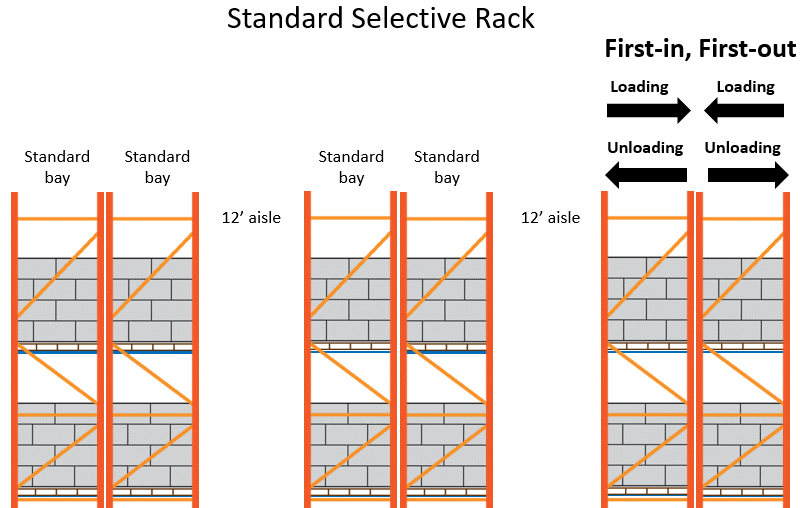 Standard Selective Rack Layout vs. Selective Rack with VNA Racking Layout
The image in this section shows a comparison of using selective rack with standard aisles vs. selective rack with very narrow aisles. Both are shown in the same space at 5-levels high.
Based on this layout, VNA racking does have an advantage over standard when considering the number of pallet positions gained. With VNA racking, you're gaining 1,000 more pallet positions versus that with standard aisles.
However, there are things to consider before converting to a very narrow aisle racking system. Keep in mind it does require an investment in a turret truck, which is a larger investment compared to a sit-down forklift. You may have to buy multiple trucks to cover these additional rows of racking. Also, many companies place a wire guidance down these very narrow aisles to help avoid damage, which would be another expense.
But, if you have a low number of pallets of the same SKU, and you require high selectivity, a very narrow aisle racking system may be right for you.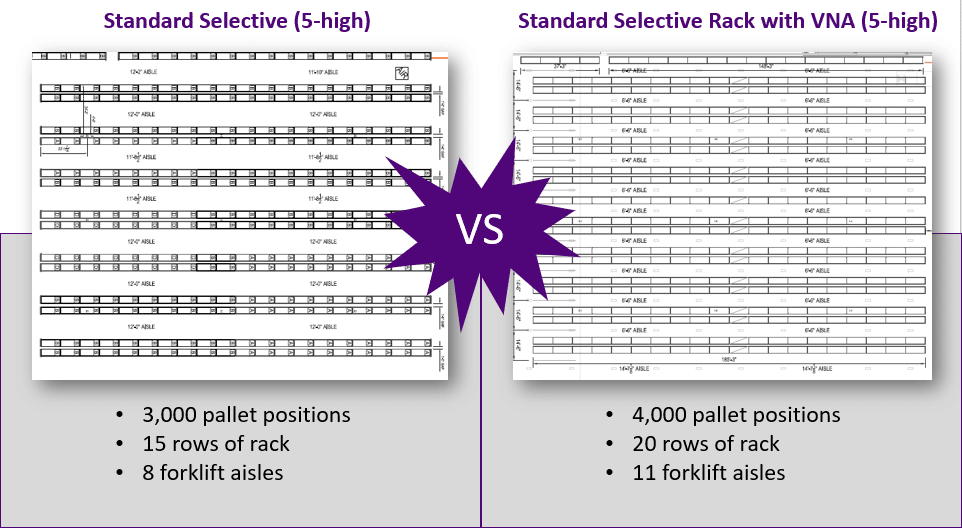 Currently have standard selective rack but want to make a switch to VNA?
If you currently have standard selective rack, but feel that a VNA racking would be more beneficial to you, then you'll be happy to know that you are able to convert.
First, you must consider that you won't be able to use your existing standard forklift truck with this system. You'll need a turret truck, as discussed in the previous section. This is a forklift that's able to operate in these very narrow aisles.
Once you decide that's doable, then you'll want to go to a storage system provider, such as REB Storage Systems (here's how you can contact us), to provide you with a very narrow aisle rack layout. Moving forward with it will require unloading the products, dismantling the existing rack, reinstalling, and possibly adding on, since you'll have more available storage space to add racks to.
You should be able to use your current selective rack for much of this system. This of course is dependent on the condition of your current rack.
Are You Considering a VNA Racking System?
REB is highly knowledgeable and experienced in designing, engineering, and installing very narrow aisle racking systems. As a systems integrator, we'll work with you to provide a turnkey system. From engineering, design, products procurement, subcontractor management, install, and permitting support, REB handles it all for you.
REB has a talented team of in-house project managers and engineers, all highly experienced in the material handling industry. We'll work with you to make sure that your system is the best fit for your operation, installed and completed on-time and within budget.
We'd appreciate the opportunity to help you further, whether that be more information or a quote. Fill in the contact form on this page or call us at (800) 252-5955 to get in touch with a REB representative.
Share this post:
Facebook Twitter Twitter Linkedin