What is a dynamic racking system? 
Dynamic racking systems utilize inclined rails or rollers to allow pallets or boxes to slide towards the picking direction. These racking systems are also referred to as gravity flow systems. Dynamic rack includes pallet flow, carton flow and push back systems.
How do dynamic racking systems compare to static racking systems?
Static racking systems are not gravity fed, meaning that once the front product is picked, the next does not automatically slide to the pick face. Instead, a forklift or person is required to reach into the rack to retrieve the product or move it into picking position. Static systems include selective rack and drive-in/through rack.
Because dynamic racking allows product to flow via gravity to the pick face, less time and energy is spent retrieving products. This, combined with high storage density and easier restocking, results in faster picking and less travel time. In fact, implementing dynamic rack can slash labor and equipment costs up to 75%.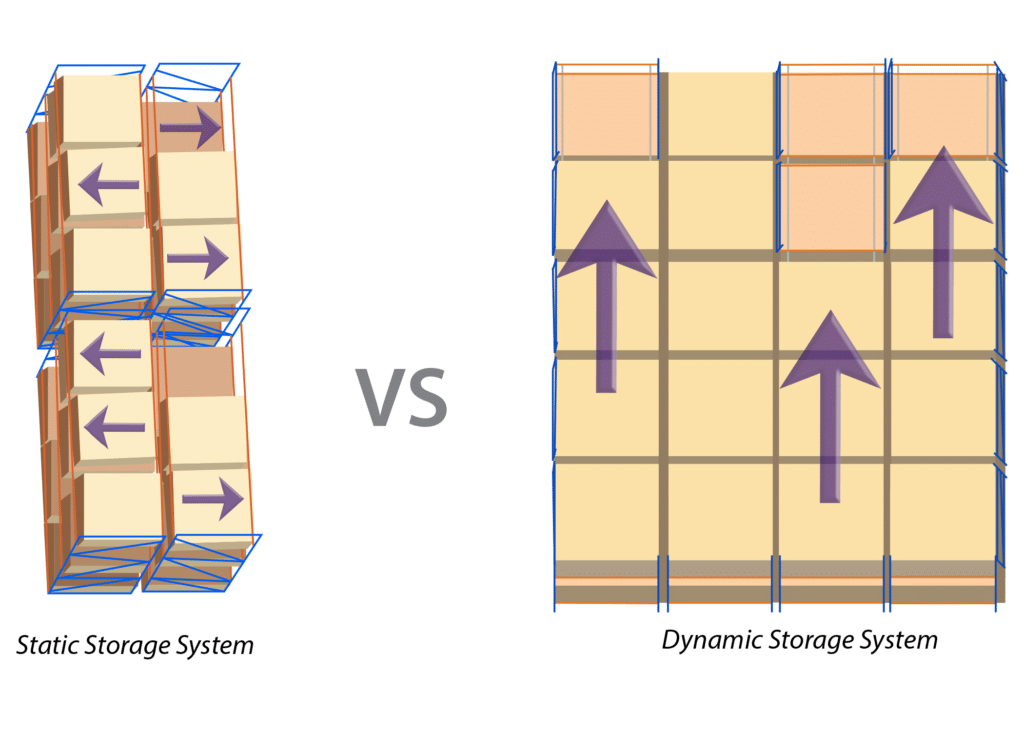 Often, both static and dynamic racking are integrated into one material handling system, referred to as a pick module. A pick module is designed to advance the efficiency of product flow by reducing or eliminating walking and/or equipment travel time. In a pick module, static racking works harmoniously with dynamic racking by housing overflow of products and replenishing the dynamic racking when needed.
Types of dynamic racking systems
Pallet Flow
Pallet flow is a first-in, first-out (FIFO) system that is outfitted with wheels or rollers and brakes to control pallet speed. When a pallet is unloaded from the front, the next pallet will move forward for picking. Compared to static selective rack which offers low storage density, pallet flow systems can reduce aisle space by 75% and store up to 100% more product.
Carton Flow
Similar to pallet flow systems, carton flow is a FIFO storage system which includes slightly inclined wheels or rollers for handling smaller applications such as cardboard boxes or small materials. It is often used for piece picking applications, as it can accommodate products that vary in size on the same bay.
Push Back
Push back is a first-in, last-out (FILO) dynamic storage system where pallets are stored behind each other in a series of inclined carts. When a pallet is loaded onto the system, the cart is pushed back, exposing the next available cart. Pallets are loaded and unloaded from the same side of the system which maximizes storage space while minimizing the need for aisles. This system allows for storage of two to five pallets deep, making it up to 400% more dense than drive-in static systems.
Considering a Dynamic Storage Systems for Your Warehouse?
If you're still not sure if a dynamic racking system is right for your operation, we're happy to help you. Watch these videos to gain a better understanding of dynamic racking system options.
If you'd like to speak with one of REB's material handling experts directly, fill out the request a quote form on this page or call (800) 252-5955.
REB Storage Systems has engineered, designed, and installed pallet flow, carton flow, and push back systems as well as pick modules for many industries. We design every solution around each customer's unique operation and space. Whether your project is large or small, we have the expertise to ensure your next project is a success.