Anatomy Of a Push Back Racking System
Push back rack is a gravity flow racking system that stores pallets on wheeled carts nesting on inclined storage rails. Each pallet requires its own cart which will move up and down angled rails when pallets are loaded or unloaded from the system.
When a product is loaded into a push back racking system, a pallet is placed onto a cart and pushes the pallet at the pick face back one position. This allows the next cart to become available with the last pallet resting on the rails. This creates a last-in, first-out storage system. During unloading, the pallet in the front position is removed and acts as a brake for the next cart which glides to the front position for picking.
High Density for Space Utilization
Push back racking systems are popular in cold storage or climate-controlled environments where space utilization and storage density are crucial.
This gravity flow system only requires one lane for both loading and unloading of pallets. This gives the system an advantage because each row of products is readily accessible for picking. The single-aisle access reduces the overall footprint of the system. Additionally, the nesting color-coded carts give this type of storage system higher selectivity because it provides storage for multiple groups of SKUs to be stored on each row.
Push Back Racking System Specifications
Push back rack can be located against a wall for a single-sided system or in a center aisle for a double-sided system.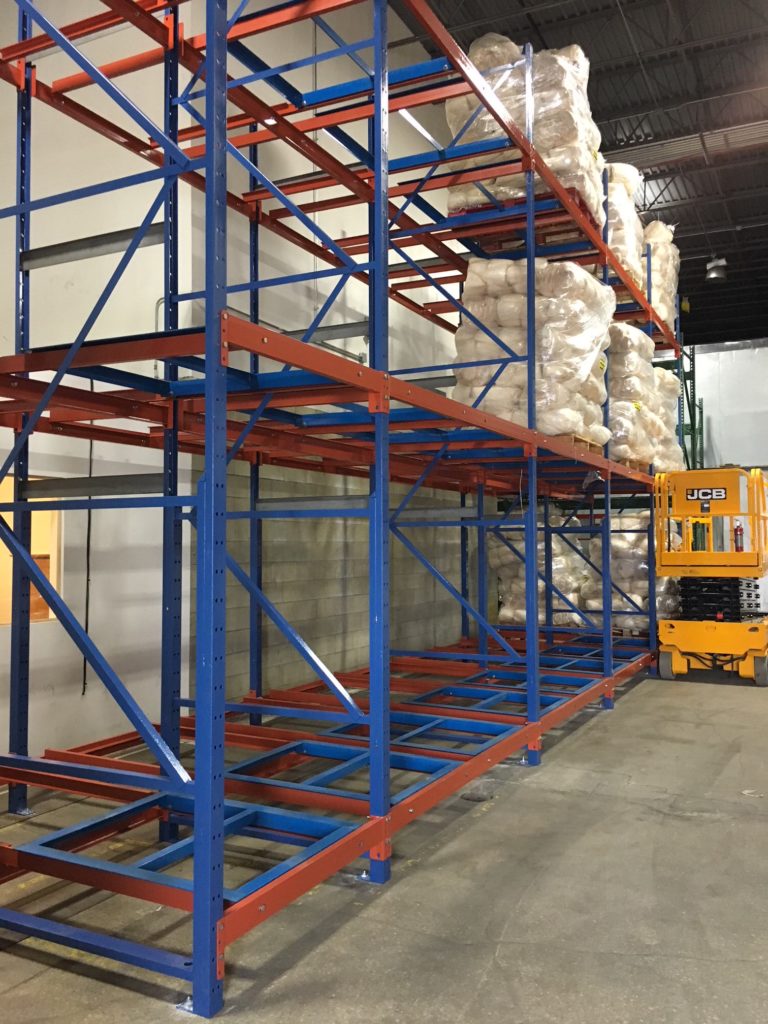 Push back racking systems can be tailored to fit any operation and can store up to six (6) pallets deep. Systems are often designed to be four (4) levels high and can accommodate forklift or reach truck retrieval methods. Because trucks never enter the system, damage to the uprights is minimal and requires little to no maintenance to the system.
The nested carts require low vertical space which gives plenty of vertical storage space for pallets in the system. Each cart is outfitted with stainless steel wheels and is durable for heavy loads or cold storage. In fact, the capacity per pallet position in other pallet rack systems is typically 3,000 lbs. but push back rack can be designed with an even higher capacity.
Learn more about our push back racking systems.
---
Connect With Us!
Now that you have a better understanding of what a push back racking system is and how it works, we'd appreciate the opportunity to help you with the next step in implementing it, whether that be more information or a quote request.
Fill in the 'Submit Your Inquiry' form to give us a better idea of your needs, and we'll contact you to help with any further questions or requirements you have.