Integrating material handling products in the best possible locations within your storage system promotes smooth flow of traffic that will keep materials moving seamlessly throughout your space during every shift.
Industrial storage containers are just one example of a material handling product that can help optimize your storage space. They are highly versatile and can be used to store products within your facility, and/or transport them between different facilities, while providing security for your products.
There are several types of industrial storage containers, with various sizes and stowing options, tailored to your operation.
INDUSTRIAL STORAGE CONTAINER TYPES
Ribbed (also known as corrugated) wall plastic or steel containers are lighter in weight than most other types of containers without compromising strength, stacking ability or security. Lower weight means lower freight costs and increased handling efficiency.
The smooth, seamless design of smooth wall plastic or steel containers meet the needs of virtually any industry. The wide molded perimeter makes handling easy, while adding strength for those extra heavy loads. The sanitary, easy to clean surface and resistance to moisture, acids, oil and most chemicals make smooth wall containers the ideal design for processing, distribution or storage of any bulky item, from frozen food to machine parts.
Thermoformed containers, constructed from high-density polyethylene, are lightweight, making them easier to handle for worker safety and most cost-effective to transport. They don't harbor pests or bacteria, which make them ideal for shipping agricultural, pharmaceutical and healthcare products. Additionally, they prevent decay in wet climates and offer protection from moisture.
Wire mesh containers are designed with a heavy-duty base for long life cycles. These typically feature four latch bolts for quick assembly and can include a full, half, or partial drop gate. Many wire containers also provide four-way entry for forklifts and pallet jacks. Dollies, security lids, casters and dividers are additional accessories to add to your wire mesh containers to allow easy transit and storing multiple products for maximum utilization.
Crated bulk, or pallet, containers protect product during picking, assembly, processing, storage and distribution. Bulk containers are available in light-duty, medium-duty and heavy-duty designs to meet a wide range of application requirements. These pallet containers are available in collapsible, strait-wall, and nestable styles and offer the strength and rugged durability demanded in today's material handling and distribution systems.
Efficient by design, bulk carts and bulk security carts are also highly versatile. The high cube design provides maximum capacity while using less floor or truck space than conventional utility containers. The containers can be outfitted with a wide assortment of options that increase the adaptability to virtually any application and most industries.
Container trucks are designed and constructed for rugged industrial use and feature high quality, quiet rolling casters that make maneuvering even in the tightest spots safe and easy. Economical to own, utility container trucks are virtually maintenance free. The smooth, sanitary body is nonabsorbent, easy to clean and is approved for contact with food.
STOWING OPTIONS FOR INDUSTRIAL STORAGE CONTAINERS
There are various stowing options available that allow security and space efficiency for your products.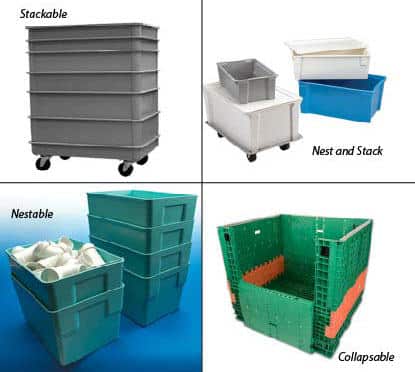 Nestability allows containers to be placed inside one another when empty, providing space saving storage between uses.
Stackability allows containers to be placed on top of one another, utilizing vertical storage space. Some stackable containers offer an open front to be used as a storage system for picking applications.
Nest and stack containers stack when full and rotate 180 degrees to nest when empty, saving valuable space.
Foldable, collapsible containers are durable and reusable while providing optimal storage and stacking. With options such as vented or solid side walls, access doors, and flat or cross stack bottoms, they provide flexible use no matter what your application.
OPTIMIZE YOUR MATERIAL HANDLING
REB Storage Systems International carries a full selection of industrial storage containers to meet the needs of every business. Unlike other suppliers that you'll find on the internet, we carry material handling products from a variety of manufacturers, giving us the flexibility to select the finest options available for all types of material handling needs. The result is a collection of material handling equipment and supplies that is unmatched in terms of its variety and quality.
To learn more or get help with a project, fill in the Request A Quote form or call (800) 252-5955. Whether your project is large or small, we have the expertise to ensure your next project is a success.