Lighted picking systems use pick to light and put to light technology in conjunction with carton flow systems in order to improve order accuracy and picking speeds. Pick to light and put to light systems are best for settings operations requiring order fulfillment with a high pick speed and low error rate, such as general merchandise retailers or apparel companies. Due to the basic visual aids used to fulfill each order, lighted picking technology is able to improve both order accuracy and picking speeds.
In lighted picking systems, each order or item location is assigned a lighted numeric or alphanumeric display. At each location, the display panel is typically equipped with a signal light, an acknowledgement button, and a digital display for showing quantities or messages. Models can vary, some including quantity buttons or larger digital displays for full texts.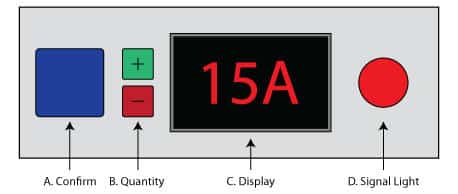 Pick to Light Systems
With pick to light systems, lighted displays lead operators to specific product locations. The operate operator scans the bar code associated with the order, and the corresponding items for the order lights up, as well as displays the quantity needed for the order. The operator removes the quantity of items needed and confirms the pick; the signal light dims and that section of the order is complete. The operator will continue in this manner until the order is complete. Pick to light systems are ideal for distribution centers that have a team-based approach to order fulfillment, like zone picking. With these methods, pick to light systems can increase each zones' productivity, accuracy and cost efficiency.

Put to Light Systems
In a similar manner, put to light systems are meant for putting stock into an order to complete it. The operator will scan the item being stocked, and a flashing light shows the operator which container(s) that requires the item and the quantity needed. Once all items are in the correct container, the operator confirms the picks by pressing the acknowledgement button on each corresponding light display. Put to light systems let operators efficiently fulfill orders in a bulk format. Typical companies that would use put to light systems include general merchandise retailers, apparel, grocery, convenience foods, sporting goods, and personal care items.

Lighted picking systems are consistently improving their technology and are becoming more popular in busy distribution centers where order accuracy and picking speeds are of utmost importance. With options such as pick to light and put to light systems, there is likely a lighted picking system that will optimize your operation.
---
About REB Storage Systems International
REB Storage Systems International was incorporated in 1962. REB specializes in the design, engineering, sales, and installation of storage systems and material handling products for warehouses, distribution centers, manufacturing facilities, records storage environments and other companies with storage needs.
To find out more about how REB can help you on your next project, visit our About REB page.