Solution at a Glance:
Services Provided: Rack Safety Inspections, Rack Repair
Products Provided: Rack Repair Kits
Location: Lawrenceville, GA
---
Concern: Damaged Racking in Freezer
A food and beverage company wanted to address damaged selective rack in their freezer where they store pallets of frozen food.
In the tight environment of a freezer, the forklift trucks were more prone to running into the rack and causing damage.
As a result of the extremely low temperature, the integrity of the rack is extra compromised and therefore at a high risk of collapse.
The small, harsh environment in an active freezer presents several obstacles when repairing or replacing rack.
First, maneuvering crews and equipment in the small space of the freezer can be challenging. Additionally, crews must take proper safety measures to repair the rack in the harsh environment of a freezer.
Solution: Rack Safety Inspection
REB conducted a full onsite safety inspection of the company's rack system in their freezer.
Rack components inspected included: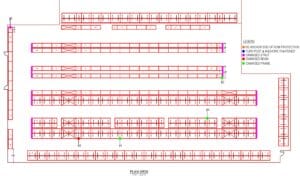 Front and back frame columns
Horizontal and diagonal struts
Footplates
Anchors
Row spacers
Frame extensions
A significant number of damaged uprights, struts, and beams were found. The high number of damaged racks was due to an accumulation of damage over a long period of time.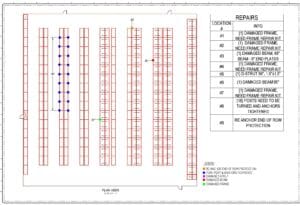 After the inspection, REB presented the company with a scope drawing. This detailed the location of each type of damage, along with other safety concerns. As a result, the company was able to clearly assess all safety concerns and identify which repairs they'd like to have completed.
To better understand our rack safety inspection process, click here to be directed to our rack safety inspection service page.
Solution: Rack Repair
REB returned to the facility to conduct the repairs according to ANSI/RMI guidelines.
Due to regulations, the REB crew could only work for 20 minutes at a time. They also had to wear layers of protective gear.
Despite these challenges, REB crews were able to complete all needed repairs in the timeframe dictated to the customer.
Rack repairs that REB completed in the freezer included:
Frames with 8' 4" slant rack repair kits
Frame horizontal and diagonal struts
To complete repairs, a special rack lifting jack was brought into the freezer. The rack was lifted, and the bottom damaged portion was removed and replaced. This allowed for minimal unloading of product from the freezer, which decreased downtime significantly compared to replacing the damaged rack.
To learn more about the rack repair process, click here to view our rack repair service page.
Additional damage and safety concerns that were fixed included:
Replacement of damaged beams
Repositioning of (18) frame posts and tightening of anchors
Installing (2) missing footplate anchors in row end protection
Outcome: A Safe and Code Compliant Rack System
Management can rest assured that their freezer storage now complies with all ANSI/RMI rack safety regulations. Daily operations are safer, and employees know they're in a safe working environment.
---
How You Can Achieve a Safe, Compliant Rack System
If you have concerns that your rack system is unsafe, contact REB today.
We have a dedicated team of rack safety professionals who conduct rack safety inspections for our nationwide customer base. We are highly experienced in identifying rack safety concerns and staying up to date on all rack safety regulations.  
We'd appreciate the opportunity to help you further, whether that be more information or a quote. Fill in the contact form on this page or call us at (800) 252-5955 to get in touch with a REB representative.