SERVICES:
Rack installation, design, permitting and removal


PRODUCTS:

Double deep selective rack and used rack


LOCATION:

Oswego, IL

In 1997, a long-term racking relationship blossomed when the owner of an injection molding manufacturing company reached out to REB. The company needed to sell used rack from one of their 80,000 sq. ft buildings they were vacating.
OVER THE NEXT TEN YEARS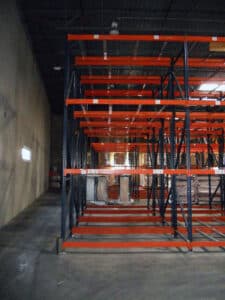 A few years later, the manufacturing company began expanding and needed more racking. They, again, turned to REB and purchased used rack.
Over the next ten years, the company worked with REB to do various tear-downs, reassembles and add-on's to their rack system.
In 2015, the company rented out half their building, but needed to rack the half they would still be occupying. REB provided and installed seven rows of double-deep selective rack that included 138" W bays, 42" deep and 18" tall.

In 2017, the tenants moved out of the building. Due to expansion, the manufacturing company is now racking the other half of the building that was once rented out.
The original owner's son now own's the business and is currently working with REB. REB provided a CADD drawing detailing 380 bays that includes 138" W beams. In order to maximize storage space, the drawing also has the existing rack rotating 160 degrees.
Do you have unique storage requirements that need to be met?
At REB Storage Systems International, we look at each project as unique. While many have similarities for which we are able to leverage our experience and knowledge, each client has unique needs that must be met.
REB has the flexibility to integrate products from multiple manufacturers based on the requirements of your rack system including pricing and lead time. This combined with in-house engineering, planning, and permitting support expertise allows us to provide you with your specific storage solution.
To receive a storage solution that optimizes your unique requirements, fill in the contact form or call (800) 252-5955.