Solution at a Glance:
Services Provided: Assessment, Design & Engineering, Project Management, Installation
Products Provided: Selective Rack, Drive-In Rack, Push Back Rack, Rivet Shelving, Belt Driven Live Roller Conveyor, Extendable Power Conveyor
Location: Eagan, MN
---
The Beginning: Material Handling System for a New Distribution Center
In 2011, a nationwide distributor of auto parts purchased a new distribution center with 150,000 sq. ft. of storage space. Their inventory ranged significantly from small parts, cases, and pallets. They needed a material handling system that included solutions to accommodate the required selectivity, density, and picking practices of each type of inventory.
REB assessed the space in the company's new distribution center as well as their inventory requirements. Based on this, the following material handling system was designed and installed.
Standard selective pallet racking system with 60" very narrow aisles for pallet storage. Heavy duty selective rack was also incorporated for storage of heavier products. This system has a tight beam spacing of 1-ft.
Drive-in racking systems for high-density pallet storage of SKUs with many pallets. This system is best used for products that don't have a high turnover rate or require large, one-time moves. The company can fit 6 pallets in each lane of the drive-in rack system, and each lane is dedicated to 1 SKU.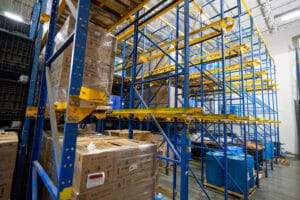 Push back racking for high-density pallet storage. This system is 6-pallets deep. Since each lane in push back rack should be dedicated to 1 SKU, the company stores SKUs that have at least 6 pallets.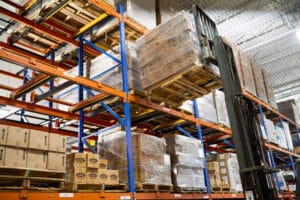 Rivet shelving with 48" very narrow aisles for hand picking of products in cartons. Due to these very narrow aisles, in order to utilize the full height of the building the company would have had to switch their picking operation to include a special lift truck, called a Joey. Due to this, the company decided they would only use 144" of their 264" vertical space. This allowed them to continue using rolling ladders for picking.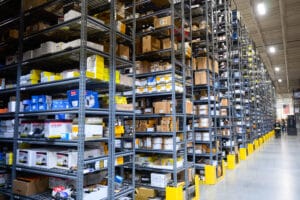 Concern: Insufficient Storage Availability to Accommodate Growth
By 2021, the company's growth made it necessary to utilize the vacant vertical space above the rivet shelving. They brought REB back into the distribution center to assess options.
Solution: Adding Levels to Existing Rivet
The existing rivet shelving was at 144'' high, which provided 11 shelves. However, the total usable vertical storage space in that area is 264''.
There were two viable options to add shelf levels to the additional 120": via catwalk levels or via splicing. REB did a comparison between these two options. The following was measured: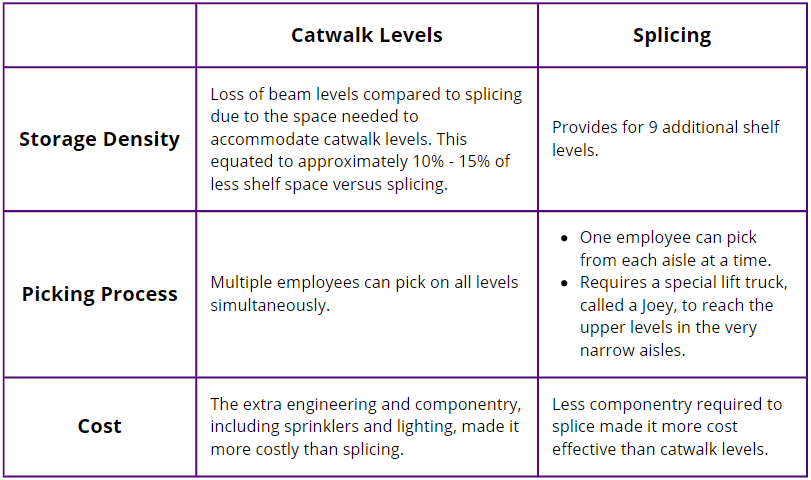 Based on the above comparison, the company decided to add storage via splicing the existing rivet shelving. This allowed them to use the 120" of vacant storage space, giving them 9 additional shelf levels, totaling 20 shelf levels.
The Splicing Method
With the consultation of REB's professional engineer, two different splices per rivet post were executed: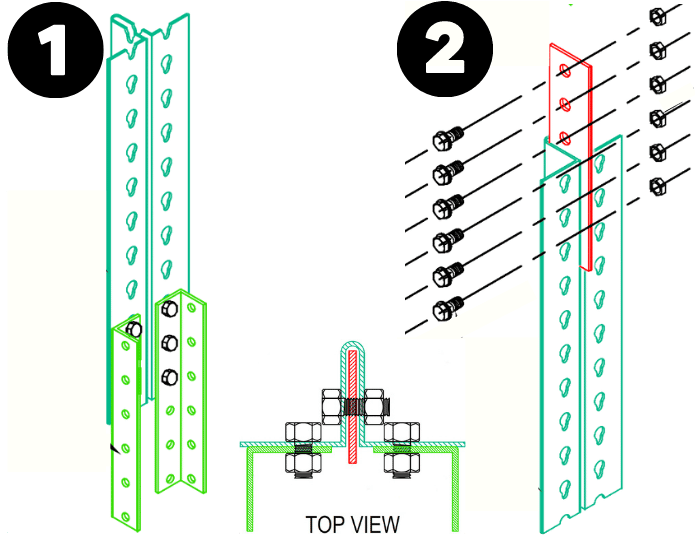 1. Two front angle splices with three nuts and bolts above and below the posts being spliced.
2. Two flat plate splices inserted in the center of the "T" posts with three nuts and bolts above and below the posts being spliced.
This splicing design resulted in the posts being strongest at the splice locations. Additional support includes a new larger footplate and top ties installed at several locations.
The REB project manager worked with installation teams to allow the company to keep operating during the splicing process. To accomplish this, the splicing was done in phases.
Concern: Inefficient Packing and Shipping Process
Also in 2021, the company wanted to explore ways to make their packing and shipping process more efficient.
Their process was having pickers bring products to a packing station via a cart. They would then pack all products into boxes, place them on pallets, and transport the pallets via a lift truck to the trucks for shipping. This made for a very manual process.
Solution: Dual Conveyor Systems
REB designed a conveyor system integration involving two conveyor types: a belt driven live roller conveyor and an extendable power conveyor.
The belt driven live roller conveyor consists of a belt that runs underneath rollers. This type of conveyor is ideal for products that very greatly in shape and weight, which makes it the right choice for this company.
Since the company had boxes as small as 6", 2" rollers were used. This conveyor type allows products to be transported long distances with only one motor, making it low maintenance.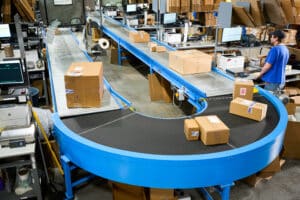 The belt driven live roller conveyor system also integrates 16 packing stations. These packing stations are located in regular intervals throughout the system. Because the rollers provide a soft impact, boxes can be tossed onto the conveyor with no damage to the conveyor or product.
The extendable power conveyor is a belted conveyor. This conveyor has a series of buttons that operate it. To extend the conveyor, the operator simply pushes the 'start' button to turn the conveyor on. Next, they press and hold down the 'out' button to activate the extending mechanism. They continue to hold down this button until the conveyor is extended to the desired length.
With the new conveyor system, the company's new picking and shipping process is as follows:
Upon arrival of a truck, the extendable power conveyor is extended inside the truck.

A picker brings products to a designated packing station via a cart.

The packer packs the boxes, seals them, and puts them onto the belt driven live roller conveyor.

The belt driven live roller conveyor transports the boxes to the extendable power conveyor.

The extendable power conveyor transports the boxes inside the truck.

An employee removes the box from the conveyor and places it in the truck.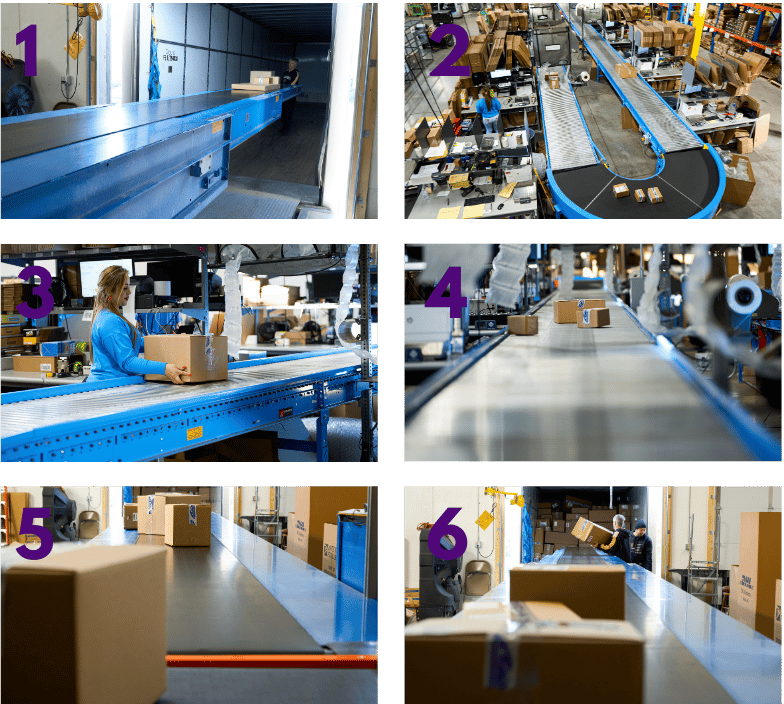 The company has seen the following advantages since implementing the conveyor system:
Increased daily throughput: The speed of packing boxes and getting them to trucks for shipping is faster. As a result, they ship more products within a day.

Decreased employee labor: Employees no longer transport boxes from packing stations to trucks.

Increased safety: There are not as many forklifts driving through the distribution center traveling back and forth from trucks.
---
How You Can Get the Best Storage System for Your Needs
If you feel like you're using an inefficient system, contact REB today.
Our dedicated team of material handling experts can work with you to provide you with a solution that will optimize your picking operations. We are highly experienced in identifying inefficiencies and implementing improved systems.
We'd appreciate the opportunity to help you further, whether that be more information or a quote. Fill out the contact form on this page or call us at (800) 252-5955 to get in touch with a REB representative.