Distribution centers often implement a dynamic storage system to accommodate their high throughput operation, and for good reason. Dynamic systems provide maximum selectivity in areas where products need to be picked and shipped fast. Two of the most popular types of dynamic storage systems include pallet flow and pallet shuttles.
This article compares these two dynamic storage options and how implementing them into your operation can help maximize your productivity and increase picking times.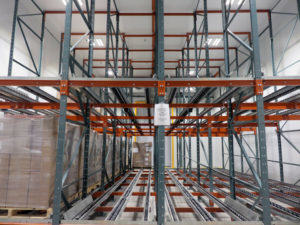 Pallet Flow Systems
Pallet flow rack is comprised of frames, beams and inclined wheels or rollers that allow products to flow from the loading side to the retrieval side of the system. Because this system uses gravity to transport items to picking locations, as opposed to the automation used by pallet runners, pallet flow is a less expensive option.
---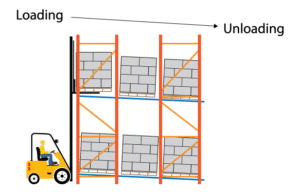 Pallet flow systems provide constant inventory rotation, making it excellent for date-sensitive inventory. The high selectivity of pallet flow contributes to increased productivity and high-volume picking. Pallet flow racking can reduce inventory handling and can slash labor and equipment costs up to 75% compared to static rack.
---
Pallet Runner Systems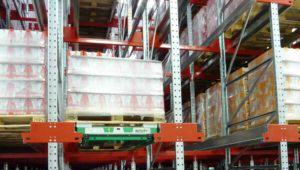 For companies looking for a higher-density semi-automated option, pallet runners are recommended. Pallet runners are semi-automated, using automated carts to transport pallets throughout the system. With an average of 22 pallets deep, this system provides higher density than pallet flow, which typically stores up to 6 pallets deep.
---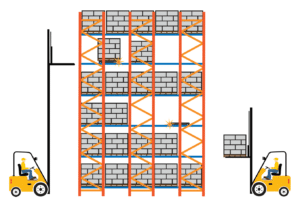 As a semi-automated system, pallet runners can cut handling times in half. With the cart entering the system and transporting the pallets, the lift truck operator only needs to travel between the lane entry and load
source. Once the cart is placed into the appropriate lane by the lift truck, an
operator can control the cart by using a radio transmitter. This maximizes productivity by freeing up the operator to perform other tasks.
---
Specifications of Dynamic Storage: Pallet Flow and Pallet Runner Systems
Both pallet flow and pallet runner systems are available in different sizes to accommodate various pallet designs. In a pallet flow system, lane widths can be adjusted to fit different and oddly shaped products, like beer keg storage or scaffolding storage. The automated carts in pallet runner systems have various sizing
options available that allow storage and transport of different capacities.
How Do These Systems Compare?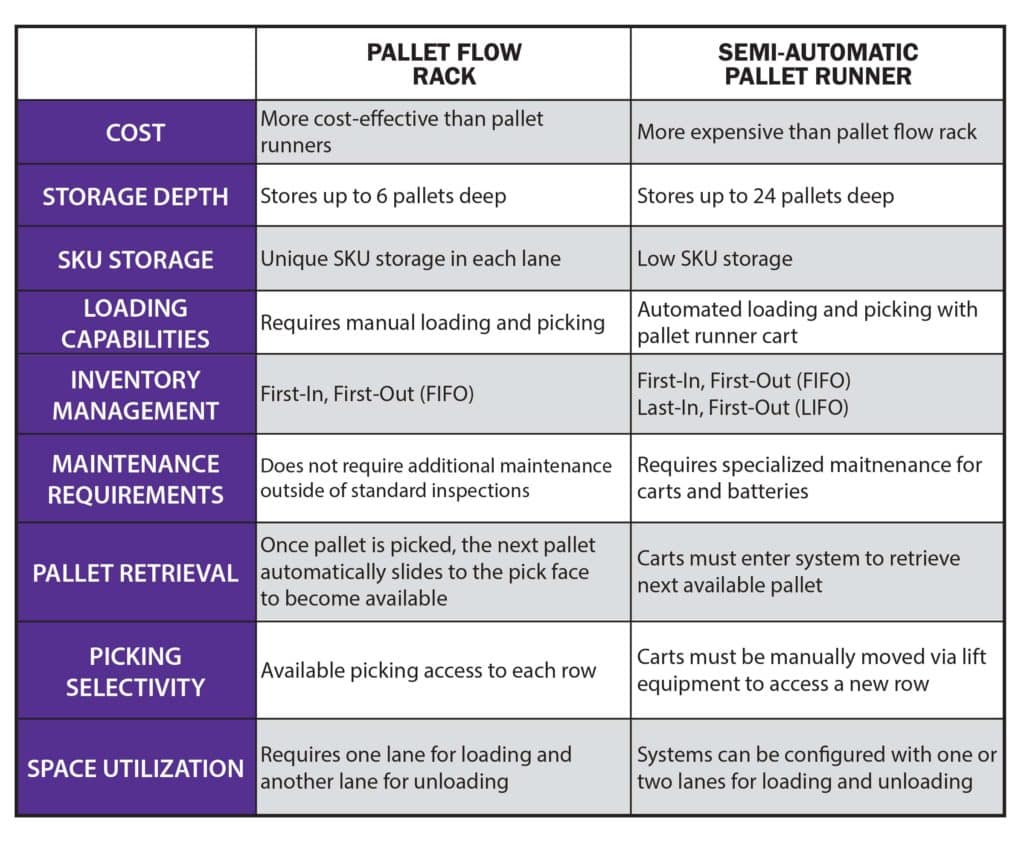 Get More Information
This article explains the benefits of two deep lane storage options that can increase storage density and maximize space. Learn how a company that needed a solution for their date-sensitive inventory integrated a pallet flow rack system into their warehouse to load and retrieve their high-volume inventory faster.
Connect with Us!
REB has been providing material handling systems to the warehousing and distribution industry since 1962. We understand that your storage system should maximize efficiency. Our team of engineers specializes in evaluating and designing a storage system based on your order fulfillment processes, giving you a system that optimizes your operation. If you're unsure which system is right for you, we can help.
Fill out the 'Submit Your Inquiry' form to get in touch with one of our industry experts who can answer any questions you may have or help you assess your current or future operational requirements.