An increasing number of companies are faced with the decision if they should manage inventory in-house (also known as self-fulfillment) or use a third-party logistics (3PL) company. When comparing 3PL and in-house operations to decide which is best for your operation, it is important to take into consideration third party logistics advantages and disadvantages.
Things to assess when deciding between 3pl and in-house operations management
Not every company operates the same and it is important to understand your order fulfillment needs and how you can streamline that process. If your operation has a higher throughput, handles products in bulk and has a simple packaging process, a 3PL may be the more cost-effective option. In-house operations are more ideal for intricate processing or companies with lower throughput.
Understanding the following about your operation should help direct you to the right option:
What is your packaging procedure? Does your product require a more complex procedure?
Can it be prepared in bulk?
What are your current freight logistics costs? What is your cost per mile?
Does your ability to produce goods and sell them outpace your ability to store them?
Is your operation running smoothly? If not, where are the hiccups?
Do you have a high customer satisfaction rate? If not, what is bringing this rate down?
These considerations are compared in the following 3PL and in-house operations chart to help you gain a better understanding of the benefits of each type.
---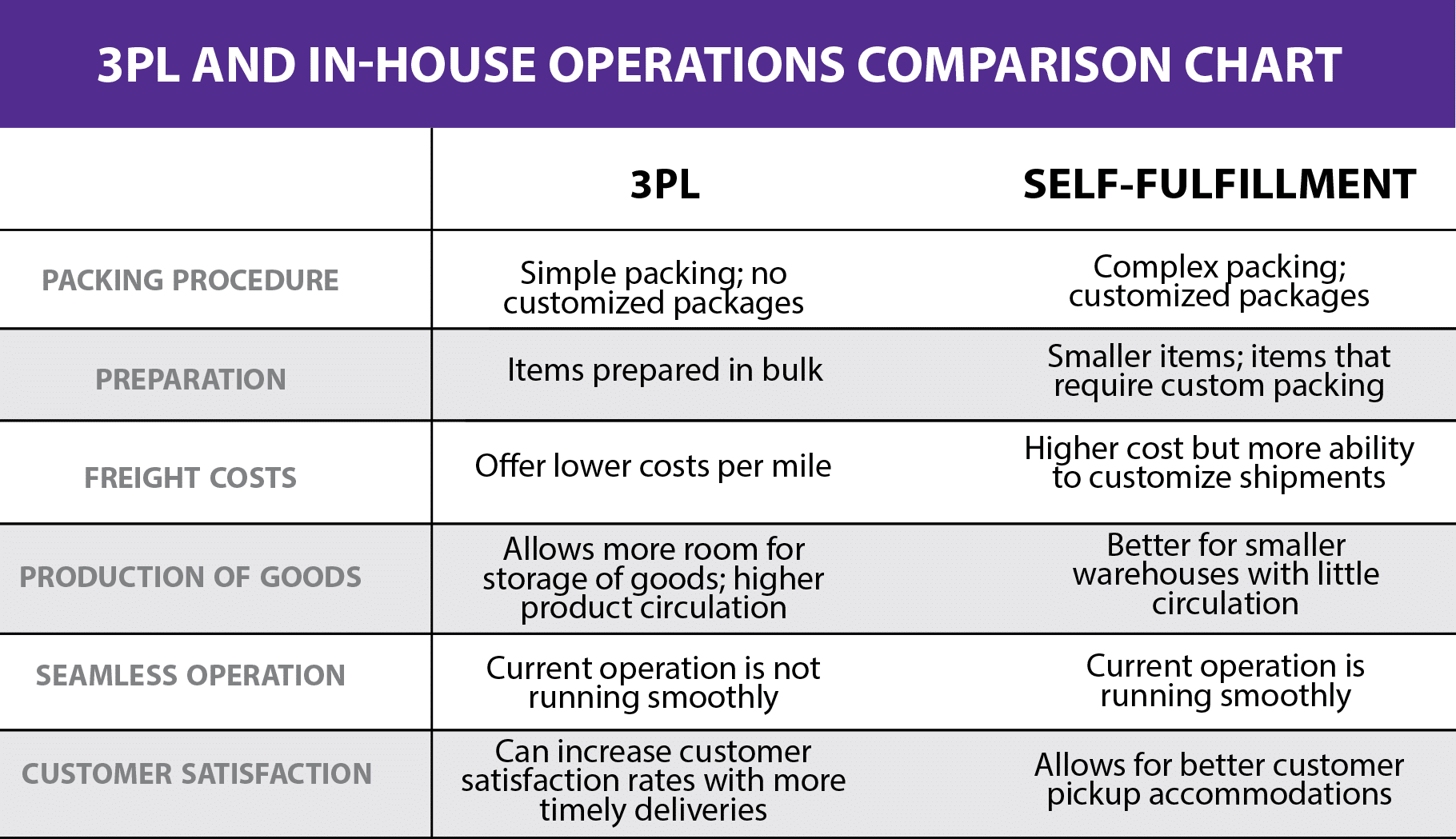 3PL Advantages
Implementing a 3PL can cut down on delivery times and avoids high postage costs. 3PLs not only can ship goods nationally or globally, they also typically have the warehouse capacity to house fulfillment in various locations. This provides cost savings while eliminating the cost for your company to lease warehousing space. In addition to added logistics, 3PLs have the capability to scale space, labor and transportation according to your operation's needs and growth.
Shipping costs can be higher for companies with a smaller order volume. 3PLs can provide lower costs on order fulfillment by offering better shipping rates. A 3PL should be able to reduce transportation costs by at least 5% and ensures full management of your inventory while using up-to-date equipment and software. This allows more time for employees to complete other tasks.
3PL Disadvantages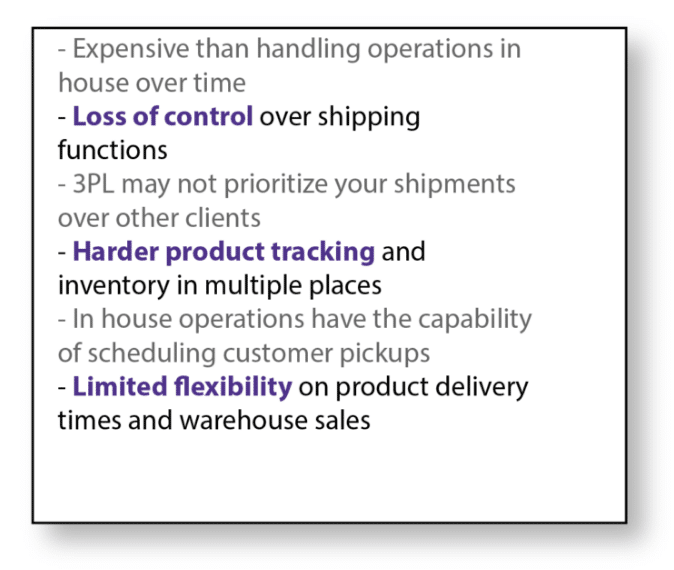 Though 3PLs may offer cost savings to some businesses, there are several disadvantages to consider. While a 3PL may be a cheaper cost upfront, over time it can likely be more expensive than handling operations in house.
Upon hiring a 3PL, there is some loss of control over your shipping functions. If you've created your own process to handle your fulfillment, it could be difficult to turn this over to another company. Without your inventory being stored in house, there is a possibility the 3PL may not prioritize your shipments over other clients.
When you utilize your own warehouse, it provides easier product tracking because all your inventory is in one place. In-house operations have the capability of scheduling customer pickups. This is a feature that may be hard to accommodate through a 3PL. It also gives flexibility on product delivery times and warehouse sales.
---
Get More Information
When you know how 3PL and in-house operations compare, you gain an understanding for which fits your warehouse or distribution center best. If your operation would benefit from having in-house inventory management, it is critical to implement the right storage system for your desired product flow. Learn more about product flow and racking system options by referencing our Warehouse Product Flow and Layout Options article.
Connect With Us!
For more information on how to integrate a system for maximum optimization, fill in the 'Submit Your Inquiry' form to give us a better idea of your needs, and we'll contact you to help with any further questions or requirements you have.