Once the decision has been made to install pallet rack in your warehouse, the next big question is "How do I go about installing it?" Warehouse rack installation doesn't have to be a difficult process; with the right groundwork, your pallet rack installation will be a breeze.
Things to remember before and during warehouse installation
• Ensure that racking is installed based on local seismic demands and slab configurations specific to your building.
• Install the correct gauge and size options that are compatible and that are able to support your loads.
• Ensure that racking is installed to support your product weight distributions and load applications.
Prior to installation
The first step to prepare for installation is to choose the best racking configuration based on the dimensions of your available space and the products you store. This can include one or more types of rack.
After you have decided on what type(s) of rack to use, you can then produce a rack layout. Make sure that this layout fully complies with all federal, state, and local regulations applicable to you, then submit it to a licensed project engineer for approval and stamping. It is also important that you obtain all necessary building permits prior to starting your warehouse rack installation project.
Assess your location to make sure that it is suitable for installation. Check for height hazards, such as beams, ductwork, pipes, and ceilings. Ensure the floor is suitable for anchoring – check for slab thickness and a level floor. Experts suggest a slab of 6 inches or more for regular duty pallet racks.
Once purchased, make sure all necessary items are accounted for, check for any damaged components, and organize all of your components so they can be quickly located; this is known as "staging".
Once you've determined where the first rack bay, or "starter bay" will be installed, mark the floor with the layout, checking to make sure aisle widths are acceptable for the type of racking being installed.
During installation to properly install
When installing the first bay, make sure it is squared off correctly from all directions. This will ensure your pallet rack is laid out and installed correctly.
It's important to continually check that your pallet rack installation remains plumb while installing the remaining bays. Once all bays are verified as correctly installed you can then anchor all footplates. Make sure all bays are plumbed before anchoring – trying to pull a rack into plumb after anchoring could damage the rack or cause personal injury.
Once an entire rack row is constructed, install and tighten back connectors, making sure to adhere to the correct torque code for your pallet rack. After all bays are installed and anchored, and all beams have been properly secured, inspect each section to ensure all pallet rack installation procedures have been accurately followed.
Shelf accessories should be installed after all pallet rack installation is complete and all footplates have been anchored. Crossbars should be evenly spaced according to proper weight distribution guidelines. If utilizing decking, be sure that it is secured in-place according to manufacturer guidelines. For example, non-waterfall wire decks must be securely fastened to the beam so that they cannot shift or fall between beams.
Throughout all steps of the installation process, it's very important that you research and abide by all manufacturers' requirements for your chosen rack and rack components.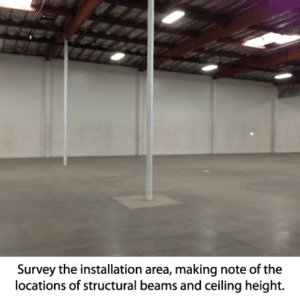 Warehouse rack installation can be a simple operation, but only if you know what you're doing.
Unsure if you want to tackle your pallet rack installation? As a full-service racking and shelving systems provider, REB Storage Systems International can assist with every phase of your project. With our installation services we can handle the installation of your entire racking and shelving system and provide you with project management support to coordinate the efforts of the sub-contractors working on every other element of your space. Our racking design services will lay the groundwork for our professional engineering services, and with our permit support services, we can help you obtain all of the necessary approvals to begin construction.
Rely on REB Storage Systems International to ensure that the job is done to code, on time and within budget. We'll go above and beyond to ensure the success of your project. Contact us today at 800-252-5955 or submit a form to learn more.
Share this post:
Facebook
Twitter
Twitter
Linkedin
Blog Topics By Category
Brian Dubin
All Products Automotive, Inc.
"We have been a customer for over 15 years. REB offers a good selection of products at great prices. They are an excellent source of materials along with suggestions and information on a variety of storage issues."
Bruce Moulton
Harrington Industrial Plastics
"REB is by far my favorite vendor, the customer service and dedication to making sure every order is complete and on time. Fantastic communication, and an absolute pleasure to work with."
Gary Rothschild
Epko Industries
"First time customer and REB provided excellent service and competitive pricing. Would use them again."
Elliot Sneen
Cabernet Corporation
"Great customer service with an accurate storage system!"
Richard Steed
Pacific Storage Company
"We have used REB Storage Systems for a number of years and will continue to do so in the years to come. Their entire staff are wonderful to work with and provide a seamless installation from beginning to end. Their focus to detail and quality installation has been a valuable resource to our company."
Tom Beckermann
Felling Trailers Inc.
"REB Storage Systems provides a high quality product with the best customer service in the industry, no matter the volume of products we buy."