In order to grow profits and have your 3PL warehouse run efficiently, you must make the most of your warehouse space. To maximize operations to increase efficiency, workflow and output, consider these elements:
Choose the Proper Racking Layout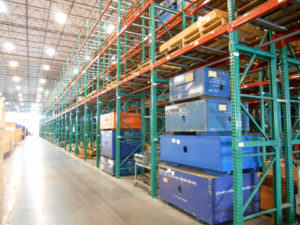 Your warehouse racking is critical to the workflow and the output of your facility. A proper design will make it easy to store, navigate, and locate products while giving you more space in your warehouse. You can maximize your 3PL storage density and workflow by utilizing a racking system specific to the inventory you store. For example, items with expiration dates often require a highly selective 'first-in, first-out' rack system, such as a flow system, while a 3PL storing products with longer life spans will benefit more from a  drive-in/through racking system a because it offers higher density.
Incorporate Material Handling Equipment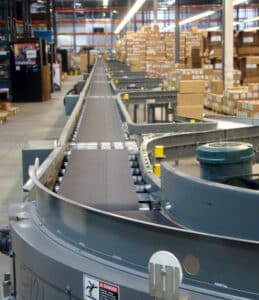 Incorporating material handling equipment can increase productivity and is key for maximizing efficiency in a 3PL warehouse. A pick module incorporates material handling products, such as conveyors, with various rack components and is often the answer for a 3PL that needs to optimize the flow of multiple orders. A pick module can be designed for manual pick applications, automated pick applications, or a combination of both. These systems consolidate space and create an efficient warehouse, reducing or eliminating walking time and saving on labor costs.
Utilize Your Vertical Space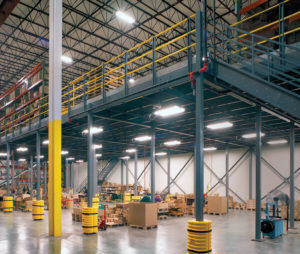 A warehouse mezzanine, which is an elevated platform that is installed between the floor and the ceiling, can be added to increase space by utilizing the vertical space that already exists in the facility. The space beneath the mezzanine can also be utilized for multiple applications including storage and production. A mezzanine can also be installed between racking or shelving for high density storage. Mezzanines can even be added with more than one floor to really capitalize space.
Solutions for Your Warehouse
REB engineers take into account the layout of your space, the characteristics of your inventory, and the material handling equipment that your team uses. Clearly defining these requirements allows REB to develop the ideal solution as well as provide alternative solutions based on your budget and time frame. Each design meets both local and federal building codes. No matter what the needs of your space, we can create the professionally engineered solution that will help you manage your inventory. For more information on how to optimize your warehouse racking layout, fill in the contact form or call (800) 252-5955.