How you can futureproof your material handling system by upgrading, modifying, or expanding your system to accommodate future growth.
Unfortunately, no one can predict the future. But you can ensure you futureproof your material handling system so it can adapt to modern technologies and new industry developments.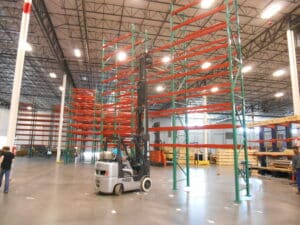 When planning your material handling system layout, you should avoid only planning for the present. Your material handling system should be designed to accommodate your predicted operational growth. To ensure your warehouse is properly futureproofed, you should review your layout against how you predict your warehouse to perform 5 or 10 years down the road based on forecasted growth.
How can you futureproof your material handling system without expanding into a new facility?
These four foolproof questions help pinpoint areas that will allow your material handling system to not only accommodate your current needs, but also ensure your system will be able to adapt for future inventory requirements.
Ask yourself:
Has future storage been accounted for in your current layout?
Can your current racking system be expanded vertically?
Can racking profiles be altered without impacting the structural integrity of the system?
Can a conveyor accommodate increased throughput as your operation grows?
Read below for further information to help you answer these four questions.
Has future storage been accounted for in your current layout?
Designing a layout that accounts for the full building ensures your racking system supports your future growth. This will eliminate a lot of headaches down the road.
Your layout can be designed so the system is done in phases. Designing your system this way will accommodate your current needs and allow you to build out when needed. This can include racking, mezzanines, and conveyors.
Additionally, the layout must account for all additional sprinkler systems, lighting, etc., to ensure your current and future expansions stay compliant with mandatory fire and building codes.
The best way to do this successfully is to talk to an engineer who has extensive knowledge in designing material handling systems. They will be able to put together a design that satisfies all your current and future requirements.
Can your current racking system be expanded vertically?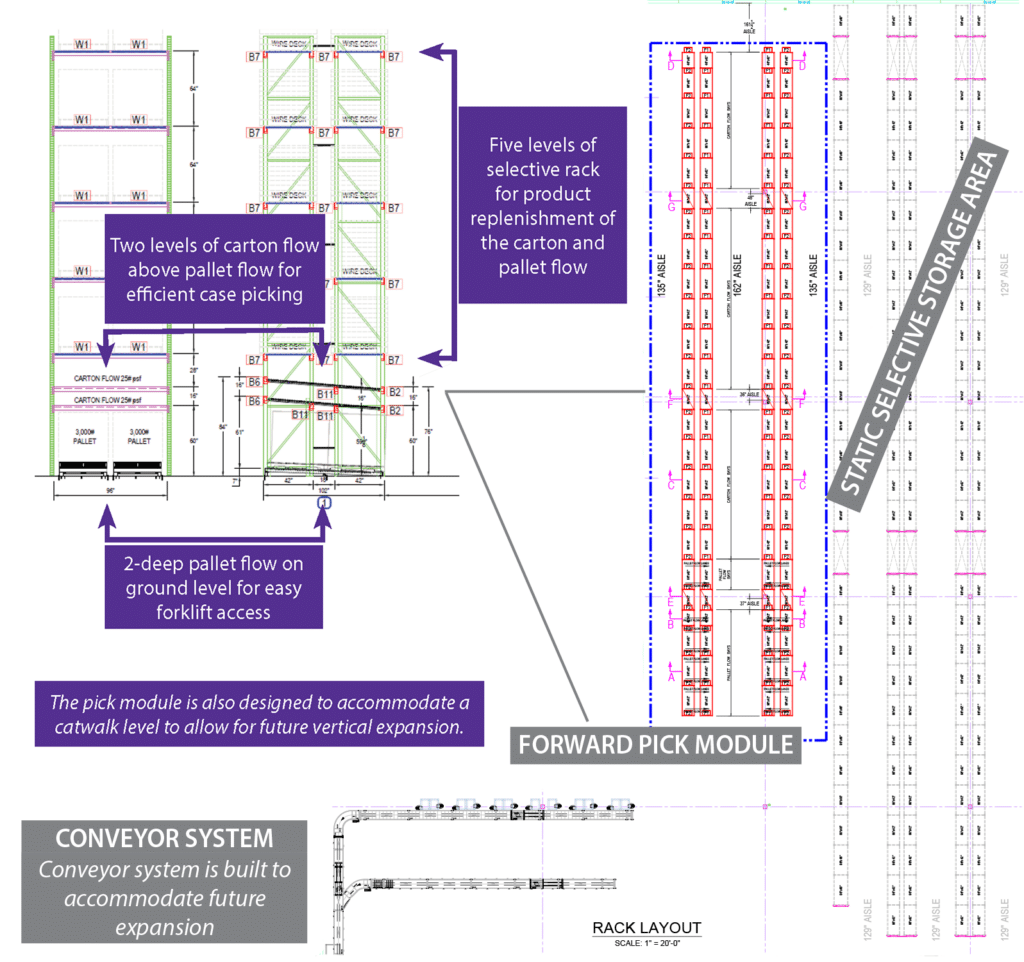 An effective way to increase your cubic footprint is to expand your current racking system vertically. Catwalk levels can be designed to mimic the ground level and can support conveyors and pick modules for faster throughput and order fulfillment.
Similar to outward expansion, you can integrate multi-level catwalks into your racking layout plans now, to be executed in the future. Check out the example shown here in which REB engineers developed a pick module system for a company that accounted for future catwalk levels. You can also view the entire case study.
Can racking profiles be altered without impacting the structural integrity of your system?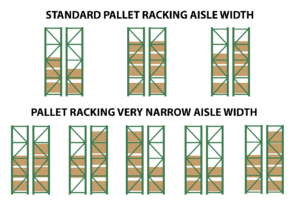 A cost-effective way to add more storage density and free up floor space is to reconfigure your existing floor plan.
Adjusting aisle widths and beam elevations help reduce dead space to increase your storage capacity.
Aisle widths fall into three categories: very narrow aisle, narrow aisles, and wide aisles. Very narrow aisle and narrow aisle designs reduce the aisle size and increase storage capacity up to 50%.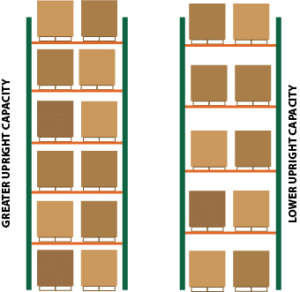 Another way to alter your racking profiles is to increase your upright capacity by re-configuring your beam elevations. Common gap space between the top of a pallet and the underside of a beam ranges between 4-6 inches, anything more is considered wasted space.
Re-configuring aisle widths and rack profiles should always be done by a professional who understands how to properly assess weight capacities and rack conditions. Ideally, the planning for this would come on the front end, when you're finalizing your layout. A qualified material handling system engineer can include these plans in your design so that this can be done successfully down the line. Similar to this case study, in which REB engineers accounted for the reconfiguration to very narrow aisles to futureproof a company's material handling system.
Can a conveyor accommodate increased throughput as your operation grows?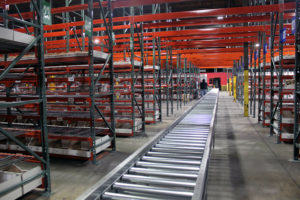 If you're integrating a conveyor system, keep in mind that it must be able to accommodate for increased product density to maintain your operational growth. The increase in product density also increases your throughput.
There are conveyor options such as this that support growth. For example, integrating accumulation software within your conveyor system will allow you to adjust the conveyor's zone length. The ability to alter your zone length allows your conveyor systems to support new or larger products.
Learn More About Warehouse Layout Options
Is your current warehouse layout optimized? Designing or redesigning your racking layout can greatly increase your operation's productivity and storage capacity. You can learn more about how to optimize your layout by reading this article.
REB engineers consider the layout of your space, the characteristics of your inventory, and the material handling equipment that your team uses. No matter what the needs of your operation are, we can create a professionally engineered racking solution to help optimize your warehouse or DC, for both now and in the future.
Connect with Us!
REB Storage Systems International can help you determine the best option to futureproof your material handling system, by redesigning your current layout or developing a new layout to account for future growth within a new facility. Fill in the 'Submit Your Inquiry' form and our industry experts can help you answer any questions regarding re-configuring your existing layout and provide you with the solutions to meet your operation's current and future storage needs.