Flow Through Racking vs. Push Back Racking: Which Is Idea For Your Foodservice Operation?
Pallet flow and push back racks are two of the most commonly used types of rack systems in a foodservice distribution center, and for good reason: both systems provide excellent space utilization and have unique attributes for storing and distributing food and beverage compared to other types of pallet rack.
Although each system has similar benefits, these benefits are only effective if used for the right application. Factors to consider include product characteristics, picking processes and space availability.
Read this article to find out which type is best for you!
How They Work
Push Back Racks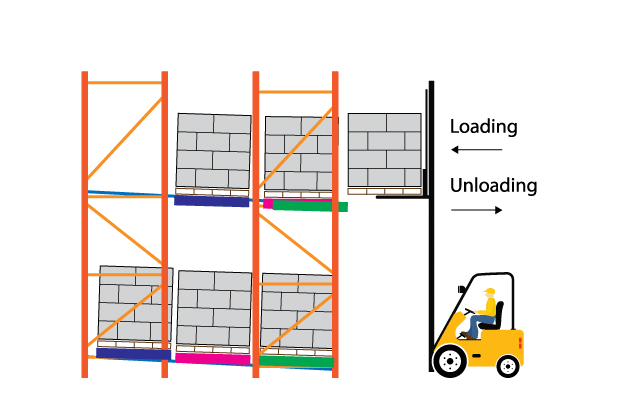 Push back racks are last-in, first-out gravity storage systems that use carts that are pushed along inclined rails. This rack system provides high-density as it only requires one aisle for picking and allows access to multiple groups of SKUs.
Each pallet is loaded from the front of the system on to a cart. In order to load the next pallet, you must carefully push the first placed pallet position with the pallet you are attempting to store next.
When the next pallet is loaded, it slowly pushes the previous pallet back to allow for the new pallet to align with the next available cart. When the front pallet is unloaded, the pallet behind glides to the front for picking.
Pallet Flow Racks
Pallet flow racks are gravity flow storage systems designed for first-in, first-out applications.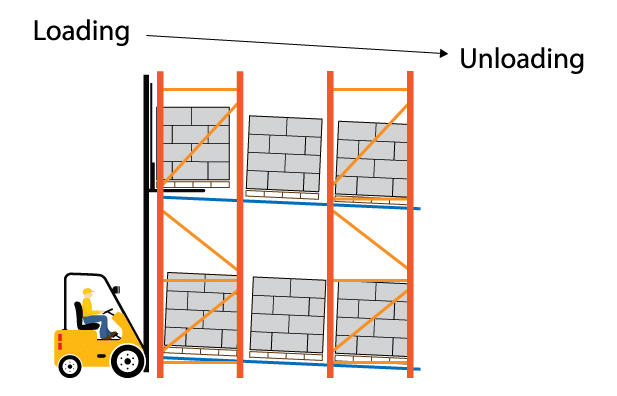 Pallet flow uses inclined rollers, or wheels, that allow pallets to travel from the loading position down towards the picking or unloading position.
The inclined rails allow for pallets to automatically travel into a picking position when the front pallet is unloaded which provides high inventory rotation and high storage-density.
Applications and Benefits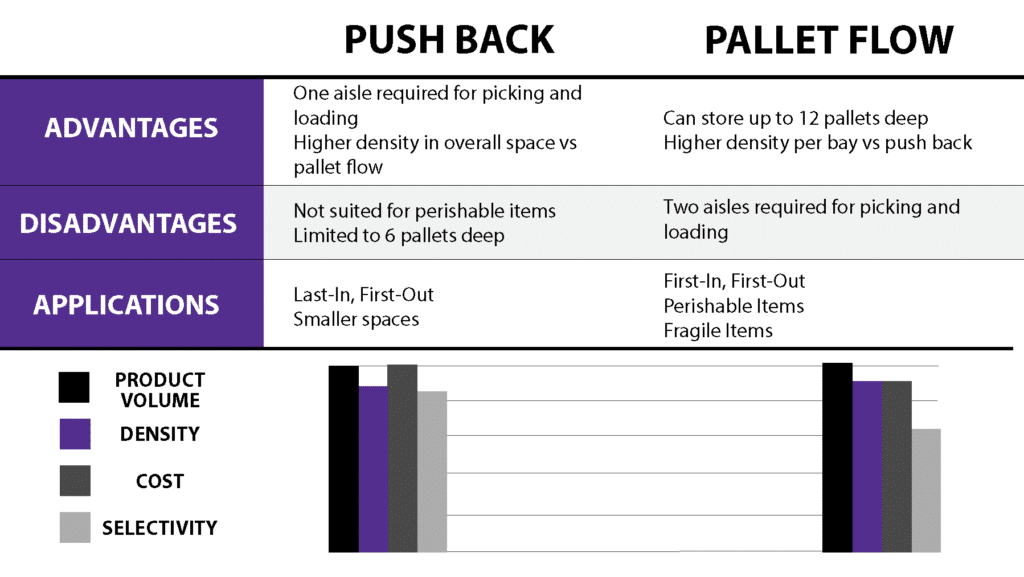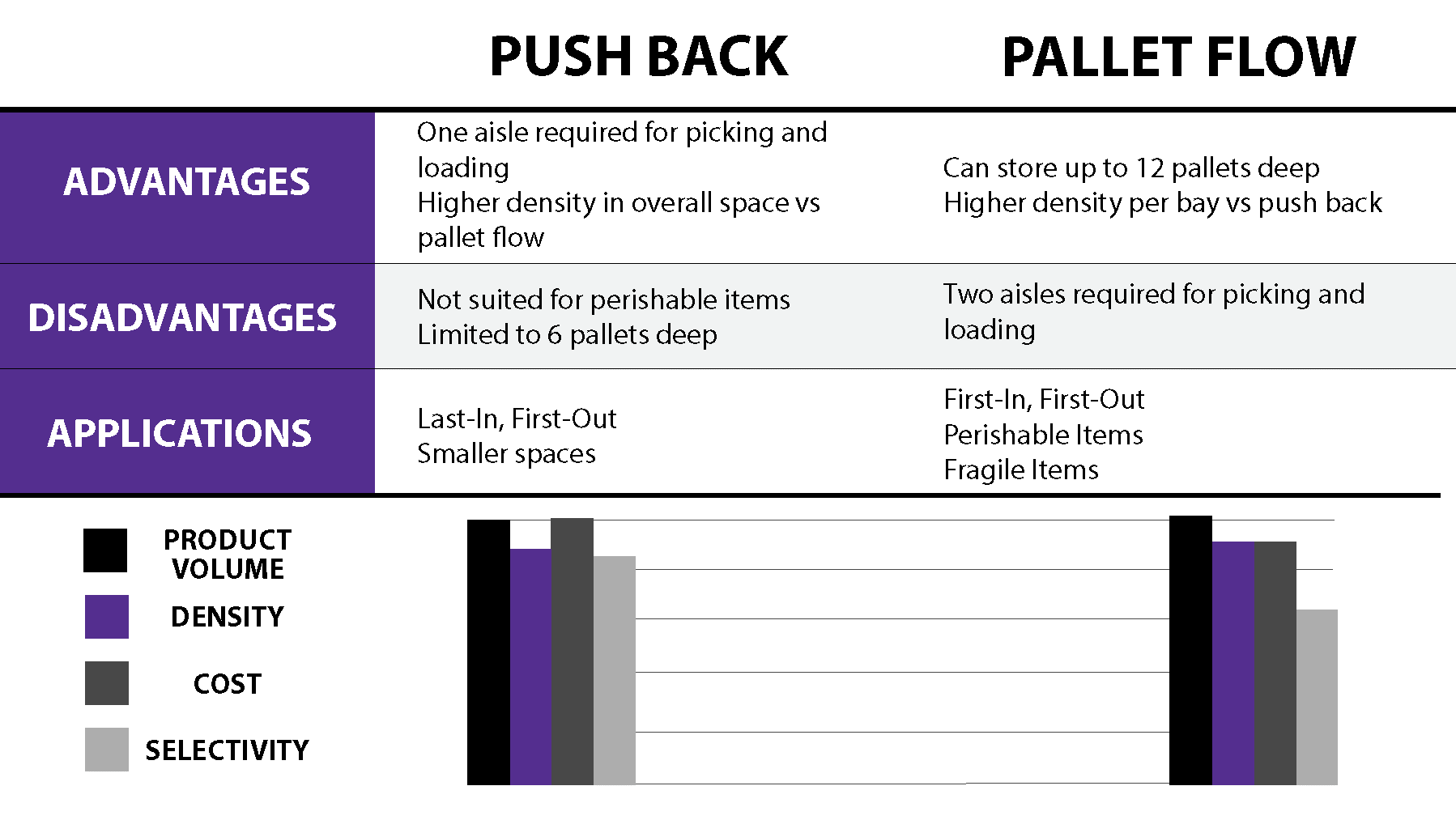 When is it best to use push back rack?
Push back racks are last-in, first-out storage systems. Therefore, if the inventory you are storing is date-sensitive, push back racks would not be beneficial. Push back racks are also limited to 6 pallets deep, so if you need to store 7 or more pallets deep, push back will not be ideal for you.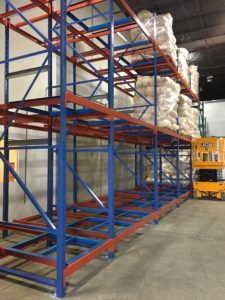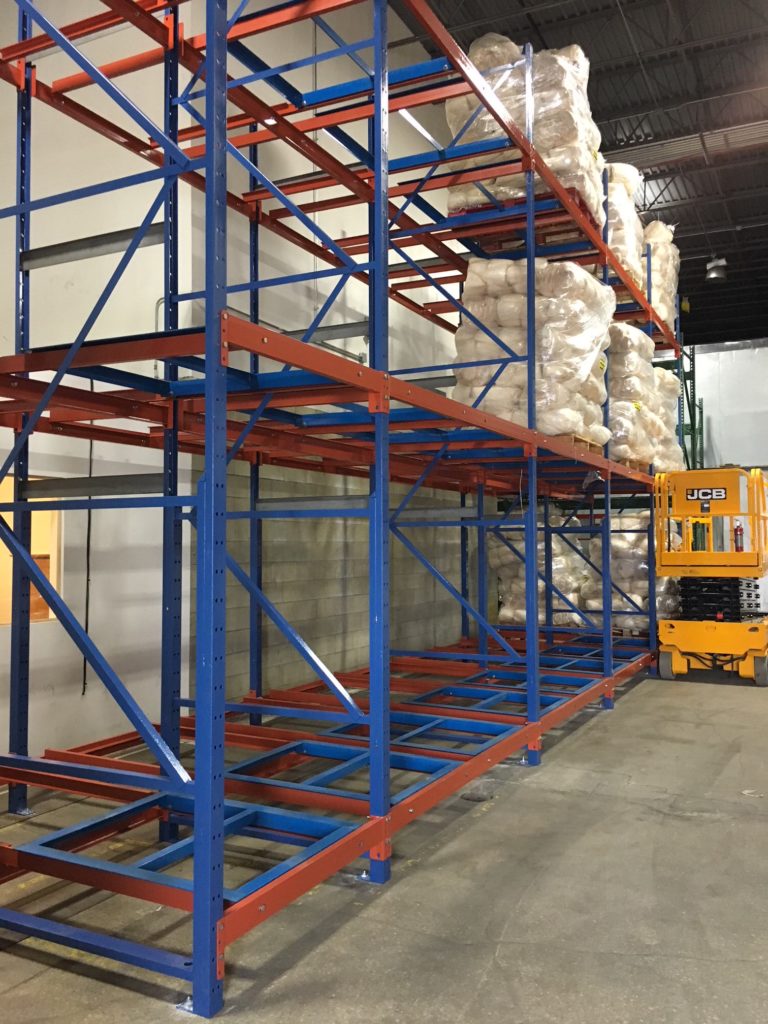 Push back racks eliminate the need for separate loading and unloading aisles, allowing for more density in your overall space (although, as mentioned in the next section, pallet flow has higher density within the rack system itself). Because of this, push back racks are often ideal for smaller areas, like cooler or freezers, where space is often limited.
Pallets can be loaded and unloaded more quickly because of the single-aisle accessibility, which minimizes labor efforts.
When is it best to use pallet flow rack?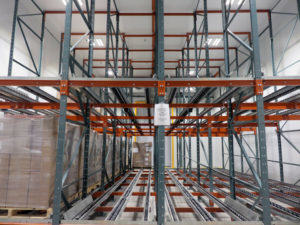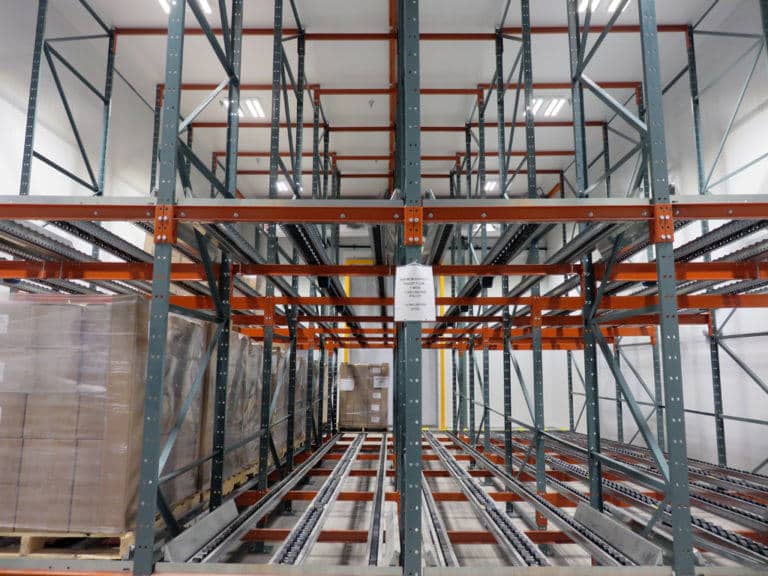 Unlike push back racks, pallet flow is a first-in, first-out gravity flow storage system. This makes it ideal for items that are date-sensitive because product rotation is more automatic.
If your space allows for an extra aisle and you'd like higher density within each bay, pallet flow may be right for you. Pallet flow can store up to 12 pallets deep and offers higher density apples-to-apples per bay vs. push back.
Braking systems or speed controllers are design elements that may be engineered into pallet flow systems to help pallets gently travel from one position to the other. This is beneficial for sensitive food containers, like glass or carbonated beverages, that need extra caution to ensure they don't break or spoil when they move from each pallet position.
Why Not Both?
Keep in mind that you're not restricted to one or the other. There may be a location within your DC in which pallet flow is ideal, such as an area which you store perishable items, as well as a location in which push back racks are ideal, such as your cooler or freezer area. That's why it's important to evaluate each area individually in order to produce the optimal overall storage and flow process that a material handling system can provide.
Need More Information?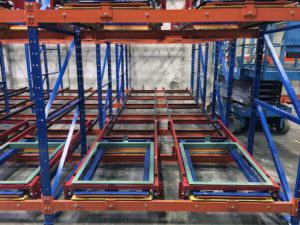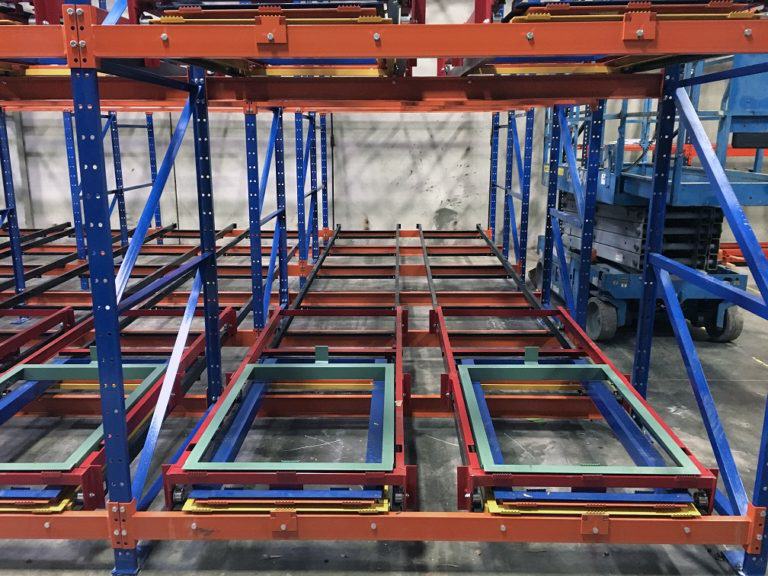 If you think your operation would benefit from incorporating push back racks, this case studyshowcases how REB was able to maximize a company's cooler storage area and eliminate the need for storing pallets on the floor.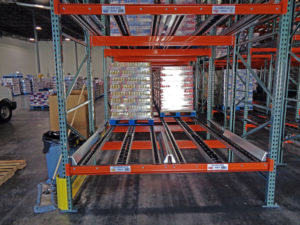 If you think your operation would benefit from incorporating pallet flow rack, this case
study showcases how REB provided a solution to satisfy a beverage distributor's high-volume, date-sensitive inventory while safeguarding that no inventory spoils.
Let's Connect!
It is important that your storage system design is able to meet your inventory needs and accommodate your company's growth.  Fill out the 'Submit Your Inquiry' Form to get in touch with our industry experts, who can help answer questions regarding what system can benefit your inventory the best.