Warehouse Product Flow Options
Your warehouse product flow determines your overall productivity and efficiency. When designing the overall layout of your warehouse the shipping and receiving placement should be evaluated and chosen based on your available space, product throughput needs, and available resources.
Warehouse flow layout options to consider include U-shaped, I-shaped and L-shaped patterns.
A U-shaped warehouse product flow is the most common type of layout. In this layout the shipping and receiving docks are located next to one another, offering shared utilization of dock resources such as personnel and material handling products. This layout also minimizes product handling, offering high cross-docking capability.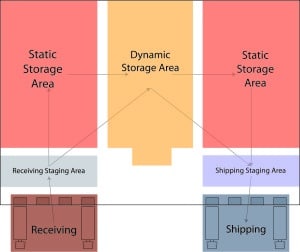 I-shaped warehouse product flow and L-shaped warehouse product flow, also known as through flow, are similar in that the shipping and receiving areas are located on different sides of the warehouse. As a result, these require more available warehouse space than U-shaped layouts.
These layouts can be beneficial for certain operations. For example, warehouses that require heightened security can benefit from the separate "in" and "out" areas. I-shaped and L-shaped layouts can also provide larger sorting and storage areas for both shipping and receiving docks as well as allowing for isolated monitoring of each function.
REB Storage Systems International offers design and engineering services that produce storage layouts to optimize the flow of product through your warehouse. REB engineers use space planning to organize your warehouse and accommodate your functional storage system needs as well as maximize space utilization and increase productivity. To learn more visit our rack system design and engineering page.