Location: Franklin Park, IL
Products: Selective rack, wire deck, punch deck plus
Services: Design, engineering, and installation
---
SCOPE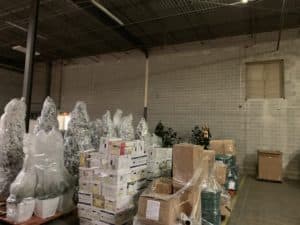 A storage company expanded its inventory by adding seasonal items like Christmas trees and holiday decorations. The Christmas trees are outfitted with casters making it difficult to store vertically without having the products roll off their current storage system. However, the products needed to be stored vertically to maximize storage density.
SOLUTION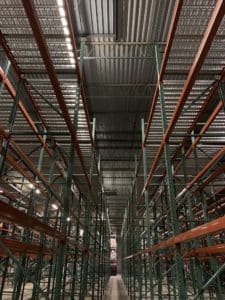 REB proposed a selective pallet rack layout throughout the facility with two sections designed for the storage of Christmas trees on casters and the pallet storage of boxed decorations.
For pallet storage, REB designed a selective pallet rack layout that included back to back rows with a 171" minimum aisle width to accommodate building column interference (standard sit-down forklift utilized). This allows for eight (8) pallets to be stored in each bay.
The Christmas tree storage includes a layout with 60" aisles that would accommodate the company's new lift equipment and allow for the system to be built around all building columns to maximize space utilization.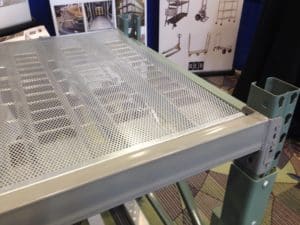 The system was outfitted with Punch Deck Plus (fire marshall approved open deck compared to a solid deck) to provide a flat surface for the wheeled products.
To prevent these products from rolling off the system into the flue space, REB decided the rear end of the punch deck plus should be folded upwards, instead of downwards, to create a lip at the rear of the bay. A chain was then installed on the front of each bay which would stop the wheeled products rolling into the aisles.
OUTCOME

The new selective pallet rack system allows this company to store their palletized inventory along with their Christmas trees that are outfitted with casters. The unique design of the inverted Punch Deck Plus enables the Christmas trees to be stored vertically, resulting in increased selectivity and maximized storage density. Additionally, the layout was designed specifically for the company's lift equipment which eliminates the risk of potential damage from equipment impact.
Get More Information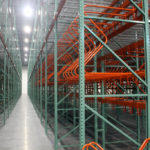 This case study details how one company was able to achieve maximum density in its current facility by implementing a design that deviates from the standard pallet racking configuration.
Read this article for more information on how non-standard pallet racking configurations can help you achieve more storage density.
Let's Connect!
REB has been providing material handling systems to the warehousing and distribution industry since 1962. We understand that not all products fit the typical racking options. Our team of engineers specializes in evaluating SKUs and designing a storage system based on them, giving you a system that uses every available inch of available storage space.
Fill out the 'Submit Your Inquiry' form to get in touch with one of our industry experts who can answer any questions you may have or help you assess your current or future operation requirements.