Solution at a Glance
Services Provided: Design, Engineering, Installation
Products Provided: Selective Rack, Wire Deck, Punch Deck Plus
Location: Franklin Park, IL
---
Concern: Inadequate Storage of Products with Casters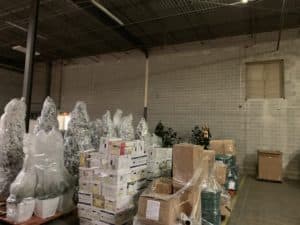 A storage and distribution company needed to store items with casters. They wanted to store these using their vertical storage space without palletizing the products.
The company stores seasonal items such as decorated Christmas trees. Due to the delicate nature of these products, they needed a storage solution that avoided shrink wrapping the products on pallets. To accomplish this, they needed a rack solution that would prevent casters from rolling off the system.
Solution: Selective Rack with Specialized Decking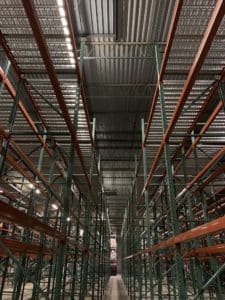 REB proposed a selective pallet rack system outfitted with Punch Deck Plus. As shown in the photo, Punch Deck Plus incorporates traditional Punch Deck with wire mesh laid on top.
Punch Deck is a corrugated steel decking designed with holes that create a more than 50 percent open area in the deck surface. To create Punch Deck Plus, a steel mesh sheet formed to perfectly fit on top of the Punch Deck is positioned. This mesh allows the deck to remain at 50 percent open, thereby adhering to fire codes. Additionally, it provides a flat surface for the wheeled products.
To prevent products from rolling backwards into the flue space, REB had the decking custom formed to be folded upwards, instead of downwards, to create a lip at the rear of the bay.
A chain was installed on the front of each bay which would stop the wheeled products rolling into the aisles.
To better understand our selective rack systems, click here to be directed to our selective rack product page.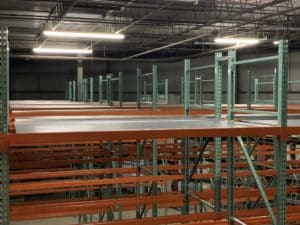 To better understand Punch Deck and Plus Deck Plus, click here to be directed to our Punch Deck product page.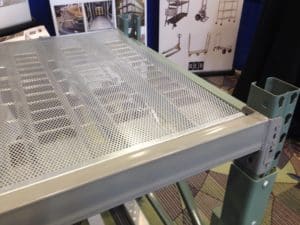 Outcome: Increased Storage Density
The unique design of the inverted Punch Deck Plus enables products with casters to be stored vertically, resulting in increased selectivity and maximized storage density.
How You Can Improve Storage Density and Selectivity in Your Warehouse
If you have a unique storage requirement, contact REB today.
Our team of material handling experts can work with you to provide you with a solution that will optimize your selectivity and density. We are highly experienced in identifying inefficiencies and implementing improved systems.
We'd appreciate the opportunity to help you further, whether that be more information or a quote. Fill in the contact form on this page or call us at (800) 252-5955 to get in touch with a REB representative.