A food distribution warehouse that is fully optimized incorporates several design elements and components to increase storage density and provides easier access and transport of inventory.
Is your food distribution warehouse fully optimized? Ask yourself:
Are you using high-quality pallets?
Can your material handling system accommodate your current and future inventory requirements?
Are you using the right type of racking?
Are you utilizing your full facility's space?
This article discusses the importance of considering these key components for your food distribution warehouse and how you can achieve optimization.
Use high-quality pallets
It is vital for your food distribution operation to invest in high-quality pallets. Pallets that are high in quality are constructed to withstand extreme temperatures and endure frequent movement. Gravity flow and push back racking systems that have increased product circulation and movement need high-quality pallets to aide in safeguarding your inventory.
Grocery Manufacturers Association (GMA) pallets are the most popular and commonly used of all sized pallets for food distribution. GMA pallets are always 48″ x 40″ and are categorized by grading the condition of the stringers (support boards) and the boards of each pallet. High-quality pallets have a Premium Grade A rating. For a pallet to receive this high rating, it must meet the following criteria:
7 top deck boards and 5 bottom deck boards
3 stringers
No block or metal repairs to stringers
No colored or painted stringers
Unbroken or flush surface
Mostly clean of paint or markings
Design your material handling system to accommodate your current and future inventory requirements
A properly designed warehouse layout optimizes storage space and order fulfillment processes. In the food distribution industry, inventory may require temperature-controlled storage which can result in limited storage space. This makes the design of your layout crucial in being able to store your current inventory while considering future growth.
Rearranging your current layout can give you added storage density and easier product flow. There are several ways you can reconfigure your layout to achieve these benefits:
Reconfigure aisle widths
Integrate pick module applications
Vertical storage expansion
By re-configuring your aisle widths, you can increase storage density without having to expand or eliminate your inventory. This inexpensive redesign can provide a 50% – 60% increase in your storage capacity. This is great option to consider if you are near or at capacity in your current facility.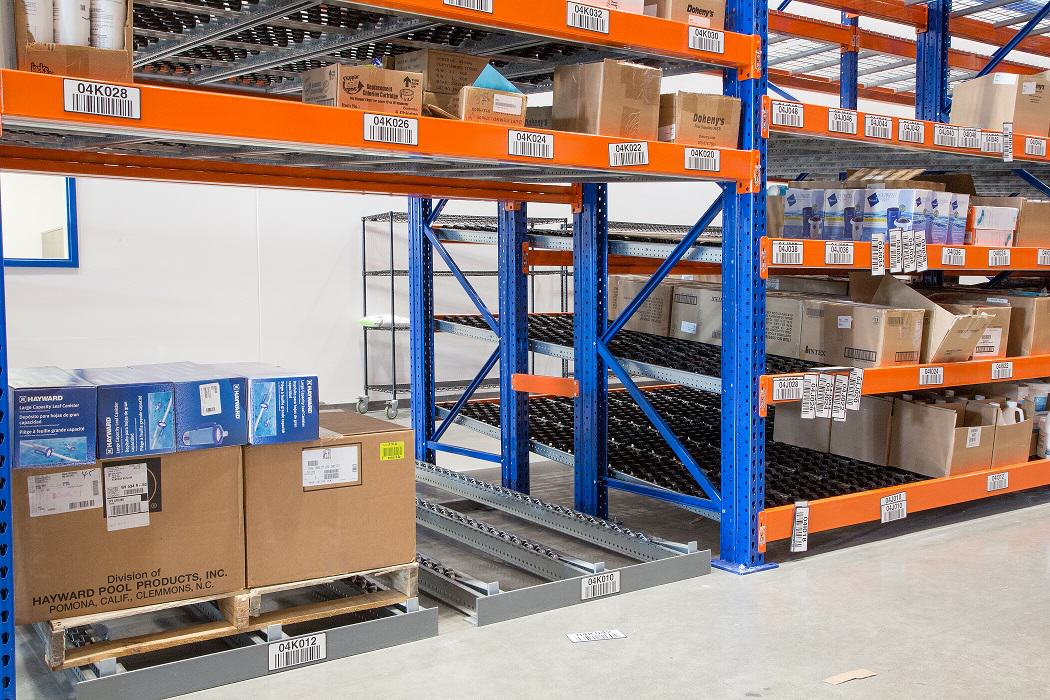 Pick modules combine static and dynamic storage (like push back or pallet flow) together to give you optimal space utilization. Our last article explained the benefits of implementing pallet flow and/or push back racking systems into your food distribution system because both provide high storage density. But did you know you can integrate those into a pick module application?
Another way to increase your storage density is to consider options that allow you to expand vertically. Vertical expansion can be added into layout designs to accommodate your operation requirements as you grow. Vertical expansion is not just limited to selective racking options but can also include catwalk pick module modifications.
Use the right type of racking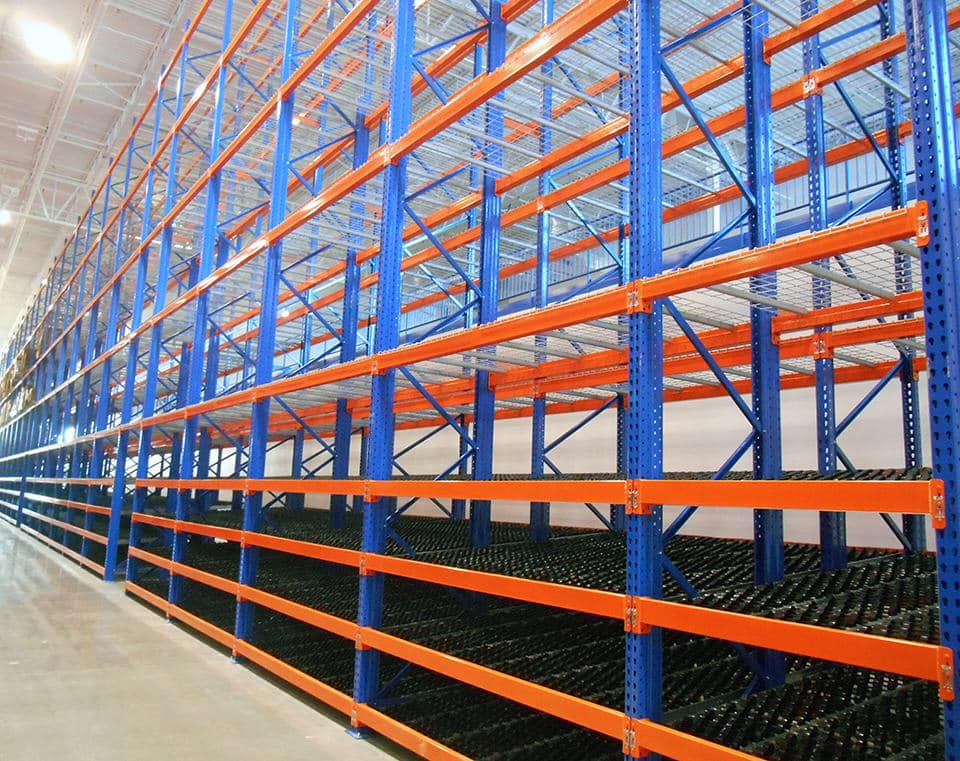 Most food distribution centers require areas for climate-controlled storage. The colder temperatures in these areas pose a unique challenge for this industry. The decrease in temperature can affect the toughness of your racking system.
Structural steel racking is recommended for cold storage because it has greater strength and durability than roll-formed. Structural steel can withstand harsher environments because when it is fabricated, it is molded when hot and then bolted together, giving it more overall strength.
Another reason structural steel racking is recommended for food distribution centers is it has less 'nooks and crannies', in other words less places for dirt and bacteria to reside in.
Utilize ALL available space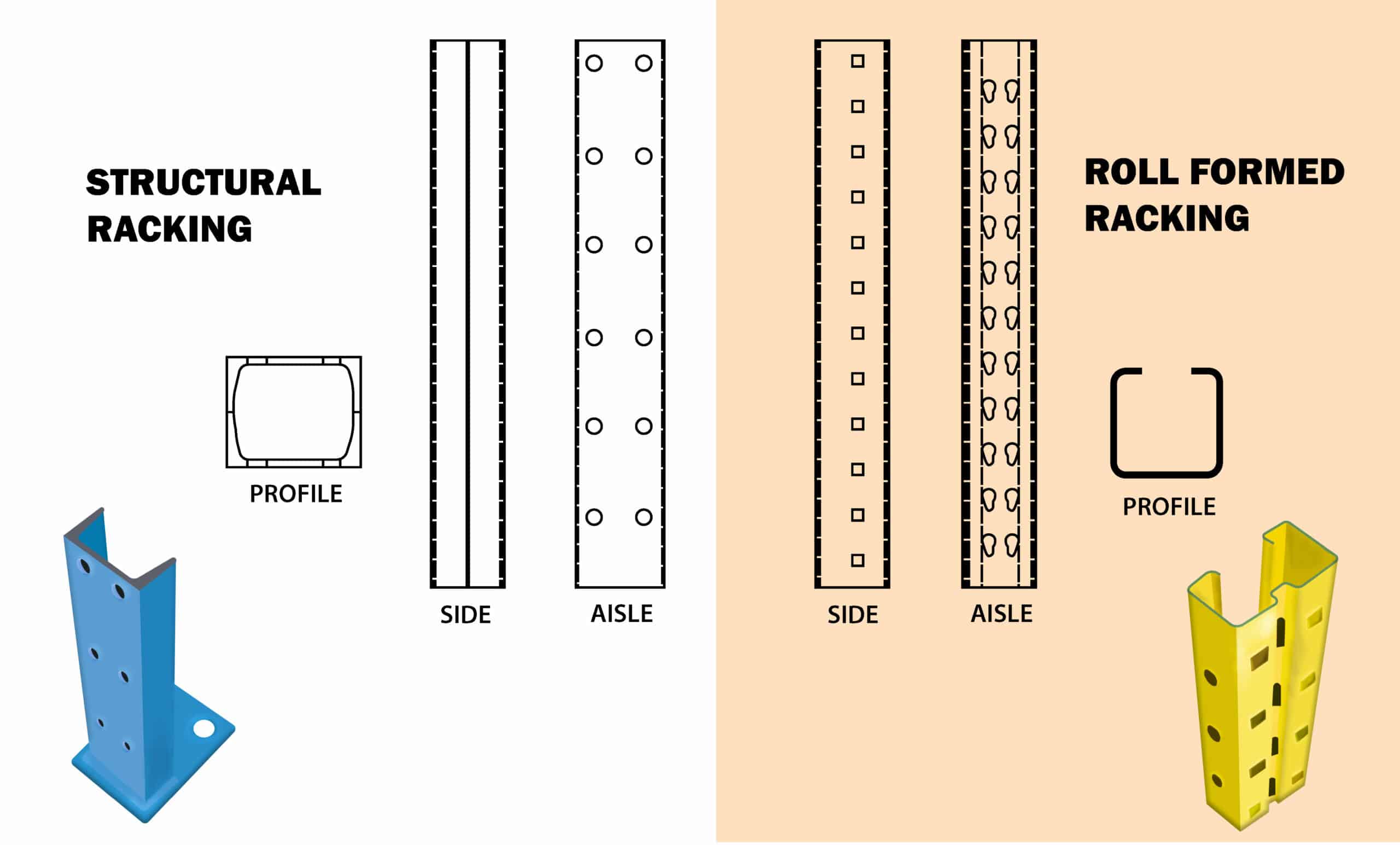 Your warehouse layout was designed to have designated storage areas. They can include freezer, cooler and standard storage. Have you ever thought to include racking in other areas of your facility, like your docking areas? For example, adding racking to your docking areas can give you added storage for unused pallets and staging. This not only can increase storage density but provides better organization of your materials while they are not in use.
Get More Information
This article is a great way to explore several key components that can help you manage your food distribution center. If you think your operation can benefit from re-configuring your current design or system, these articles provide a more in-depth look on how to achieve an optimal layout and added storage density.
How to Expand Storage Density When Space is Limited
Warehouse Product Flow and Layout Options
Connect with Us
REB has been providing storage systems and material handling services to the food distribution industry since 1962. We understand that not every DC has the same inventory or the same storage requirements. That's why we're here to help. Fill out the 'Submit Your Inquiry' form to get in touch with one of our industry experts who can answer any questions you may have or help you assess your current or future operation requirements.
The REB team is 100% focused on customer satisfaction; we emphasize the ongoing relationship, not the immediate sale. Our goal is to better understand your business so that we are able to provide long-term value to you.